Almost Too Healthy Thanksgiving Dessert: Spicy Pumpkin and Apple Bundt Cake
Don't throw tomatoes at me please.
I know that a lot of you are eagerly awaiting the recipe for my Chocolate Beet Bundt Cake, but I'm so excited about this one I just HAD to share it now!
Plus, seeing as how Thanksgiving is just around the corner, I figured this was more appropriate…
So sorry, chocolate lovers, you're gonna have to wait a bit longer…
I promise not to make you wait too long, though, alright?
For now, let's indulge in this wonderful spicy pumpkin and apple combo. There's like so many things I have to say to say about this one that I don't even know where to start!
For starters, it's a Bundt cake. A BUNDT CAKE! That alone is reason enough to get all excited. I don't know why, but there's just something about Bundt cakes that I find absolutely irresistible.
They're like the Prince Charming of cakes. I could just sit there and gaze at their beautiful curves all day long…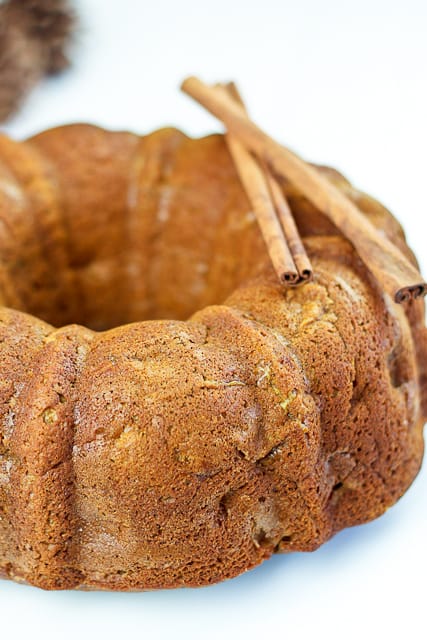 Secondly, I made it using REAL pumpkin. REAL PUMPKIN! And not just ANY pumpkin: a white pumpkin!
The things are just sooooo pretty!
I wish I could show you a picture but I was so excited to get started with my cake that I completely forgot neglected to take one. All is not lost though… let's call the Internet to the rescue! Just take a look at that! Now, if THAT isn't pretty, I don't know what is…
It was my first time ever cooking with real pumpkin (as opposed to canned) and let me tell you, it was NOT the last!
Especially not if I can get my hands on a cute little white pumpkin again.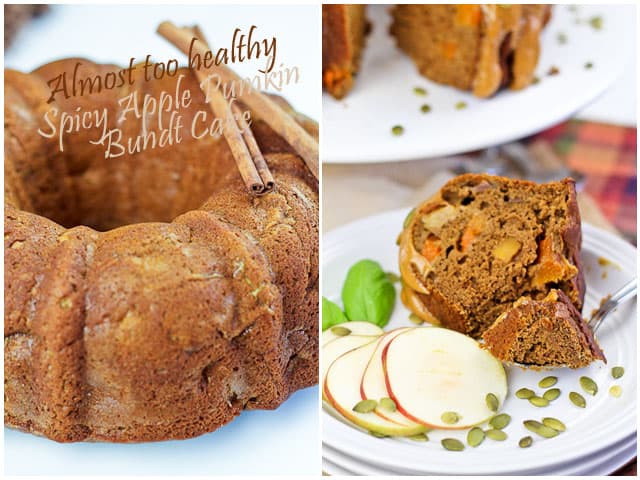 But honestly, as far as cooking is concerned, white and orange are pretty similar. The flesh of the white variety is actually very orange and both taste pretty much the same, although some people claim that the flesh of the white variety is a tad sweeter and creamier, maybe a bit closer to that of a sweet potato.
In fact, if you can't get your hands on pumpkin but still wanted to make this beautiful cake, I think that you could very well use sweet potatoes instead. I haven't tested it, but I am positive that it would be just as decadent!
Oh, yeah, 'cuz decadent is what that cake is.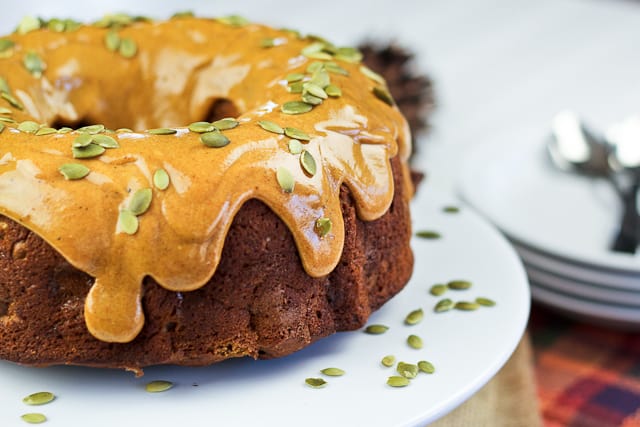 I know I say this all the time, but I think this one is my favorite so far.
It's just INSANELY, good. I don't even know how it is that I manage to have that cake sitting in the fridge and not inhale it all in one go. Or never having more than one piece a day, for that matter…
This is by far the moistest, densest, tastiest cake I have ever eaten. It almost feels creamy in your mouth without actually feeling "wet".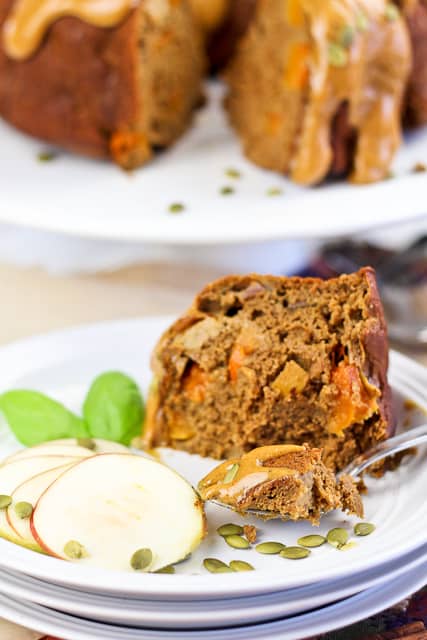 The big chunks of pumpkin and apple in the batter not only allow you to taste the fruits in all their glory, they also bring so much flavour and texture to the cake!  The blend of spices is simply perfect, too. It sort of makes you want to get up and dance do a backward flip.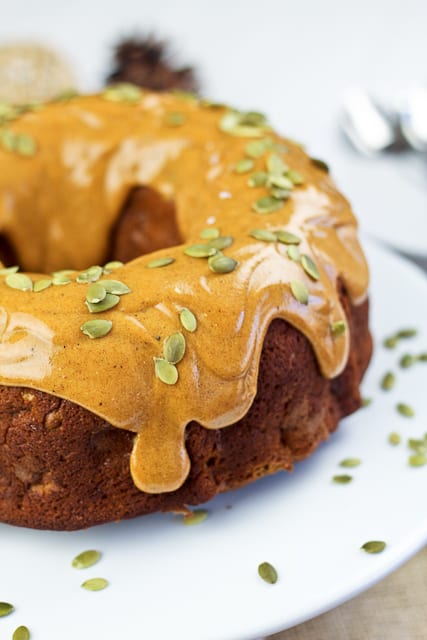 Oh, and that icing… oh… that icing! I think my heart just stopped…
Yet, this cake is so good for you, it should be called breakfast, NOT dessert. In fact, it's almost too healthy too qualify as cake. I kid you not! Just take a look at the numbers! Can you believe you're looking at the nutrition facts for a succulent dessert?
The good news is it tastes so amazingly good, your guests will NEVER know you're serving them food that actually does their body good.
And you know what the very best part about all this is?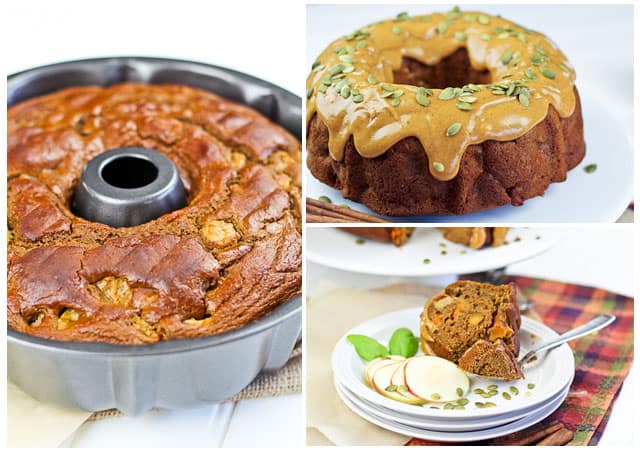 This cake is so super easy to make, you can very well turn it into an everyday dessert, BUT  it's also elegant enough to sit very proudly right smack in the middle of your Thanksgiving dinner table.
What if you have to bring it with you to the party? Super easy! Just put it back in the pan to carry it, bring the icing and pumpkin seeds in separate containers and dress your cake "on location" at the very last minute.
Now set it and wait for the oooohs and ahhhhhs… 
And you can giggle to yourself 'cuz no one will ever know how easy it was to make and how good it truly is for them.
Spicy Pumpkin and Apple Bundt Cake
Servings: 12
Ingredients
Add-ins
2 red apples, skin on, cut into small cubes (I used Spartan)
350 g raw pumpkin, peeled and diced
Garnish
2 tbsp raw unsalted pumpkin seeds
Instructions
For the cake
Preheat your oven to 375F and coat a 9½"

Bundt pan

with cooking spray or olive oil; set aside

In a large non-stick pan, cook the pumpkin and apple cubes over medium-high heat just to soften them up a little bit, about 2-3 minutes. Turn off the heat and let cool while you prepare the batter.

In a large mixing bowl, combine dry ingredients and whisk until well incorporated; reserve.

In a separate bowl, add all of the wet ingredients and mix vigorously with a whisk until smooth and well combined.

Pour wet ingredients into dry and stir with a wooden spoon or rubber spatula until just combined then delicately fold in reserved pumpkin and apple cubes.

Pour mixture into prepared pan and bake for 35-40 minutes until top looks nice and golden and a toothpick inserted in the center comes out clean.

Let cool for 2-3 minutes before returning onto a wire rack to cool completely.
For the icing
In a medium bowl, add

date paste

and pumpkin puree and whisk vigorously until well combined. Add applesauce, yogurt and coconut oil. Mix well.

In a separate bowl, combine protein powder and spices and give that a quick whisk to make sure the spices are distributed evenly.

Add this to the pumpkin mixture and mix delicately until smooth and creamy.

Transfer cake to a service plate and pour icing all over the top, letting it drip over to the sides.

Garnish with raw, unsalted pumpkin seeds.

Keep refrigerated in an airtight container for up to a week.
Notes
Making pumpkin puree is just a breeze. You simply cut it in half, place it in a baking sheet with a little bit of water and bake it face down in a 375F oven until it's nice and tender, then you scoop out the flesh and puree it. Voilà! Nothing to it, really! Just make sure there's always a little bit of water at the bottom of your pan.
If you've tried this recipe, please take a minute to rate the recipe and let me know how things went for you in the comments below. It's always such a pleasure to hear from you!
You can also FOLLOW ME on PINTEREST, FACEBOOK, INSTAGRAM and TWITTER for more delicious, healthy recipes!