Spaghetti Squash, Shaved Fennel and Warm Apple Salad
I'm not really inspired tonight guys, to be honest…
I spent most of the day cleaning up the house for you see, between my full time job and this blog, the poor thing often gets neglected.
All too often, it ends up being last on my to-do list. Baking delicious healthy cakes comes WAY before vacuuming and cleaning floors, or even folding clothes, for that matter…
At this point, I'm not even certain exactly where "installing Christmas lights" stands! I just keep putting it off…
Anyway, let's just say that the house was in great need of a little TLC, so I dedicated my entire day to it. I whipped up some Christmas tunes (hey, don't judge, alright?), pulled up my sleeves and took care of some serious business.
Boy is the house ever shiny and clean now!
But I find myself sitting here, after eating the most delicious salad, with no inspiration whatsoever. I wasn't even inspired to photograph tonight's salad, which turned out to be so good, I'm gonna HAVE to replicate it tomorrow and immortalize it this time.
So, since salad was on the menu tonight, I sort of feel like giving you another glorious salad that I had not too long ago.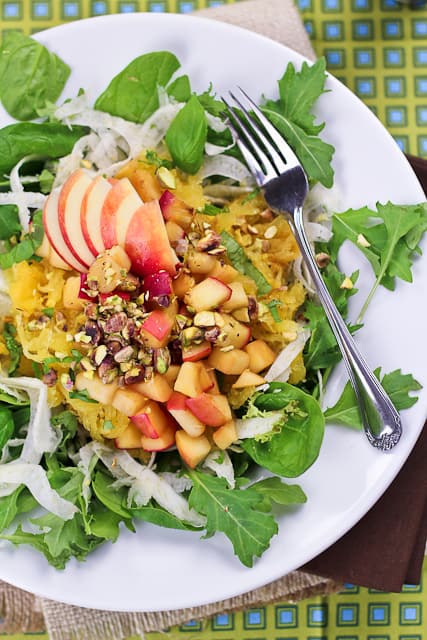 I had baked some spaghetti squash not really knowing what I was going to use it for.
All I knew is I wanted to do something different…
Something that wouldn't be the usual "spaghetti" squash being used as "spaghetti". I wanted it to reclaim it's status of "vegetable".
What better way than to include it in a salad?
I just opened the fridge door and let my imagination pick the ingredients.
I figured fennel and apples would work beautifully well with the subtle and refreshing flavor of the squash.
And for a little bit of color, crunch and added protein: pistachios!
GREAT CALL!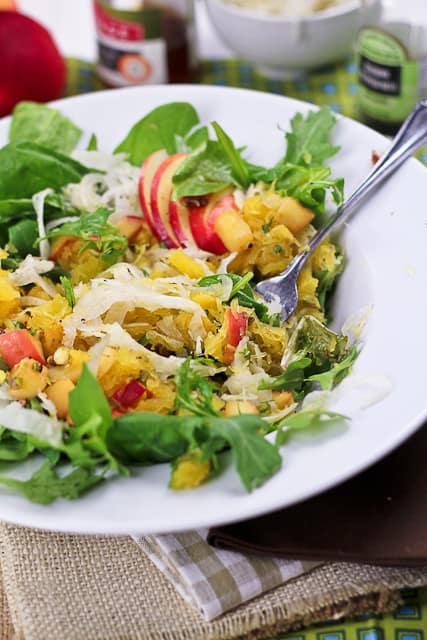 I chose to warm up the apples just a touch, to add a little bit of a temperature contrast… and while they were cooking, I thought: "hmmm… why not add a little bit of vinegar to them, make them nice and tangy!
OH YUM! Again, great call! This just added so much depth and flavor to the dish!
In fact, it made the salad so incredibly moist and tasty that it didn't even need any dressing at all. Just a little bit of extra vinegar and a generous amount of freshly cracked black pepper did the trick.
Let me tell you, this has instantly become a new favorite way of mine to enjoy spaghetti squash!
Spaghetti Squash, Shaved Fennel and Warm Apple Salad
Servings: 1
Ingredients
2 cups mixed greens
250 g spaghetti squash, cooked and cooled (warm would also work)
100 g fennel, shaved (a mandolin comes in real handy here)
1 Royal Gala apple, peel on, diced (or other red apple of your choice)
30 pistachios, chopped
2-3 tbsp cider vinegar
2 tbsp fresh basil, finely chopped
Dash of Himalayan or fine sea salt
Generous sprinkling of freshly cracked black pepper
Instructions
Arrange mixed green at the bottom of a shallow bowl. Sprinkle fresh basil all over the greens.

Top with shaved fennel, followed with spaghetti squash

Cook apple in a non-stick pan over medium-high heat for one minute of two, just enough to soften and warm it up a bit.

Add about two tablespoons of cider vinegar to the apple and continue cooking until the vinegar is completely evaporated. Add apples to the top of your salad.

Top with chopped pistachio, drizzle a little bit more vinegar if desired and sprinkle salt and pepper to taste.
Notes
Leaving the pistachios out would make this salad virtually fat free
If you've tried this recipe, please take a minute to rate the recipe and let me know how things went for you in the comments below. It's always such a pleasure to hear from you!
You can also FOLLOW ME on PINTEREST, FACEBOOK, INSTAGRAM and TWITTER for more delicious, healthy recipes!