Truly Healthy Chocolate Beet Bundt Cake
Don't laugh, alright?
I know my Bundt looks kind of odd… But it's not my fault, you see… it's the pan!
What is it with manufacturers creating Bundt cake pans that give you cakes that resemble giant donuts?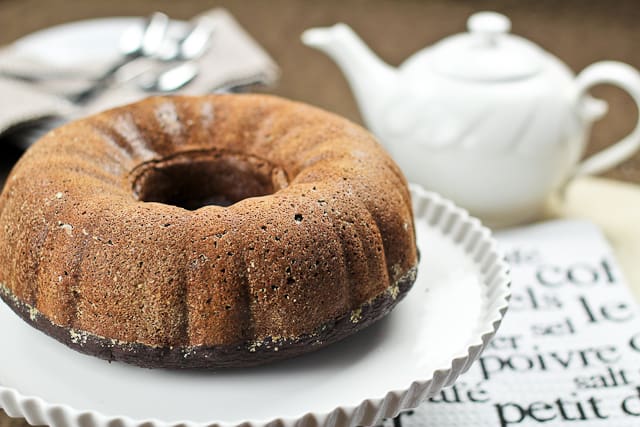 I mean seriously, what are they thinking?
If I wanted a giant donut, I would buy a "giant donut" pan. Not a Bundt cake pan.
Wow, talk about a letdown. I'd been looking sooooo forward to that one. I hadn't made a Bundt in YEARS and was looking so forward to unmolding this beautiful, deeply ridged, curvy and bumpy cake… and this is what I got.
Pfft. 
I don't know about you, but I like my Bundt cakes to bear beautiful, deep and well defined markings.
My kingdom for one of these babies!
But hey, all is not lost!
While I was visibly disappointed with the way my cake looked, I really can't say the same about my taste test experience!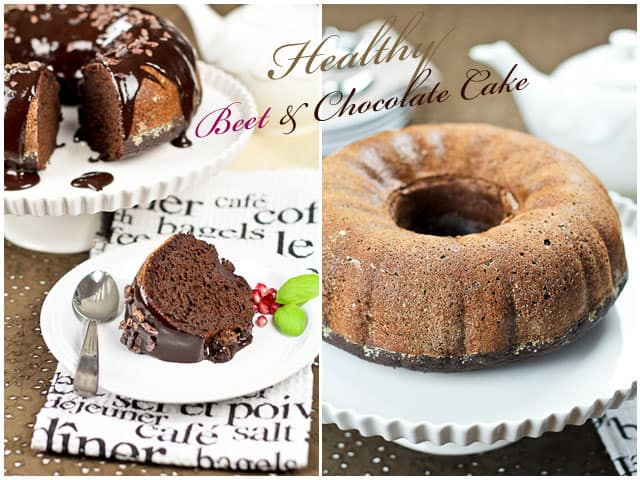 Oh goodness did it ever meet my expectations AND THEN SOME!
This cake REALLY takes the cake!
Talk about dense and crazy fudgy. Lord have mercy on me! It really does have the most amazing texture, I swear. Even my daughter said so. In fact, she's the one who said it first! She said this was my bestest best success at replicating a "real" cake texture so far.
And the flavor is just plain wicked out of this world too!
Now I'm not gonna lie to you, the beets do come shine through. You DO indeed taste them… as in you can't pretend that they are not there. But they work so very well with the chocolate!
In fact, I think I would've been disappointed NOT to taste the beets in that cake.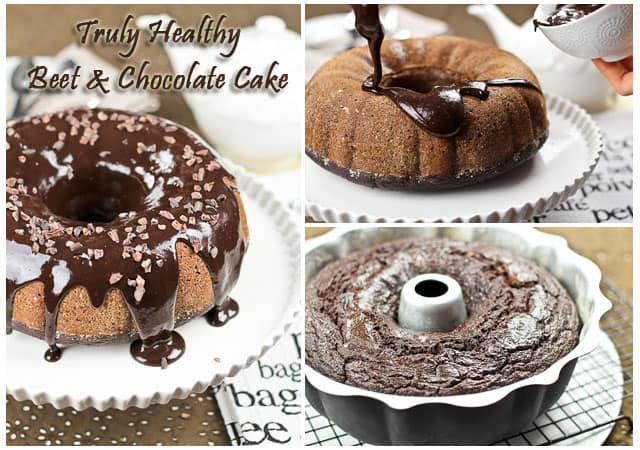 I deliberately chose to use raw, unpeeled beets to get as much color, taste and moisture as possible, as well as all the precious nutrients that this gorgeous ruby vegetable has to offer.
I think that my decision really paid off.
If like me, you appreciate beets to the max, you are going to fall crazy in love with this cake.
And seriously, let me ask you this. Have you ever before in your life had cake where the frosting was so healthy that you would actually WANT to add more because it was so good for you?
Well, you're looking at one now!
But I strongly recommend that you taste it instead of just looking at it because frankly, it tastes MUCH better than it looks. 😉
Chocolate Beet Bundt Cake
Servings: 12
Ingredients
Icing
2 scoops vanilla flavored whey protein powder
2 scoop plain whey protein powder
¼ cup date paste
¼ cup cocoa powder
¼ cup yogurt
3 tbsp pasteurized egg whites
Instructions
For the cake
Preheat your oven to 375F and coat a bundt cake pan with cooking spray.

In a large bowl combine dry ingredients and whisk until well incorporated. Set aside.

In the bowl of your food processor, combine wet ingredients and process until smooth.

Pour into dry ingredients and stir with a wooden spoon or spatula until well combined.

Pour batter into prepared pan and bake for 30-35 minutes or until a toothpick inserted in the center comes out clean.

Cool for 5 minutes, return onto a cooling rack and cool completely.
For the icing
Add date paste, yogurt and egg whites to a mixing bowl and blend with a whisk until smooth and well combined.

Stir in cocoa powder and again, mix until smooth.

Stir in whey protein powders and mix until well combined. Let rest for a minute then stir again until smooth.

Place cooled cake in a serving plate and pour icing all over the top, letting it drip on the side.

Garnish with raw cocoa nibs.
If you've tried this recipe, please take a minute to rate the recipe and let me know how things went for you in the comments below. It's always such a pleasure to hear from you!
You can also FOLLOW ME on PINTEREST, FACEBOOK, INSTAGRAM and TWITTER for more delicious, healthy recipes!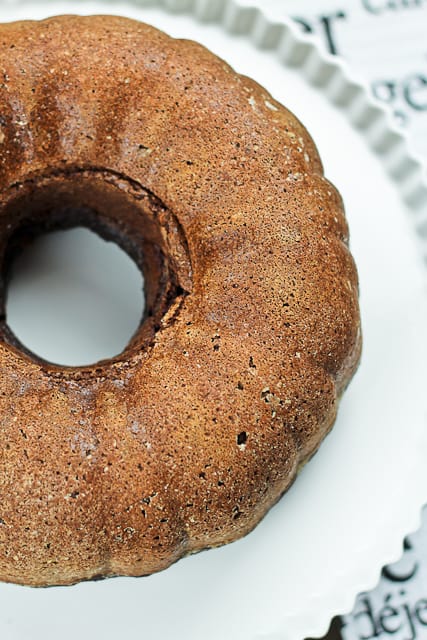 Start with a giant donut… erm sorry, I mean Bundt cake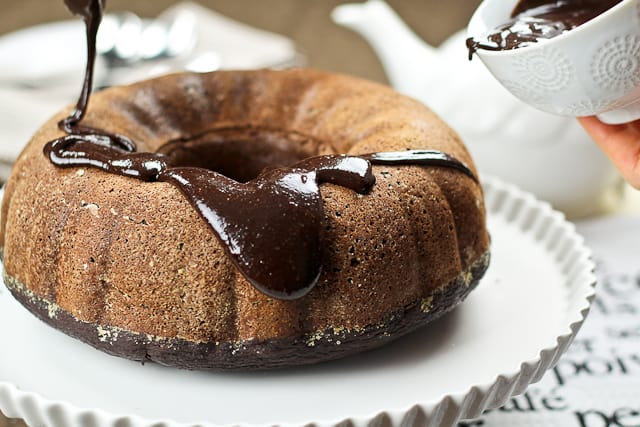 Pour on a little bit of delicious chocolate frosting…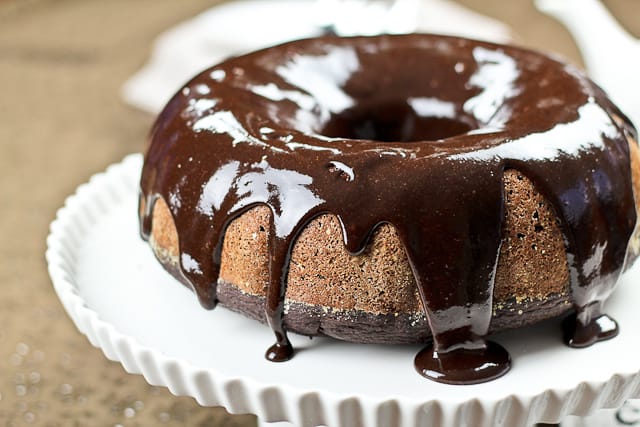 …or A LOT!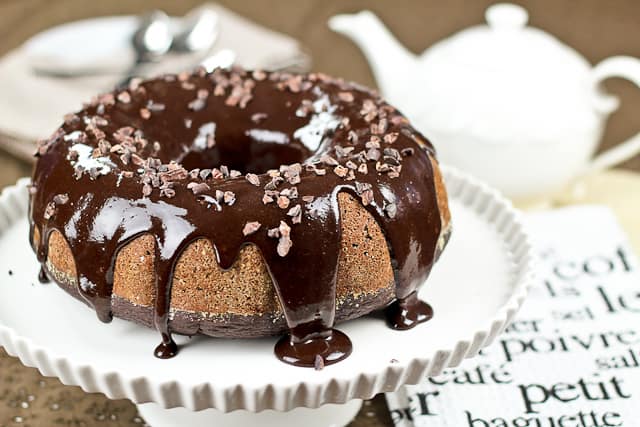 Garnish with cocoa nibs…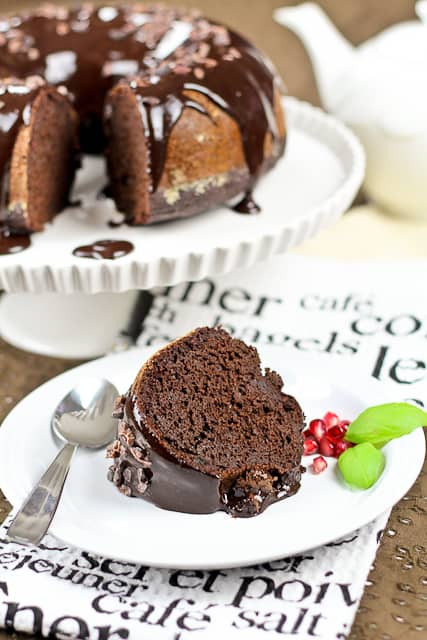 Cut yourself a slice…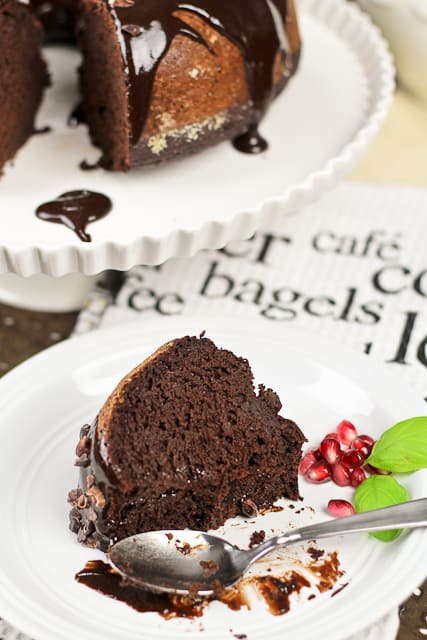 And prepare to die. Well, almost! Check out that amazing fudgy texture.
Has your heart rate gone up yet?