Fall Harvest Salad
This is a variation on a salad that my ex used to make a lot at this time of year. I'm really glad that he introduced me to that beautiful salad, because, frankly, it would've never occurred to me to cook all those veggies, dress them up and let them cool completely before eating them. The result is quite interesting, I must admit.
Oddly enough, though, I never really cared for cooked celery, unless it's cut very finely and sort of almost lost in a sauce or something. But in this salad? I just love it, despite the fact that the pieces are HUGE (well, huge for me that is!)
Now this is a salad that is loaded with earthy and bold vegetables, but yet, it feels very light and surprisingly refreshing. The addition of walnuts also gives it a nice crunch, too. You could choose to eat this as a main course, but it also makes a superb side dish.
Oh, and if you are trying to spot the sweet potatoes in the pictures, chances are, you won't find any. Or rather, you won't recognize them…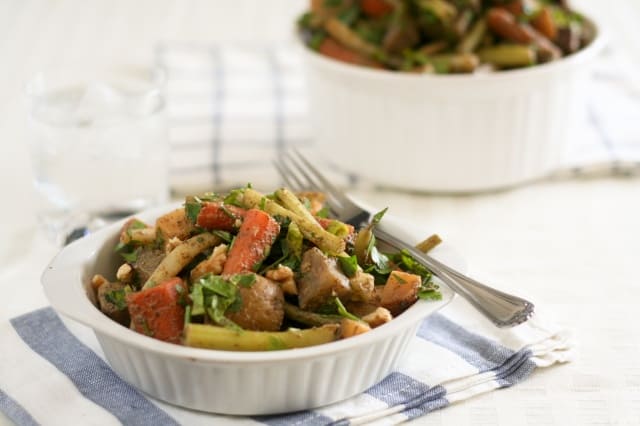 You see, I decided to use a red skinned, japanese sweet potato for this salad. I had never tried them before, but I expected their flesh to be very similar to their skin in color, much like the orange variety, and I thought it would add a nice touch to the salad.
Boy was I surprised when I cut into that potato! The flesh was white, even slightly greyish. Not what I had in mind at all. No, it did NOT look pretty. It made my salad look almost sort of khaki in color. At least the taste was good, but lookwise, thank goodness the bright orange of the carrots was there to save the day.
I think next time, I will stick with regular, orange sweet potatoes. I'd rather more rather get more orange and less khaki, thank you very much!
Kakhi is just not my thing…
FALL HARVEST SALAD
INGREDIENTS
(serves 6-8 as a side dish)

Salad
4 small yukon gold potatoes, quartered
2 small turnips, ends removed and cut into 1″ cubes
1 small rutabaga, peeled and cut into 1″ cubes
1 medium sweet potato, brushed clean and cut into 1″ cubes
3 carrots, peeled and cut into 2-3 inch pieces
3 celery ribs, cut into 2-3 inch pieces
150g each yellow and green beens, whole, ends trimmed
1 tsp salt
½ tsp black pepper
1 tbsp dried oregano
¼ cup water
Dressing
3 garlic cloves
2 tsp Dijon mustard
2 tbsp white wine vinegar
1 tbsp olive oil
½ tsp salt
½ tsp black pepper
1/3 cup water
1 tbsp liquid honey
Extra goodies
1 cup fresh parsley, chopped
½ cup walnuts, chopped
2 tbsp za'atar (or dried oregano)
INSTRUCTIONS
Preheat oven to 400F and prep all your vegetables. Transfer them to a shallow baking dish, except for the beans, and add water, salt, pepper and oregano.
Cover with foil and cook for 25-30 minutes, stirring once or twice during that time.
Add beans and cook for an an additional 20-25 minutes, until vegetables are tender.
When veggies are cooked, make the dressing by mixing all the ingredients in a small food processor.
Transfer your vegetables to a large mixing bowl, add dressing and toss very delicately, until all the vegetables are coated.
Add parsley, walnuts and za'atar (you can use dried oregano if you don't have za'atar)
Allow salad to cool for a little while, then cover and put in the refrigerator to cool completely, preferably overnight.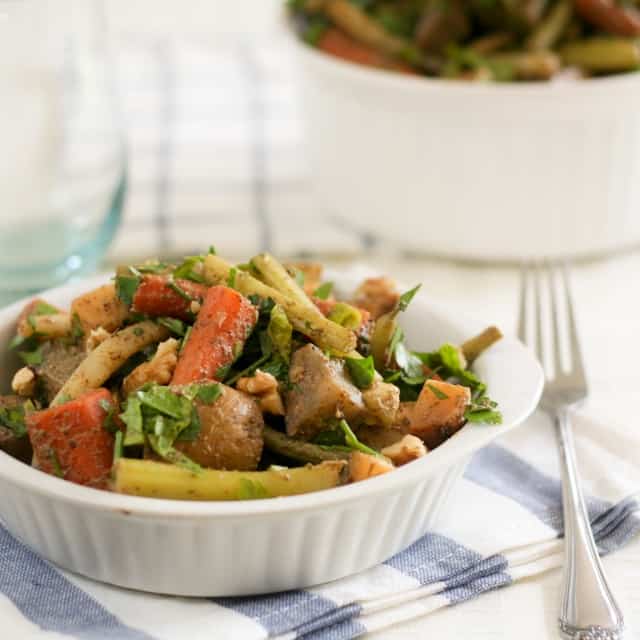 See that nice khaki potato? Yep, that would be a sweet potato. Not pretty. Stick with orange!