Greek Style Bell Pepper Salad
It's funny how sometimes, you'll get inspired by the smallest little things, the tiniest little detail, the most insignificant of events.
You'll just catch a glimpse of something and your mind will go BOOM! and you get this crystal clear vision of something that you simply MUST bring to life.
That's EXACTLY what happened to me with this salad.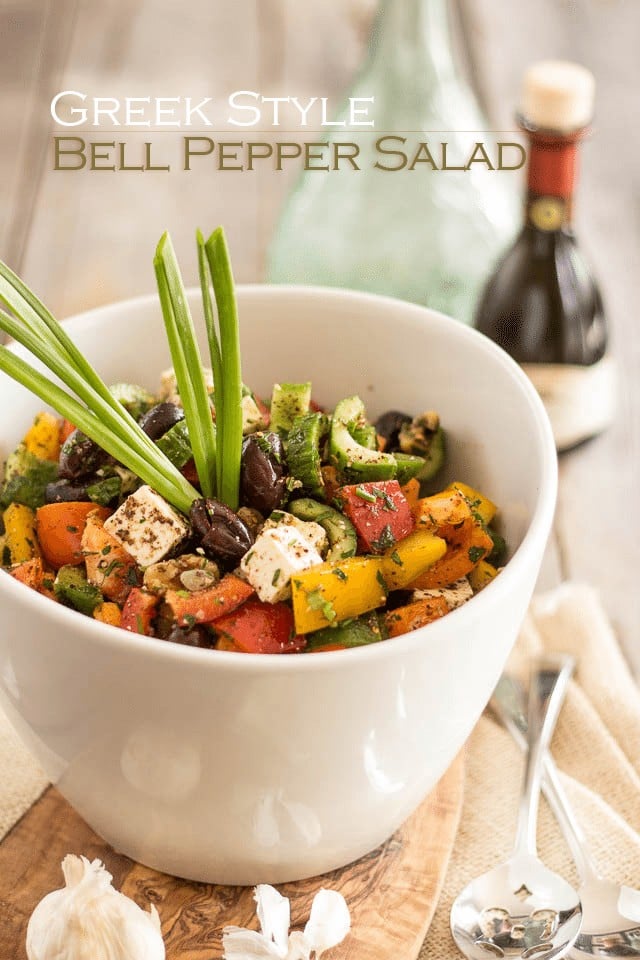 The inspiration came to me as I was WODing the other night and my attention got momentarily diverted to what my coach was having for dinner: bland cooked (poached, perhaps?) chicken with a side of raw yellow and red bell peppers that had been given no form of preparation whatsoever, save for seeding and cutting them in half.
I thought to myself that, no matter how fresh and crunchy and tempting his bell peppers looked to me at that very moment, they could seriously use a little bit of an upgrade.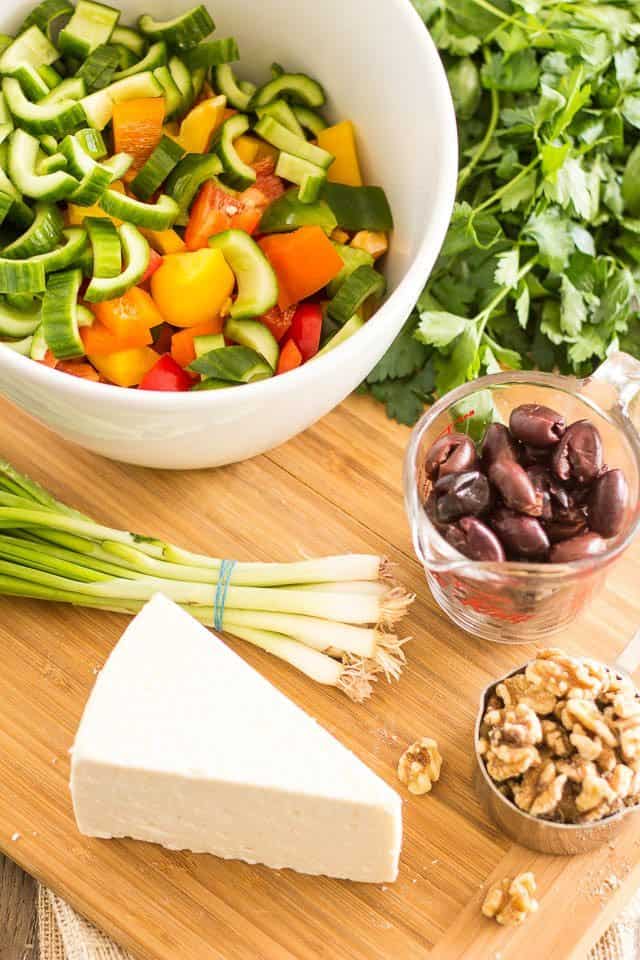 Instantly, I got this vision in my mind of huge chunks of crisp bell peppers, slices of fresh cucumbers, loads of salty Kalamata olives, big dice of tangy goat feta cheese and a few pieces of crunchy walnuts for a bit of a finishing touch.
This would all be brought together by a very simple vinaigrette made of mostly olive oil, vinegar, garlic and herbs.
The inspiration was so violent, so vivid I wanted to make that salad right then and there, in the middle of the box. Unfortunately, boxes aren't really the place for cooking, so this was gonna have to wait… but let me tell you, it didn't take long before I made my vision come to life!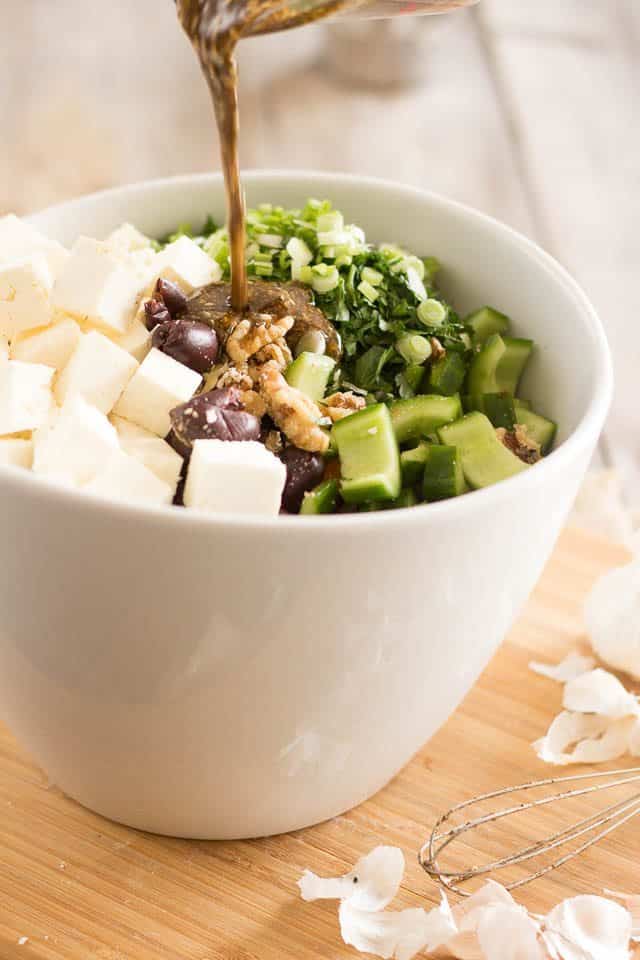 It would've happened even faster had it not been for the fact that I had to make a special trip to get the feta cheese, since this is not an ingredient that I tend to keep on hand. But this salad really NEEDED to have the cheese in it. My vision called for it. Plus, I still like to indulge in a little bit of cheese once in a while, and it had been a fairly long time, so I figured I could afford that little "breach" in my diet.
Boy oh boy was it worth it! Me thinks that the cheese really elevated the salad to the next level. But hey, if you feel really strongly about leaving cheese out of your diet, or if you can't tolerate it, I'm sure it would still be absolutely awesome without it.
Maybe you could replace it with some grilled chicken. Oh yum! Now that would be grand!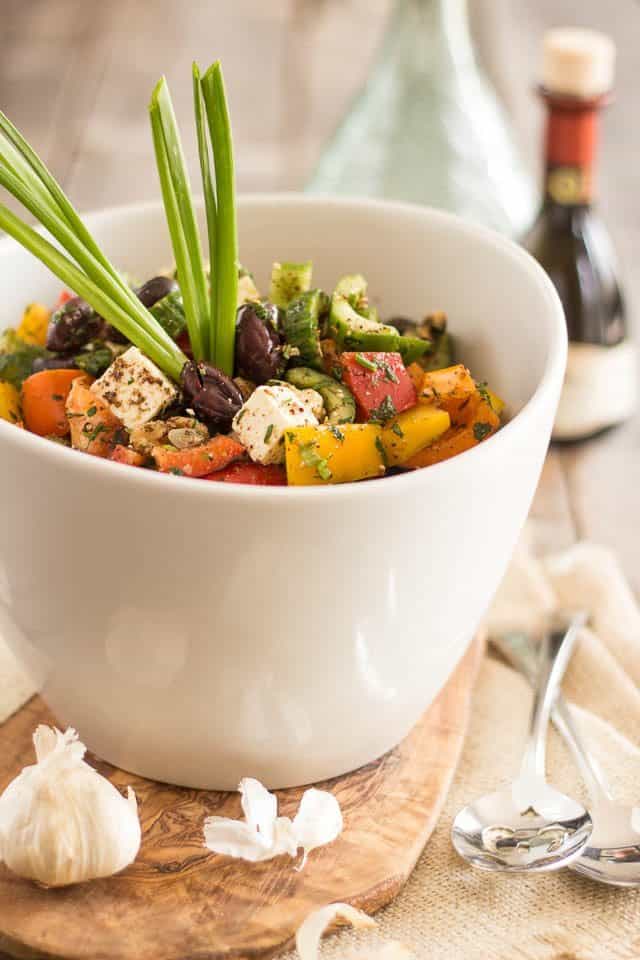 Now, since my coach had been the one behind the creation of this salad, although completely unbeknownst to him, the lucky guy got to get his hands on a great big bowl of it.
Truth is, I like to bring him some of the stuff that I make from time to time. It kinda makes up for the fact that he has been so kind to me and has taken such great care of me since I busted my stupid knee about 2 months ago. He's been consistently adapting all the WODs for me, even the ones I go to when he's not coaching.
He always makes sure that I get adequate exercise without risking causing further damage to my knee. Honestly, the guy is a real gem and he's been a true life saver for me. I would be totally lost without him right now, so I think he deserves a little treat from time to time…
If one can call Greek Style Bell Pepper Salad a treat!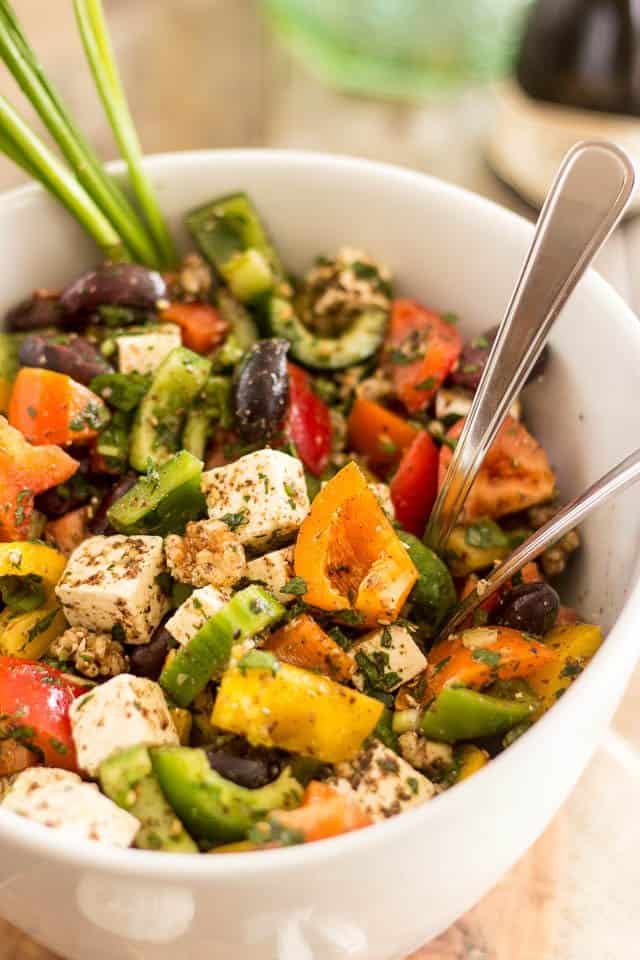 Hmpft. Now that I think of it, I never got to find out whether he liked it or not. Unfortunately, there never really is much time to talk before, during or after workouts…
I have to take a mental note and ask him about that salad next time I hit the box… Surely he liked it, probably much better than the original bell peppers that were behind the inspiration!
Regardless, I know this salad will now be a part of my regular rotation, especially now that summer is upon us. This will be the PERFECT accompaniment for grilled meat!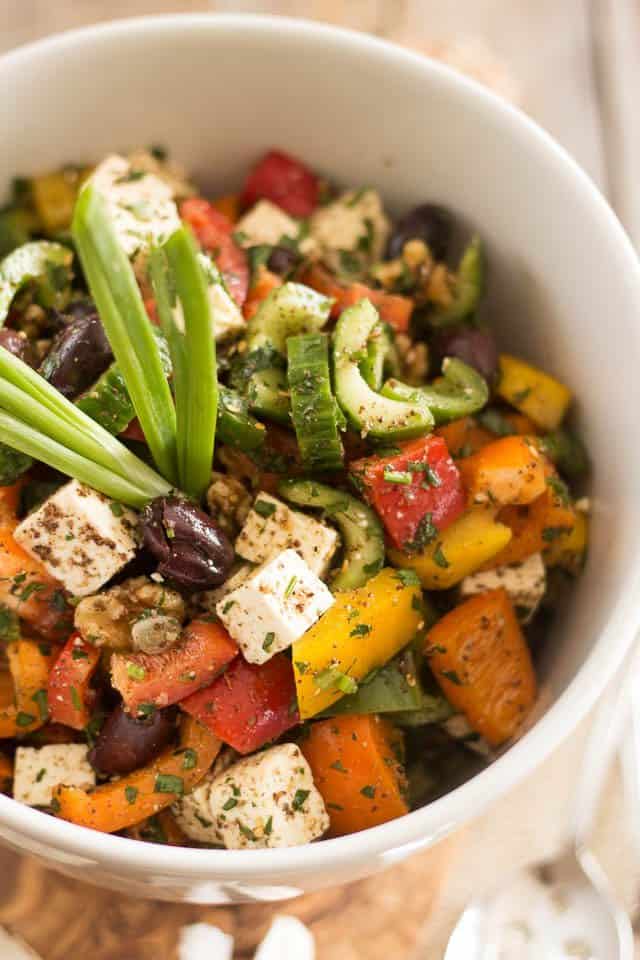 Greek Style Bell Pepper Salad
This Greek Style Bell Pepper Salad is incredibly simple, super quick to make and bursting with flavor. The perfect accompaniment to your favorite grilled meat!
Servings: 4
Ingredients
4 bell peppers, 1 orange, 1 red, 1 yellow, 1 green, cut into chunks
4 Lebanese cucumbers, cut in half lengthwise, seeded and sliced
1 cup jumbo Kalamata olives, pitted
1/2 lb Goat Feta Cheese, diced
1/2 cup organic walnuts, coarsely chopped
1/2 cup parsley, chopped
2 green onions, chopped
Instructions
Prep all your veggies and add them to a large mixing bowl.

In a separate bowl, add all the ingredients for the vinaigrette and whisk until well incorporated.

Pour over the salad, mix well and serve immediately.

This salad is best enjoyed the same day but will keep in the refrigerator for a couple of days, although some wilting of the cucumber is to be expected. If you need to make this ahead of time, it's best to add the cucumber at the last minute.
Nutrition
Calories: 510kcal, Carbohydrates: 27g, Protein: 14g, Fat: 41g, Saturated Fat: 12g, Cholesterol: 50mg, Sodium: 1467mg, Potassium: 880mg, Fiber: 7g, Sugar: 13g, Vitamin A: 5164IU, Vitamin C: 172mg, Calcium: 424mg, Iron: 5mg
If you've tried this recipe, please take a minute to rate the recipe and let me know how things went for you in the comments below. It's always such a pleasure to hear from you!
You can also FOLLOW ME on PINTEREST, FACEBOOK, INSTAGRAM and TWITTER for more delicious, healthy recipes!