Greek Style Tomato Cucumber Salad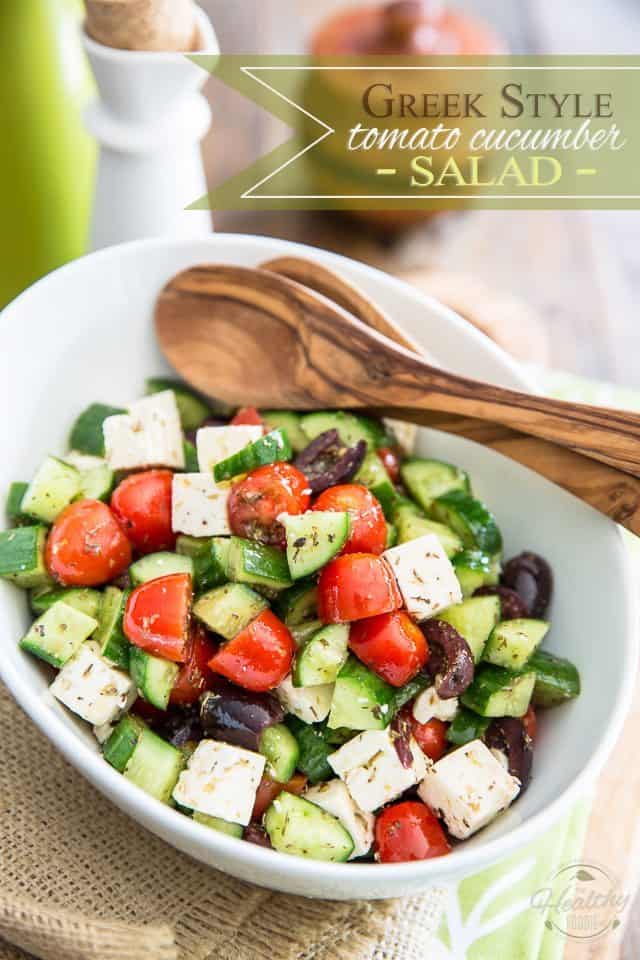 I've totally lost count of how many times I've had this Greek Style Tomato Cucumber Salad since the beginning of the summer…
I seem to automatically revert to it whenever I'm not feeling too inspired or too creative in the kitchen, or whenever I need to whip up dinner in a hurry.
This salad, it seems to go good alongside practically everything and anything, from grilled meat to fish to eggs, omelettes or sandwiches… Heck, sometimes I'll even throw in a handful of chopped walnuts and enjoy it on it's own!
It's so tasty and good and crunchy and refreshing, I just can't seem to get enough of it.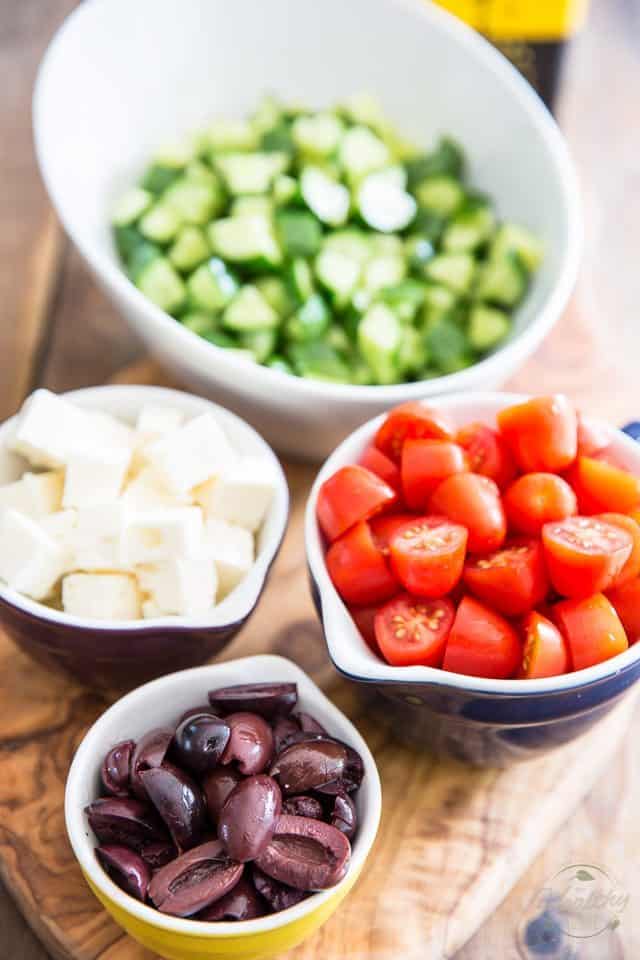 Plus, it's another one of those dishes that you don't actually need a recipe for: simply cut up a few mini cucumbers, grape tomatoes, kalamata olives and feta cheese…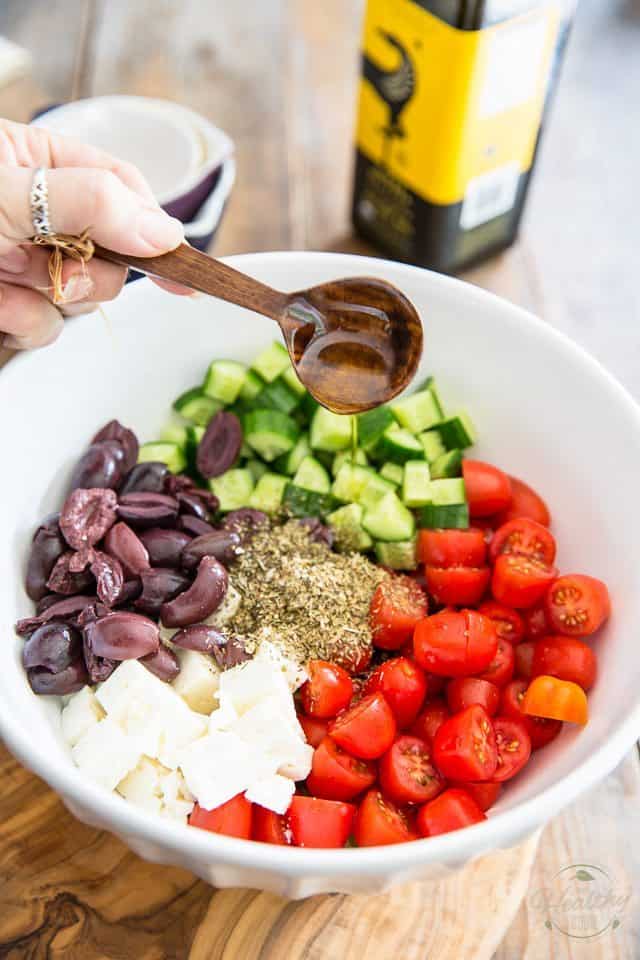 Throw everything in a bowl, toss in a little bit of garlic, a handful of oregano, a plash of evoo and a sprinkle of salt and you're all set!
You can serve your salad immediately, or place it in the fridge for about an hour to allow flavors to meld and let the salt work its magic.
I strongly suggest that you eat it on the day that you make it, though… otherwise, the cucumbers will release practically all of their water and will become wilted and not all that palatable. You MAY get away with serving it the next day, but I wouldn't go longer than that.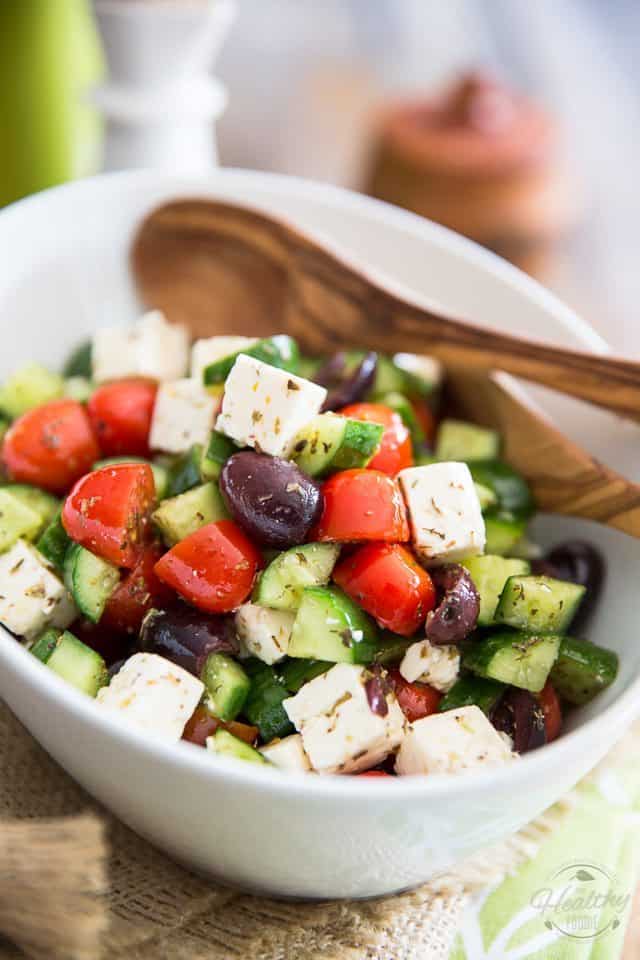 Besides, it takes so little time to make, you really shouldn't need to prep it ahead of time. Even if you wanted to take it with you to some picnic or family gathering, you should have plenty of time to whip it up in the morning, right before you leave.
And if you really had to make it ahead of time, you could always prep all your ingredients in advance and only introduce them to one another at the last minute…
You know what? I think I'll go whip me one right now. It'll be pretty fantastic next to my lamb steak tonight!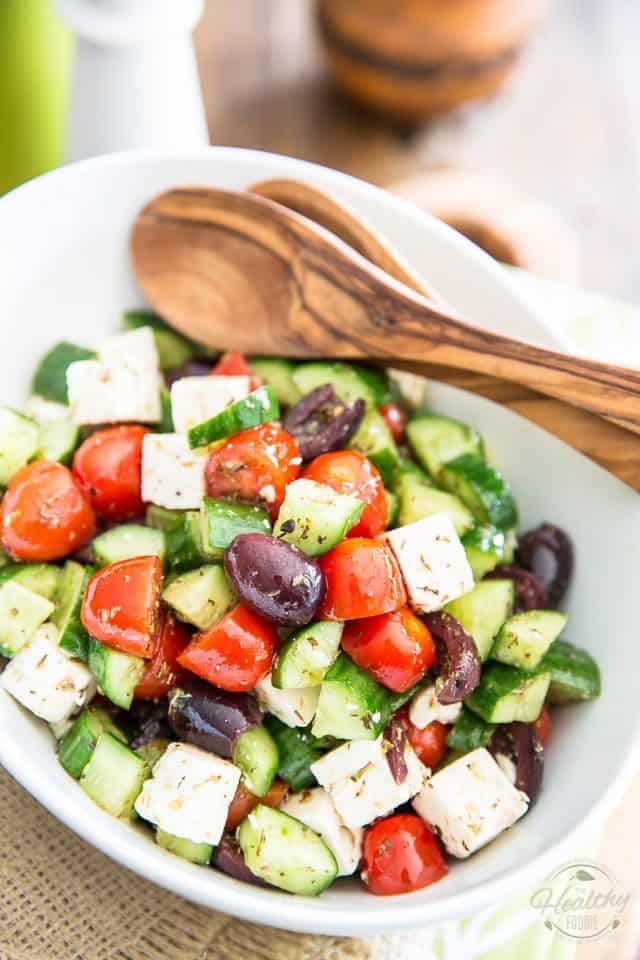 Greek Style Tomato Cucumber Salad
This instant Greek Style Tomato Cucumber Salad takes only minutes to put together and has flavor to last 'til tomorrow! Get it on your plate today!
Servings: 4
Ingredients
6 mini cucumbers, chopped
2 cups grape tomatoes, cut in half
1 cup diced feta cheese
1/2 cup pitted kalamata olives, cut in half
2 tbsp extra-virgin olive oil
1 clove garlic, minced
1 tbsp dried oregano
3/4 tsp salt
Instructions
Place all the ingredients in a large bowl and toss until well combined.

Serve immediately or place in the fridge for about an hour to allow flavors to meld.

This salad is best consumed on the day it is made.
Nutrition
Calories: 265kcal, Carbohydrates: 15g, Protein: 9g, Fat: 20g, Saturated Fat: 7g, Cholesterol: 33mg, Sodium: 1256mg, Potassium: 780mg, Fiber: 5g, Sugar: 9g, Vitamin A: 1018IU, Vitamin C: 21mg, Calcium: 286mg, Iron: 2mg
If you've tried this recipe, please take a minute to rate the recipe and let me know how things went for you in the comments below. It's always such a pleasure to hear from you!
You can also FOLLOW ME on PINTEREST, FACEBOOK, INSTAGRAM and TWITTER for more delicious, healthy recipes!