Prosciutto Melon Skewers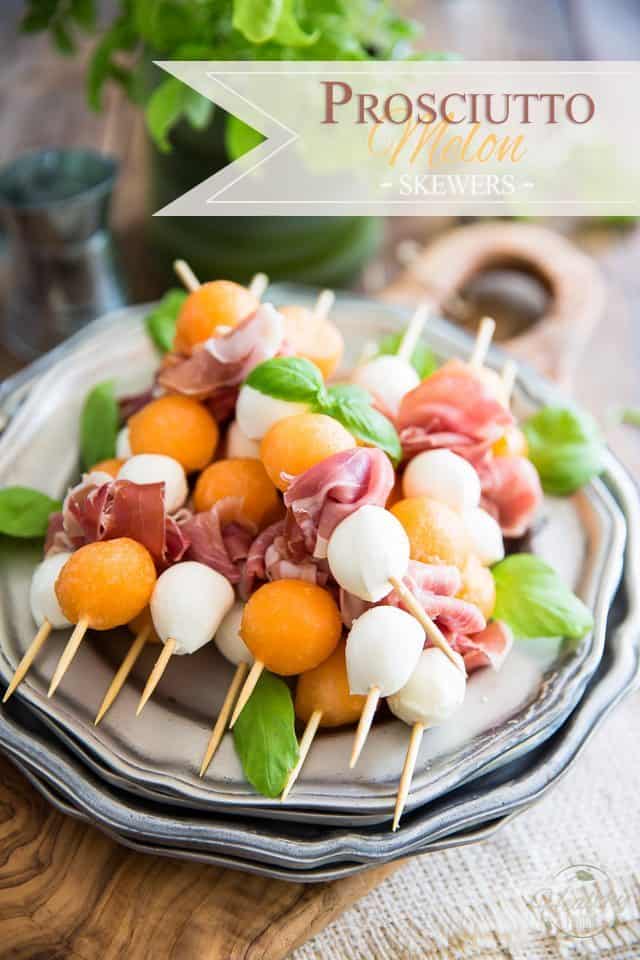 This was another one of my contributions to the little impromptu picnic that we recently had at my mom's place.
Prosciutto Melon is a well-known appetizer and you probably don't need me to tell you about it. But, did you ever think of turning this great classic into super elegant and easily portable skewers? Talk about the perfect solution if you're going to bring them to a pot-luck, picnic or serve them as part of a summer BBQ!
These are so easy to put together, you hardly even need a recipe to make them! Better yet, you don't even have to make them exactly like mine, either!
For instance, I chose to add mini bocconcinis to my skewers, because I really have a thing for them… but, say you didn't do cheese, you could very well replace those with another variety of melon. This would also add a beautiful contrast in taste and color.
I'm thinking that Honeydew or Canary melon would work fantastically well.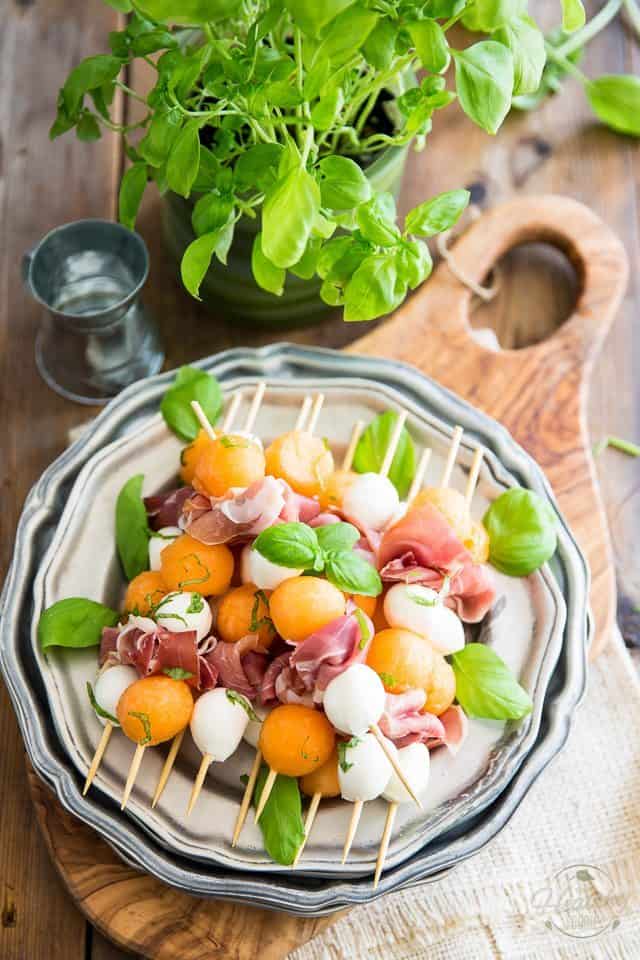 Also, you could just as easily make a smaller, or much larger batch, to accommodate your needs of the moment. This is really not exact science at all…
And one of the undeniable advantages of these beautiful and refreshing skewers is that they don't require the use of the oven or stove-top, so you won't be warming up the house more than it already is. I don't know about yours, but mine feels pretty much like an oven, right about now…
I'm not one to swim much, but in this minute, I sort of wish there was a beautiful inground pool right in my backyard, instead of that sea of overgrown, dried-up grass…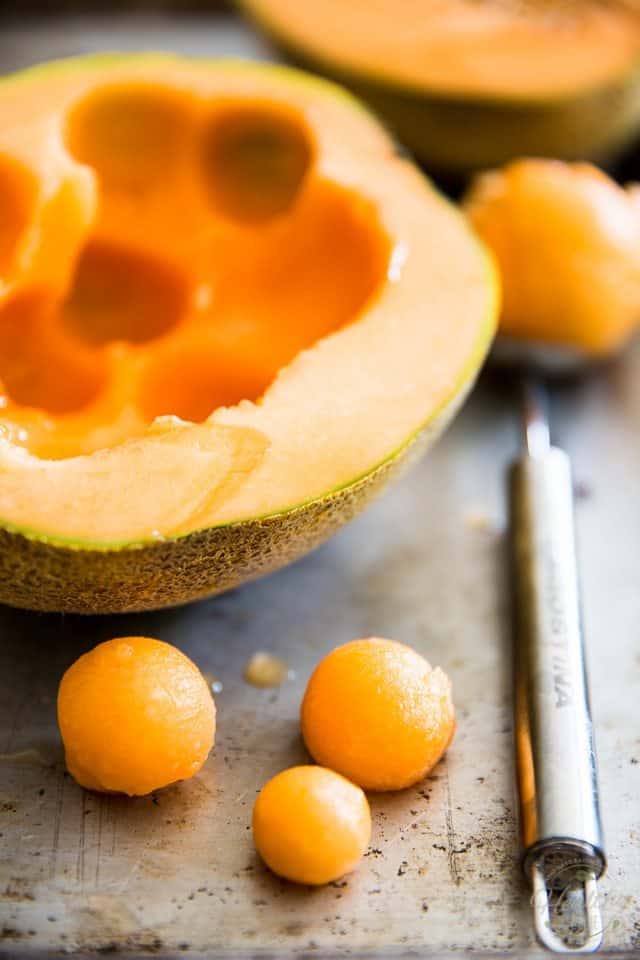 The only "special" thing that this recipe asks of you is that you own a melon baller. If you don't already own one, I say that you should definitely consider investing in one. While you probably won't be using it every day, you'll be very happy to find one in your drawers when the need for it suddenly arises! Plus, they cost virtually nothing and take up close to no space at all… so I say it's a kitchen gadget that's definitely worth having.
One thing worth noting is that some melon ballers are equipped with two heads, with one being much smaller than the other. To make these skewers, you'll want to use the larger head, otherwise your cantaloupe balls will be much too small and will look kind of disproportionate!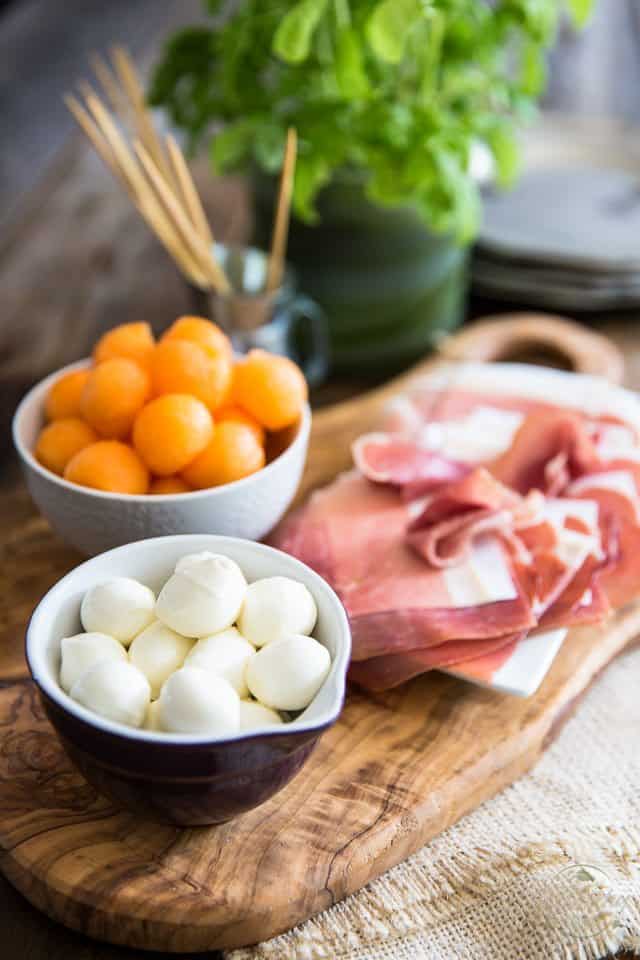 Once you have all your ingredients ready to go, there's only one thing left to do…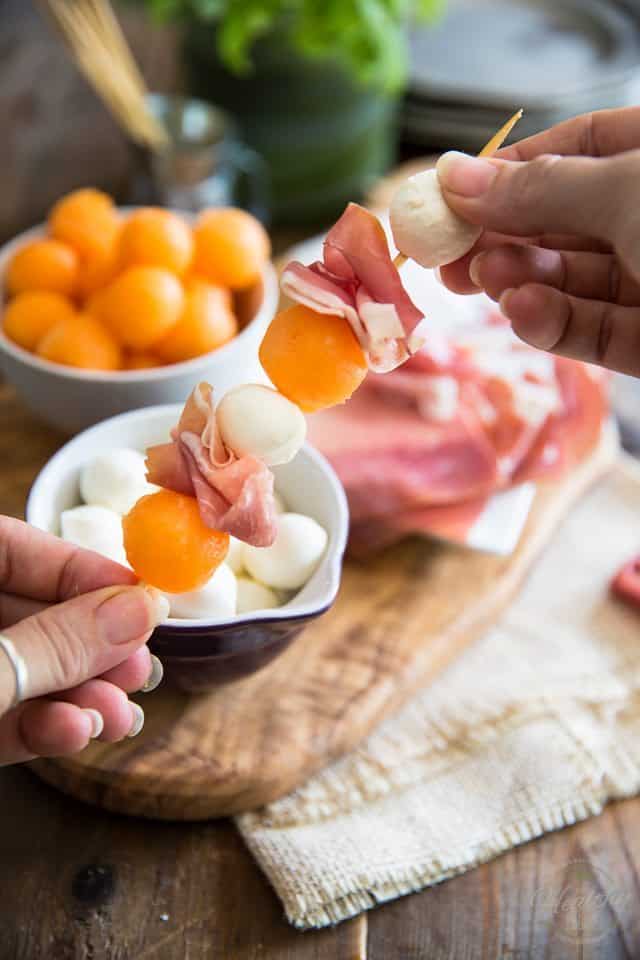 And that's to thread the ingredients onto 8″ wooden skewers, alternating between cantaloupe, bocconcini (or other type of melon) and prosciutto.
You'll want to fold the prosciutto into little bundles so it holds neatly on the skewers.
Also, if you wanted to, you could thread fresh basil leaves directly onto the skewers, to add a little bit of color. However, I strongly suggest that you do that only if you are planning on serving the skewers immediately, otherwise the basil leaves will have time to wilt and won't look so good by the time you're ready to serve your guests…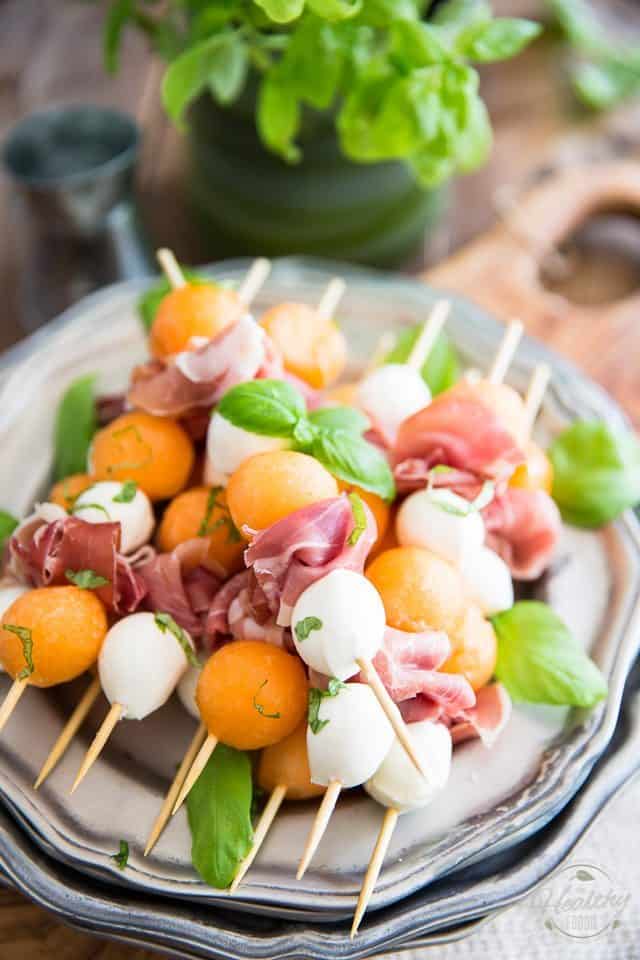 Since these skewers can be made up to a day in advance, what I like to do is garnish them with fresh basil leaves at the moment of serving.
Until that happens, simply cover the finished skewers and refrigerate until ready to serve… And if you're gonna carry them with you to some other location, simply put the finished skewers in a resealable bag or large rectangular container; It's as easy as that.
Same goes for the balsamic vinegar… while it goes fantastically well with these, you want to drizzle it on ONLY at the moment of serving, otherwise it will confer a VERY unappetizing color to the cute little cheese balls as they soak it up.
Also too, make sure that you use a good, aged balsamic vinegar here, as aged balsamic is much thicker, richer and tastier than the regular stuff. If you didn't have aged balsamic in your pantry (I understand that it can be a bit of a luxury item), you could also make a balsamic reduction by bringing about a cup of regular balsamic to a boil, let it reduce by about 75% and then let it cool completely.
A balsamic reduction will keep for up to a few months in the pantry, so don't be afraid to make larger batches! A cup of vinegar will yield about 1/4 cup of reduced balsamic.
And then you can drizzle it on just about everything…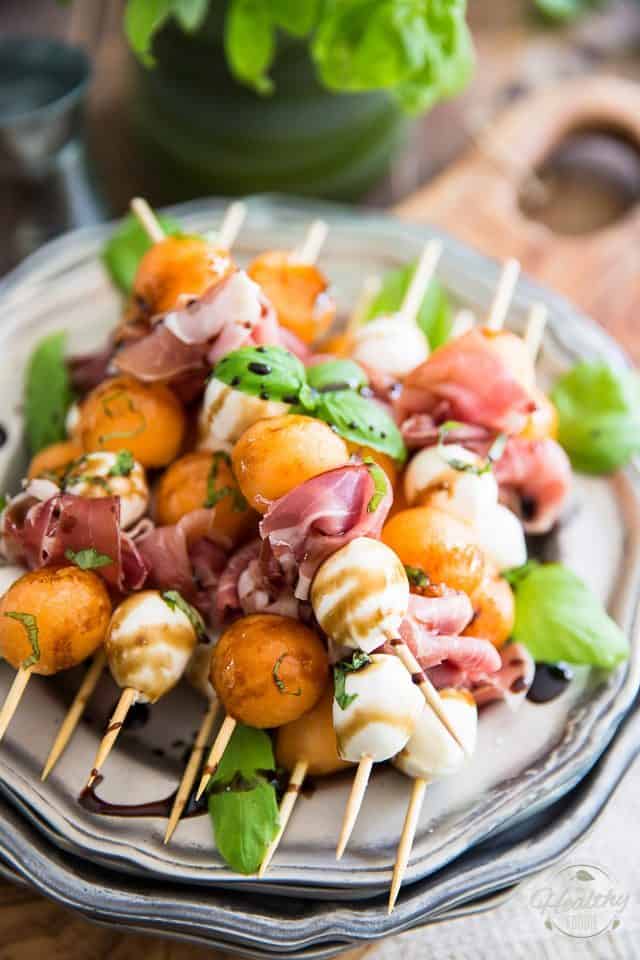 Prosciutto Melon Skewers
Prosciutto Melon Skewers: A great classic made super elegant and easily portable! Perfect for your next picnic or summer BBQ by the poolside!
Servings: 10 skewers
Ingredients
For the skewers
20 large cantaloupe balls, from 1 medium cantaloupe
20 mini bocconcini
10 slices of prosciutto, cut in half
To garnish
Fresh basil leaves, chopped and whole
Good quality aged balsamic vinegar
Instructions
Thread the ingredients onto

8" wooden skewers

, alternating between cantaloupe, bocconcini and prosciutto. Fold the prosciutto into a bundle so it holds neatly on the skewers.

Cover and refrigerate until ready to serve.

At the moment of serving, garnish with chopped and whole basil leaves and sprinkle with balsamic vinegar.
Nutrition
Calories: 99kcal, Carbohydrates: 2g, Protein: 5g, Fat: 8g, Saturated Fat: 3g, Cholesterol: 14mg, Sodium: 84mg, Potassium: 73mg, Fiber: 1g, Sugar: 2g, Vitamin A: 676IU, Vitamin C: 7mg, Calcium: 73mg, Iron: 1mg
If you've tried this recipe, please take a minute to rate the recipe and let me know how things went for you in the comments below. It's always such a pleasure to hear from you!
You can also FOLLOW ME on PINTEREST, FACEBOOK, INSTAGRAM and TWITTER for more delicious, healthy recipes!