Grill Roasted Corn Salad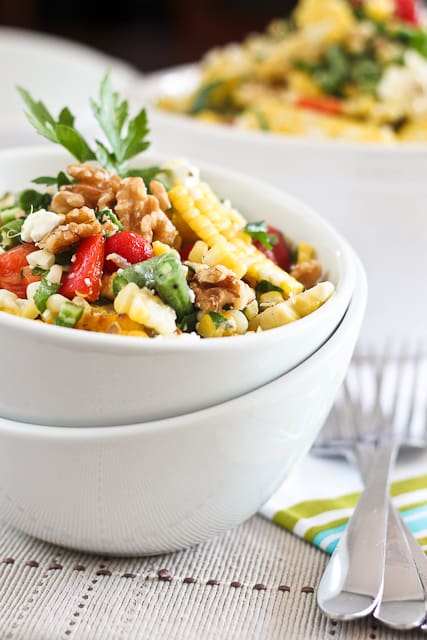 Corn season is here… and is already almost gone!
I usually eat TONS of corn when it's in season, but this year has been very different.
I only bought one dozen so far, and might not even buy more.
Why?
Well, first off, corn, even in its fresh form, happens to be a grain! I like to think of it as a vegetable, but it really is a grain… and since I've decided to go easy on grains, well, I have to go easy on fresh corn too!
Sad though…
Second, well, when you're alone, a dozen ears of corn is A LOT to go through! I had to eat corn every day for a week straight.
I might have to buy another dozen though, before season is really over. I mean, I DO have a sweet spot for corn, and I ESPECIALLY like that Quick Raw Corn Chowder. I want to enjoy it one more time while I still can.
Speaking of sweet, I am now 2 weeks into my Sugar Free Challenge and still going super strong. I haven't had one gram of sugar, not even "indirect" sugar, such as that which would be present in bread or any other prepared food. Even eating out, I've been super careful and made choices which I could be absolutely certain contained no sugar at all.
Frankly, I feel fantastic and I'm thinking of stretching it one extra week and make it last the entire month of August. For some reason, to me, a challenge should last at least 30 days, else it's just too easy! 😉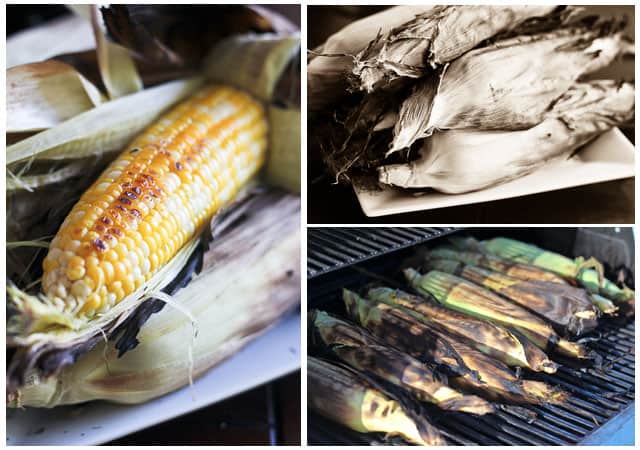 But anyway, back to corn… I had never realized that there were so many calories in an ear of corn! I always thought that there would be bah… about 35, 4o maybe?
No way, not even close!
A large ear of corn, which is pretty much the standard size here in Quebec, has about 120 calories! That's insane! To think that I used to eat 12 of them EASY when I was younger, WITH butter and salt on top of it. YIKES!!! Thank goodness, I now I enjoy my corn SANS butter, thank you very much. I find it tastes better that way, and is A LOT less messy…
I also happen to like my corn… care to guess? GRILLED, of course!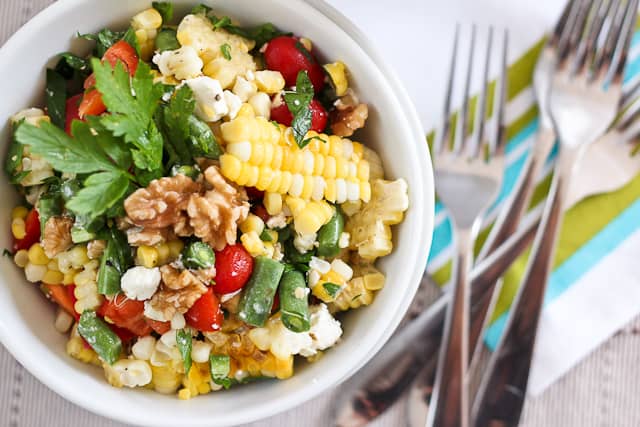 Last year, I discovered just how easy it was to roast corn in the oven, by simply shoving it in there, husks and all, for about 40 minutes.
I figured the same result had to be achievable by throwing said corn on the grill instead.
And indeed, it works BRILLIANTLY! – In less than half the time, too!
So I created another Roasted Corn Salad, using "grill roasted" corn, this time. It was just sublime! So sweet and fresh and intensely crunchy, with just a hint of hot and tangy, it just SCREAMED of a beautiful summer day. It immediately transported me to some magical place where I was having a picnic, sitting on a large tablecloth in the middle of a green prairie, surrounded with grass, butterflies and daisies and trees and beautiful birds…
Hey, why not take it to an actual picnic? It would be just PERFECT for that…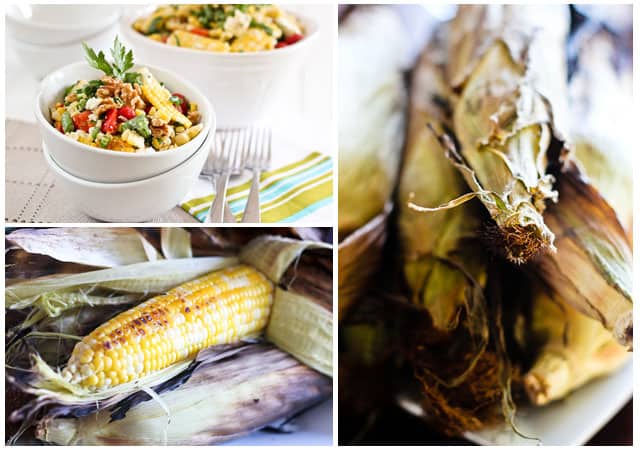 Of course, you don't HAVE to use "grill roasted" corn to make this salad, nor do you have to cook corn ESPECIALLY to make it.
It would be the perfect opportunity for you to use up that leftover corn from the corn party you held yesterday or the day before…You know, the one you never quite know what to do with, save for making Shepherd's pie…
BUT, know this: the grill roasted corn does add a lot of depth to the overall flavor of the salad. Roasting the corn makes it that much sweeter and gives it a bit of a caramelized taste that I totally dig!
I think this is now my ultimate way of cooking corn.
Of course… it's GRILLED! How could I not just adore it!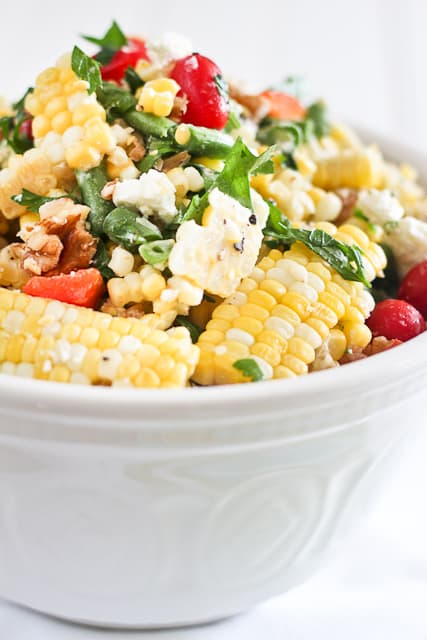 Oh yeah… I will definitely have to get me another dozen of those babies before they are gone for good.
Can't wait another year to indulge again…
Besides, it's almost a vegetable, isn't it?
Grill Roasted Corn Salad
Servings: 4
Ingredients
8 ears of corn, silk removed
1 red bell pepper, chopped
1 cup grape tomatoes
2 cups green beans, ends removed and cut into 1" pieces
1 cup fresh parsley, chopped
1 large jalapeno pepper, seeded and very finely chopped
the juice of 1 lime
1 tsp Himalayan salt
½ tsp freshly cracked black pepper
75 g unripened goat cheese, crumbled
½ cup walnuts, chopped
Instructions
Preheat your outdoor grill to high heat (around 400-450)

Place your ears of corn directly on the grill without removing the husks (remove the silk to avoid burning)

Close the lid and cook the corn for about 20 minutes, rotating the ears every 3-5 minutes, to insure even cooking on all sides.

Remove corn from the grill and allow to cool for about 10 minutes then remove the husks.

Remove kernels from the cobs and place in the fridge to cool completely, preferably overnight.

Of course, you can also use leftover corn or even frozen corn.

When corn is good and cold, add it to a mixing bowl along with the rest of the ingredients. Blend to combine.

Serve immediately or leave in the fridge for a couple of hours to allow for flavors to combine.
If you've tried this recipe, please take a minute to rate the recipe and let me know how things went for you in the comments below. It's always such a pleasure to hear from you!
You can also FOLLOW ME on PINTEREST, FACEBOOK, INSTAGRAM and TWITTER for more delicious, healthy recipes!