Grilled Eggplant Parmesan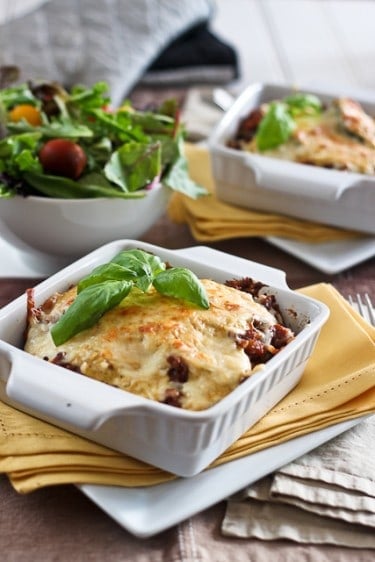 I can't believe I missed my own 500th post.
Seriously.
This would be post number 501.
Yay me! Way to miss an important milestone…This is almost like missing my own birthday.
Oh well.
Not much I can do about it I guess. I'll just have to hold the celebration until we get to number 750. That's if I don't manage to miss that one too!
You know what else I can't believe? Summer is already coming to an end. Days are getting shorter, mornings are getting way colder, it's getting harder and harder to leave the comfort of my bed when the alarm goes off.
This means that I will soon have to put my precious grill away for the cold winter months.
I really wish I didn't have to do that. I really wish I had access to it year round.
Mind you, I say this now, but I might very soon forget just how much I appreciate it. As soon as winter squash starts to hit the market, thus inspiring me to make all sorts of comfort food again, maybe I won't be wanting my grill so bad.
But for the time being, I still like to throw just about everything on it, as you all probably know by now.
Which reminds me… I still owe you guys a Grilled Fruit Salad. It's coming soon, I swear!
But first, I need to follow-up on my Grilled Chicken Parmesan.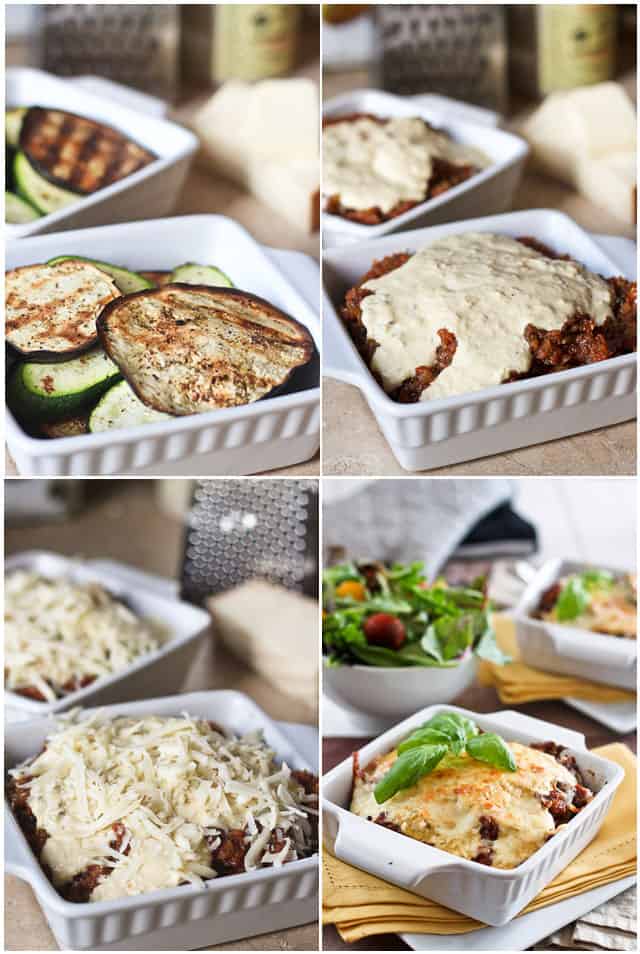 After I posted the recipe, the conversation in the comments started turning around Eggplant Parmesan and I decided I HAD to make a grilled version of this big favorite.
After all, it was only natural; I grill so many eggplants and zucchinis over the course of a summer, I  can't even understand how come I didn't think of this sooner.
And the result was more than satisfactory: it's almost like the dish was meant to be prepared this way!
The smokey flavor conferred to the vegetables by the grill adds so much depth to an already flavorful meal.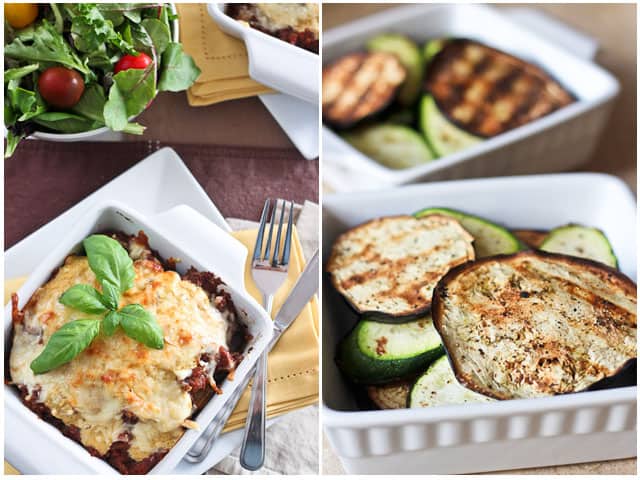 I'm also real happy with the "faux" Bechamel I came up with. Using nutritional yeast not only added TONS of flavor but it also increased the protein content quite considerably.
For someone like me, who doesn't eat much meat but tries to eat a fair deal of protein each day, that's just plain awesome!
Now I will HAVE to make this summer version at least one more time before the grill gets put away for winter, but you can be certain that I will also be making an "indoor" version when the cooler months are here.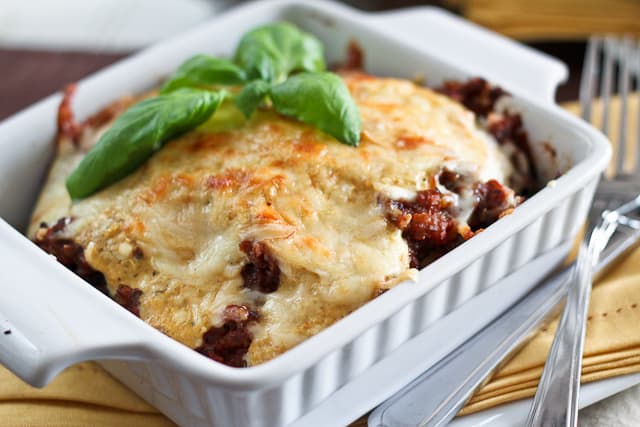 You might find that the recipe appears to be extremely long and complicated, but really, it's not so bad. It looks a lot worse than it actually is.
Please don't let that discourage you from giving this tasty and super healthy dish a try.
Trust me, it's definitely worth it. And soon, it'll be too late to even consider.
Well, at least until summer is back again! 😉
Grilled Eggplant Parmesan
Servings: 2
Ingredients
1 large aubergine, sliced rather thickly
1 large zucchini, sliced rather thickly, lenghtwise
Salt and pepper to taste
30 g low fat mozzerella cheese, grated
30 g fresh parmesan cheese, grated
Instructions
Start by cutting your aubergine and courgette in thick slices (round for the aubergine, long for the courgettes) and sprinkle them with salt and pepper. Transfer to a plate and set to rest in the refrigerator while you work on the tomato sauce and "faux" bechamel.

For the tomato sauce, coat a large saucepan with a little bit of olive oil and heat over medium high heat. When pan is hot enough, add the onion, celery, salt, pepper and oregano and cook for about 5 minutes, stirring often, until fragrant and onion becomes translucent. Stir in garlic and continue cooking for another minute. Add tomatoes and tomato paste, stir well and bring to the boil then reduce heat and simmer gently for 10-15 minutes, stirring from time to time.

For the faux bechamel, coat a medium saucepan with a little bit of olive oil and heat over medium heat. When the saucepan is hot enough, add the onion, salt and pepper and cook for about 5 minutes, stirring often, until fragrant and onion becomes translucent.Stir in milk and nutritional yeast and continue cooking while whisking continuously until yeast is completely "melted" and the sauce has a nice creamy texture to it. Remove from heat and whisk in plain yogurt. It's important that you do not cook the yogurt, as yogurt has a tendendy to curdle when cooked.

Now, preheat your outdoor grill to medium high heat and your oven to 375F. Place the aubergine and zucchini slices on the grill and cook for about 4-5 minutes per side, or until the veggies become soft and have nice grill marks on them.

When the vegetables are ready, pile them into individual oven safe dishes, alternating between eggplant and zucchini. Top with tomato sauce, followed by "faux" bechamel, then divide the grated cheeses between the two dishes.

Place in the oven and cook for about 10-15 minutes then set your oven to broil and continue cooking just until cheeses melt and start to bubble and turn golden brown.

Serve with a side of salad
Nutrition
Calories: 371kcal
If you've tried this recipe, please take a minute to rate the recipe and let me know how things went for you in the comments below. It's always such a pleasure to hear from you!
You can also FOLLOW ME on PINTEREST, FACEBOOK, INSTAGRAM and TWITTER for more delicious, healthy recipes!