Carob Cranberry Pre-Workout Energy Drops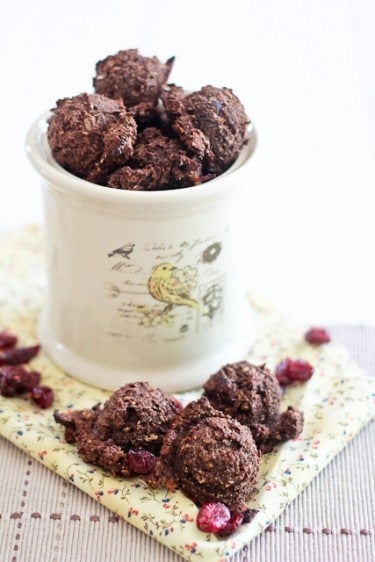 This is the story of a MAJOR fail gone marvelously right!
So much so, this has become a big fave of mine, I miss having them in the freezer. I will HAVE to make another batch soon. They were just the most convenient thing to have around. They were good at room temperature, they were even better right out of the fridge, and were just plain awesome straight out of the freezer.
I loved having one or two of these right before a morning workout. Seeing as how I just can't eat straight out of bed and often end up working out on an empty stomach or, at best, a handful of berries, these little drops were just SO great to have readily available.
Plus, they made for an awesome light morning or afternoon snack too! They're so highly portable, you can just throw a few of them in a ziploc bag and shove them in your purse or something.
Oh, and did I mention how great they happened to taste? OH MY WORD! Granted, I am a huge fan of carob, but these drops truly delivered in that area. Talk about EXPLODING with carob flavor. And what to say of their intensely dense and chewy texture? Quite simply, I was sent straight to seventh heaven every single time I would bite into one of these.
To think I came "THIS" close to chucking the entire experiment…
You see, this was supposed do be a no bake, high protein kind of bar. However, the texture of the batter did not turn out AT ALL like I'd envisioned it.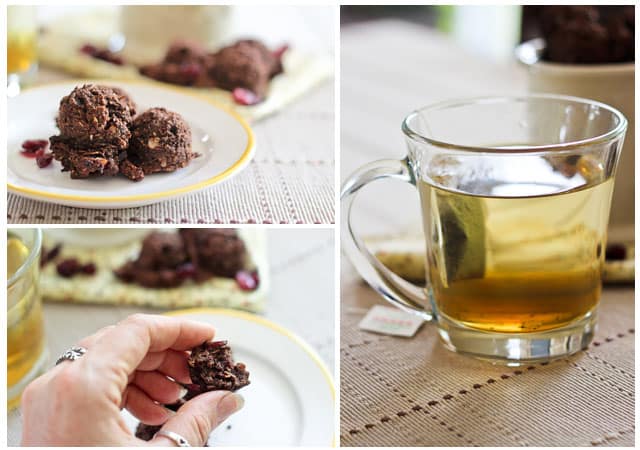 I stood there in total disbelief for a while, scratching my head and wondering what I was gonna do with all that batter. I just couldn't bring myself to throwing away all those perfectly good ingredients just because they refused to play together and mingle like I'd asked them to.
At that point, I had not added all of the ingredients, so I was hesitating between adding more in an attempt to save the day, but risk wasting even more perfectly good food if the plan backfired on me.
I chose to live dangerously and add more ingredients to the less than optimal concoction that lay before me. Just by looking at it, it was obvious that I'd better fire up the oven. These "no-bake" bars would definitely have to be baked.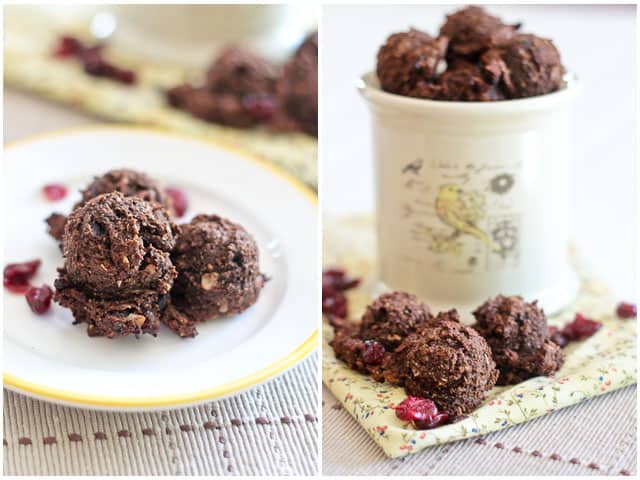 Although I would've loved to keep these grain free, rolled oats seemed to be a very good fit and thought they would be my best shot at saving the day.
Looks like I made the perfect decision. To this day, I can't think of anything else that would've worked quite so well. Quinoa flakes, maybe, if I'd had any on hand. But I didn't. And it would've required a hell of a lot…
So they're not grain free… oh well! So be it. But hey, all is not lost. They can still be kept gluten free simply by using uncontaminated oats.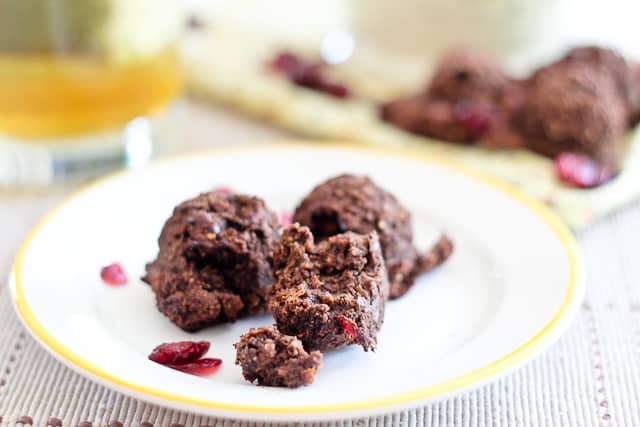 I know some of you will probably wonder about the almond pulp. Could almond meal be used instead?
Well, to be honest, I'm really not sure it would work here. I know I always say that I believe almond meal and almond pulp to be totally interchangeable. However, this recipe here might be the one exception to that rule. I think the pulp did play a big role in the texture of the batter. Almond meal just wouldn't achieve that same texture. It could probably be used still, but one might have to use a few extra tablespoons of liquid to compensate for that which is present in the pulp.
So if you really want to give these a try but don't have access to the pulp and really don't care for making your own milk, I guess you still could. Only, you have to expect the end result to be slightly different.
And hey, who knows, they might turn out to be even better! 😉
Carob Cranberry Pre-Workout Energy Drops
Servings: 48
Instructions
Add almond pulp, date paste, carob powder and whey protein to the bowl of your food processor and process until well combined.

Add rolled oats, shredded coconut and dried cranberries and mix until just incorporated.

Place in the refrigerator and allow to chill for about 15 minutes.

While dough is chilling, line a baking sheet with parchment paper and preheat your oven to 400F.

Place in the oven and bake for about 8 minutes. The drops will be soft as they come out in the oven. Place them on a cooling rack and start a new batch.

You will probably need to cook your drops in 4-6 batches, depending on the size of your baking sheet. Make sure to put the dough back in the refrigerator between batches.

Allow the drops to cool completely then transfer them to an airtight container and refrigerate for up to 7 days. They also freeze really well and can be eaten straight out of the freezer, so it's no use trying to get away from them!
Nutrition
Calories: 62kcal
If you've tried this recipe, please take a minute to rate the recipe and let me know how things went for you in the comments below. It's always such a pleasure to hear from you!
You can also FOLLOW ME on PINTEREST, FACEBOOK, INSTAGRAM and TWITTER for more delicious, healthy recipes!