Cold Grilled Vegetable Soup
While all may appear to be calm on the surface here, I mean, what lies before your eyes is a nice bowl of soup all dressed up in its Sunday best and patiently waiting for its lucky owner to indulge, this photo shoot was in fact a little bit of the crazy kind…
Things aren't always what they seem, you know!
Let's just say that there was a lot going on behind the scene during the creation of this photo album, making it really hard for me to concentrate on the task at hand.
The whole time, I was a bit torn between taking my time and continue to enjoy the moment or just get it over with, eat real fast and move on to the next item on my way overfilled to-do list.
I opted for the first option!
It seems like no matter how intense the distraction or how busy their nightly schedule might be, a photographer's passion simply cannot be extinguished that easily. Especially not if said photographer also happens to be a foodie.
Hey, food first, right? The rest can wait!
As a matter of fact, I ended up taking way too many pictures again; so much so, I had a hard time selecting the finalists…
I managed to bring the number down to just a little over ten.
Sorry about that!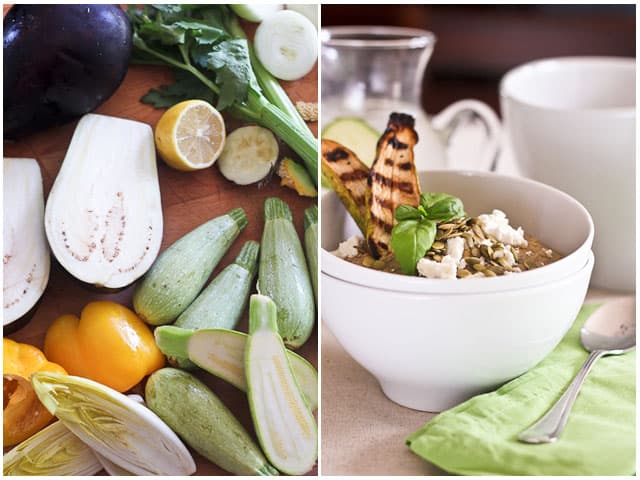 To my defense, though, the elaboration of this album started a couple of days prior, so really that means TWO photo sessions.
And for the first one, I had all the time in the world.
Well, almost…
It was me and my beloved vegetables.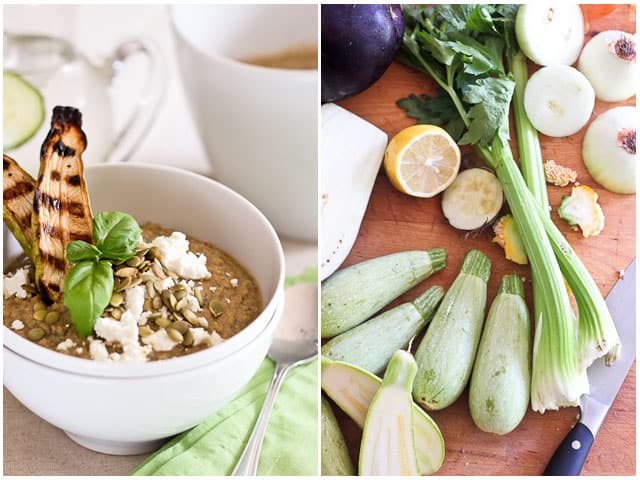 Of course, you already know just how much I LOVE grilled vegetables. Well, I love them so much that I felt the urge to photograph them every step of the way before they were made into this delicious soup.
Yes, I did say a couple of days prior, for indeed, the making of this soup requires a little bit of planning ahead.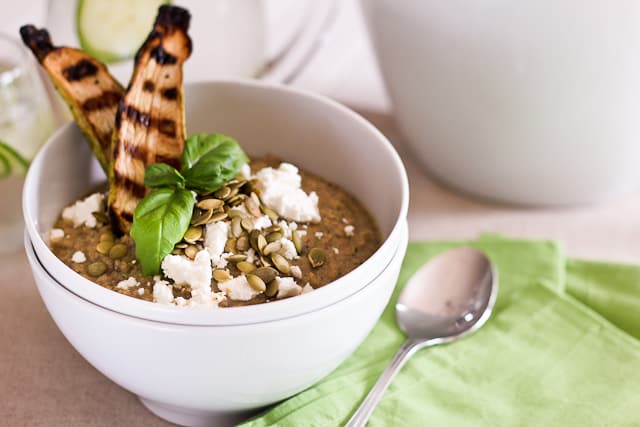 I started by grilling my vegetables one night and then I  put them in the fridge to chill overnight.
The next day, once they were good and cold, I processed the veggies into a soup and again, let that chill overnight. That last step isn't really necessary, for the soup was very good and tasty right out of the food processor, but I wanted to give it that much more time for the flavors to fully develop.
Plus, I already had something else planned for dinner that night.
So really, you have to get started at least one day prior, but you could also start a day or 2 earlier. There are no set rules here.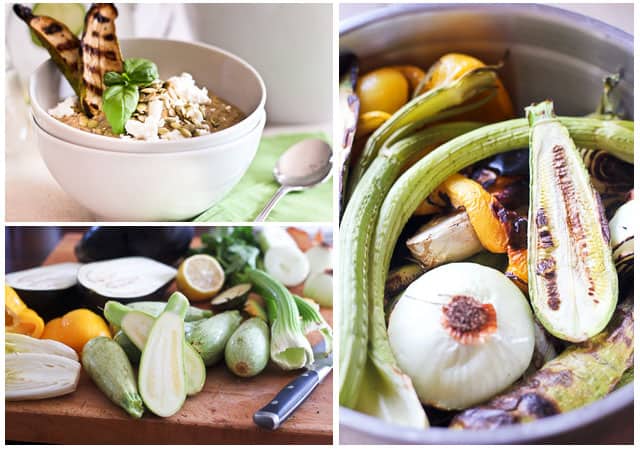 Same goes for the garnish! No rules!
I chose to garnish mine with unripened goat cheese and raw pumpkin seeds. Yeah, I know. It looks like I've been loving on goat cheese a lot, lately, but it really worked magnificently well with this soup! Its tanginess and creaminess complemented the refreshing and slightly smokey flavor of this thick and hearty soup.
If you don't care for goat cheese, plain yogurt would also be a very good option. I tried that one too… but I much preferred the goat cheese!
Let's see which one you prefer!  
Cold Grilled Vegetable Soup
Servings: 4
Ingredients
1 eggplant, top removed and cut in half
2 large onions, peeled and cut in half (leave the ends on, it'll help the onions stay together. You can remove them after they've been grilled and chilled)
6 white zucchinis, cut in half
3 celery stalks, leaves removed
1 yellow bell pepper, stem and seeds removed and cut in half
1 very large endive, cut in half
1 cup fat free Greek yogurt
1 tbsp sesame oil
1 tsp sea or hymalayan salt
½ tsp black pepper
1 tbsp Dijon mustard
2 tbsp balsamic vinegar
½ cup parsley
1 jalapeno pepper, seeded and chopped finely
juice of 1 lime
2 tbsp fresh basil
Instructions
Preheat your grill to medium high heat

Sprinkle your vegetables with salt and pepper and place them on the grill, cut side down when applicable.

Lower heat to medium, close the lid and cook your vegetables until they become nice and soft and get some nice grill marks on them, about 10 to 15 minutes (the eggplant might take a little bit longer)

Allow your vegetables to cool down a bit then transfer then to a large container with a fitting lid.

Place in the refrigerator to cool overnight or until completely chilled.

Transfer the cooled vegetables to your food processor (don't forget to remove the ends off the onions if you left them on) add the rest of the ingredients and process until smooth.

Serve immediately or allow to sit in the refrigerator for a couple of hours to allow flavors to develop.

Garnish with unripened goat cheese and raw pumpkin seeds, if desired.
Nutrition
Calories: 217kcal
If you've tried this recipe, please take a minute to rate the recipe and let me know how things went for you in the comments below. It's always such a pleasure to hear from you!
You can also FOLLOW ME on PINTEREST, FACEBOOK, INSTAGRAM and TWITTER for more delicious, healthy recipes!
Start by prepping your vegetables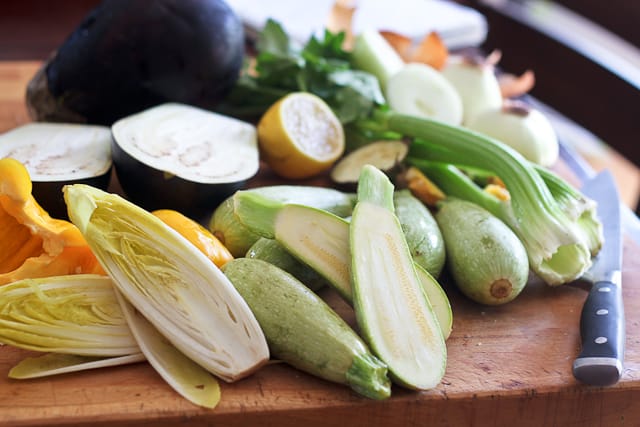 Then onto the grill they go…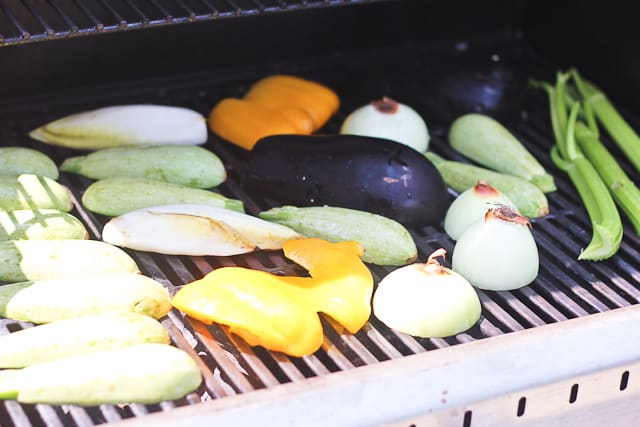 Chill overnight
Process into a delicious soup!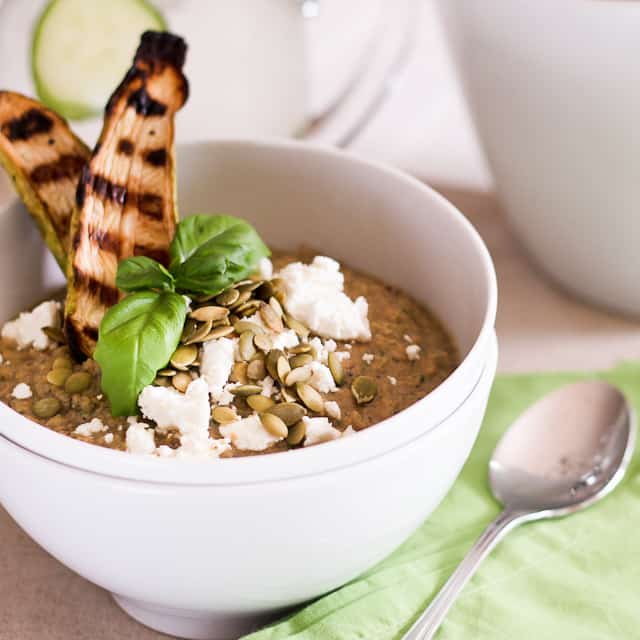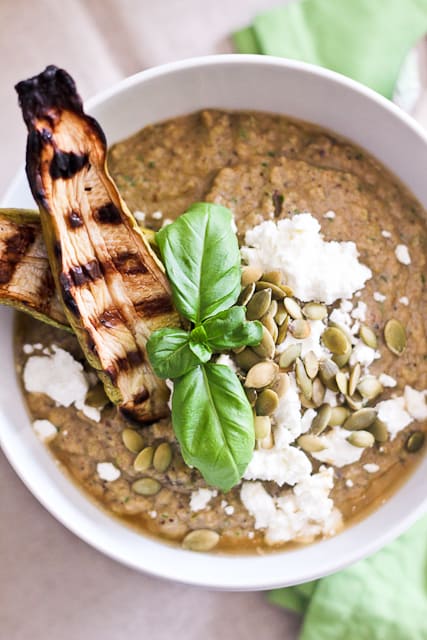 See how nice and thick?