Creamy Cucumber Salad | Keeping Track to Stay on Track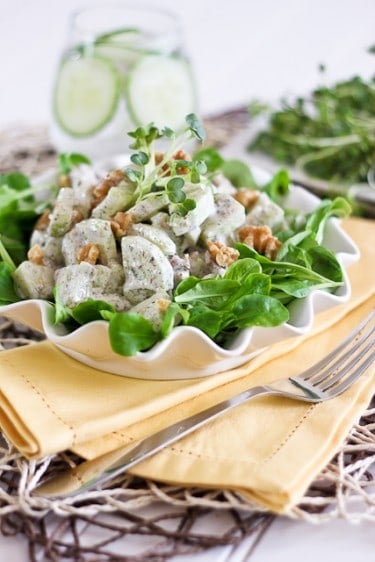 It's already been 3 weeks since I dared step on the scale again.
Like I said back then, it's the best thing I could've done and I'm really happy I finally worked up the courage to do it.
Realizing that I had gained that much weight really gave me the push that I needed to get back on track and get serious with my food choices again.
This is a lifestyle that I chose for myself, NOT a temporary diet. I had let things slip a little too much. No. Make that WAY too much.
Since I started tracking my food intake religiously, using My Fitness Pal, I managed to lose 5 pounds. I'm real happy with that!!! I feel so much better in my clothes AND in my body already.
Tracking my food intake has also helped me realize again that calories tend to add up really FAST!
No matter how healthy the food that you eat, it's still possible to eat too much of it and to gain weight as a result. It's imperative to keep portion size in check… and remain aware of what food goes in your mouth, but more specifically, how often and how much of said food goes in your mouth!
I've always had a tendency to munch mindlessly, particularly while cooking, and I think that I'd let that bad habit of mine get a little bit out of hand in the recent months. I especially like to munch on dried fruits, nuts and nut butter, you see… not bad for my health, really, but not the lowest in fat and calories either.
A handful of walnuts here, a teaspoon two tablespoons of almond butter there,  grab a bite of this and a taste of that while cooking, add a few dried apricots or dates after dinner… all those calories quickly add up! I'm guessing I must've been adding a good 600 – 800 calories to my daily intake from that alone! Week-ends were probably a lot worse, as I usually spend all day cooking…
So no more eating in between meals. Period. If I really HAVE to munch on something, it's celery or baby carrots. I always have several bags of baby carrots in the fridge anyway, as I happen to genuinely love them and they also are my dogs' favorite treat! 😉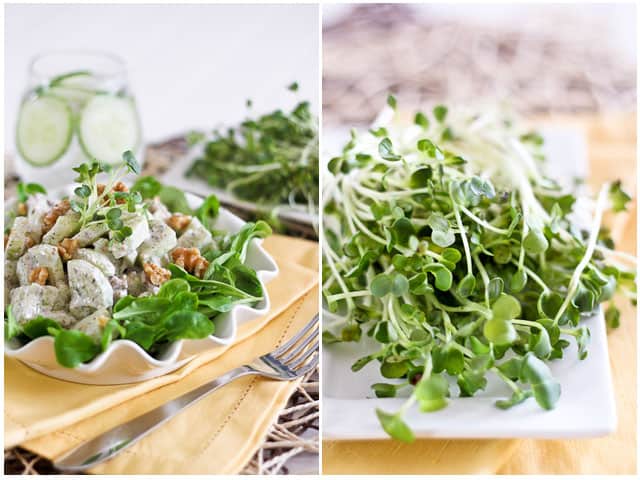 I'm now back to eating 5 smaller meals per day and I log EVERYTHING I eat, down to the last blueberry!
If I can't log it, I don't eat it. – Period –
Needless to say I am putting a lot of emphasis on filling up on lower calorie foods, such as fresh cucumber, while still including my precious nuts, although in more modest quantities and as an official component of a meal…
Lucky for me, it should be the time of the year when the markets are exploding with TONS of delicious fresh fruits and vegetables, most of which are locally grown and so super tasty! Whenever I set foot in a food market, I feel like a kid in a candy store. I want to buy EVERYTHING!
It makes it that much easier for me to create low calorie meals that still leave me entirely satisfied.
Another thing that I started doing is adding a whole bunch of yummy fruits, veggies or even herbs to my water. I keep a pitcher of water in the fridge at all times with slices of lemon or lime or cucumber in it, or even pieces of watermelon, young sprouts or even basil leaves… It really helps me get some water inside me.
Seriously, could you resist that refreshing looking glass of water?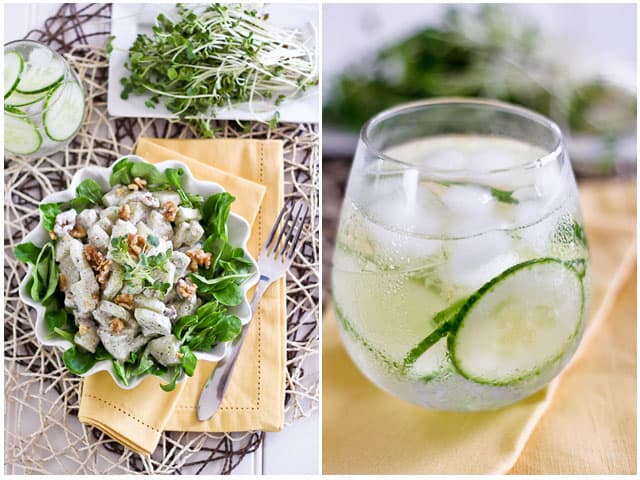 And this super light and fresh salad right here is one that I've been enjoying quite a lot. It's so easy to make, you don't really need a recipe. It only calls for a handful of ingredients, namely a cucumber, a few walnuts, a few tablespoons of Greek yogurt, some leafy greens and a little bit of seasoning. I used Za'atar, but if you don't have that on hand, feel free to use any herbs; Thyme, oregano, dill, marjoram, fennel.., any of then would work beautifully.
I chose to peel the cucumber for this one but don't worry… I didn't let all the precious nutrients in the peel go to waste. Remember how I said I love to munch while cooking? Well, this is one occasion when I got to munch my heart out: I got to munch on cucumber peel galore. Those calories were already accounted for. WIN!!!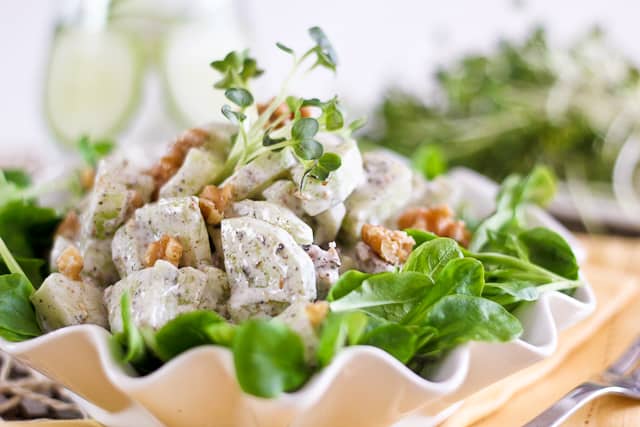 Quite frankly, I love salads such as this one and it makes me feel so good inside when I eat that. I'm really, sincerely happy to be back on track and I look forward to shedding even more of that extra weight. I'm glad to have started weighing myself weekly too. I always look forward to stepping on that scale again.
And knowing that I will be stepping on that scale every Saturday morning is an incredible incentive for me to eat good, exercise hard and stay on track.
I love to see that number go down!
I know that this number isn't everything, but it still is very important to me and is a fairly good indicator of where I stand fitness wise.
In short, I feel extremely good about myself and extremely proud to be back on track.
If you too feel you need to step on that scale but have been dreading it, I strongly encourage you to work up the courage and take the plunge. It might very well be the little push that you need to get you started, to get you on the right track.
And you'll thank you for it! 
Creamy Cucumber Salad
Servings: 1
Ingredients
Instructions
Peel the cucumber and cut it in half lengtwise, then in half again, then cut into slices of desired thickness. (by all means, don't throw away those peels, munch on 'em while fixing this salad!)

Add cucumber, yogurt, half the walnuts, za'atar, salt and pepper to a medium mixing bowl and mix well.

Arrange the leafy greens at the bottom of a plate and add cucumber salad on top.

Garnish with the rest of the walnuts and young sprouts if desired
Nutrition
Calories: 348kcal
If you've tried this recipe, please take a minute to rate the recipe and let me know how things went for you in the comments below. It's always such a pleasure to hear from you!
You can also FOLLOW ME on PINTEREST, FACEBOOK, INSTAGRAM and TWITTER for more delicious, healthy recipes!