Choco-Raspberry Instant Breakfast Cake | 3 Week Sugar Free Challenge
About a week ago, HangTight with MarC posted an invitation on their Facebook page to join them in a 3 Week Sugar Free Challenge.
The post really caught my attention: could I do it? Would I be able to carry such a challenge through if I tried? I mean sugar happens to be my biggest weakness and my strongest addiction after all…
I thought long and hard about it and finally decided that I would give it a shot! I "liked" the post and added my "I'm in" comment.
I was officially committed, there was no turning back.
So starting today, I am to eat absolutely no sugar for 3 whole weeks.
There were no set rules for the challenge in question, apart from "No Sweets PERIOD"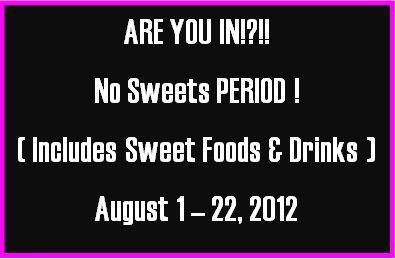 That's way too vague for me, so I decided to set my own rules.
To me, no sweets means: No refined sugar or artificial sweeteners of any kind, including stevia. This implies reading labels really carefully. Sugar lurks in the least expected places! Lucky for me, I don't eat so much food that has a label on it… However, my vanilla flavoured protein powder will have to stay on the shelf for a wee bit!
Oh, I shall miss it, that's for sure…
No artificial sweeteners also means no chewing gum! Now THAT will be a real tough one for me… After I quit smoking, I took the bad habit of chewing while driving. Now I NEED my chewing gum when behind the wheel just as bad as I needed my cigarettes back then.
Well, time to kick the habit, I guess!
Also included in my list of forbidden sweets are honey, maple syrup, molasses and dried fruits. Yes, even dried fruits! So no date paste. Bet there won't be much baking happening under this foodie's roof for the next month or so. Good thing we're in the middle of summer and it's 2 million degrees out anyway…
Oh, and of course, alcohol would also be off limits. You simply can't make alcohol without sugar. So none of that for the next 3 weeks. That, however, will not be too hard, really, except for that one day when we will go and scatter my dad's ashes and I should be raising a glass in his honor. I hope he won't be offended if the glass I raise contains carbonated water and a slice of lemon…
In short, the ONLY form of sugar that I will allow for the duration of this challenge is fresh fruit. And no more than 3 per day. Ideally, I'd like to make that 2. But hey, let's not push it.
Now would you believe me if I told you that, while undertaking this challenge, I could still be enjoying this gorgeous breakfast bake right here?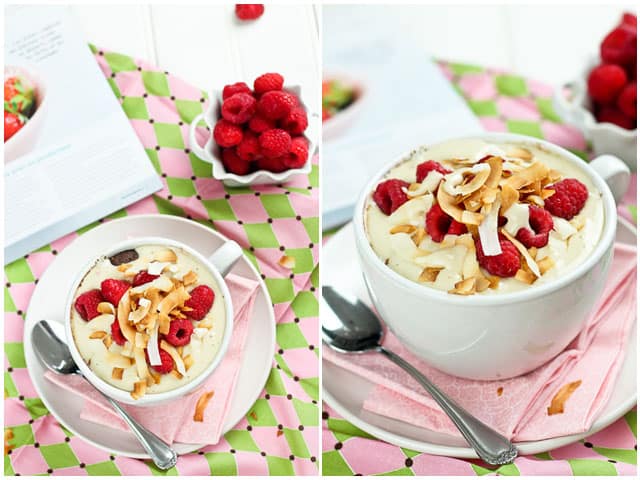 Right on!
I'd only have one small substitution to make and that would be using plain whey protein powder instead of the vanilla flavored variety. The rest is all on the "safe" list. No word of a lie. And it still tastes amazingly sweet and rich and chocolaty and has that dessert feel to it.You would never guess that it's healthy, let alone sugar free!
And it's not even that high in calories, either! Even while on a weight loss plan, I'm still enjoying breakfasts such as this one… after a good workout, of course!
For me, chocolate cake has nothing on this. This bake is moist, warm, rich, sweet, satisfying and COMPLETELY guilt free. Not only guilt free, but good for me.
What's that you say? This doesn't look like chocolate cake at all?
Oh, but you have to dig in! Let me demonstrate…
AH! AH! See? Chocolate cake. And not just any chocolate cake. Ooey and gooey chocolate cake.
That's one of the things I love so much about instant bakes. You get to choose just how much, or how little, you want to cook your cake.
I happen to like mine with a lot of "lava"… Sooooooooo yummy!
I'm telling you guys, the more I get into this healthy lifestyle, the less I feel deprived.
Chocolate cake for breakfast? I'm loving this more and more.
Choco-Raspberry Instant Breakfast Bake
Servings: 1
Ingredients
Wet Ingredients
½ banana
2 tbsp 0% fat Greek yogurt
¼ cup 2 unpasteurized egg whites
Toppings
2 tbsp 0% fat Greek yogurt
1 scoop, 35g vanilla flavored whey protein powder
1 tbsp unsweetened coconut shavings, toasted
Handful fresh raspberries
Instructions
In a bowl mash the banana until very creamy. Whisk in yogurt and egg whites.

In a separate bowl, mix dry ingredients until well combined. Add banana mixture and mix well with a spatula until well incorporated.

Transfer to a microwave safe bowl, or dessert cup, cover with a paper towel and cook about 1 minute and 30 seconds - 2 minutes, depending on desired level of "doneness"

While cake is cooking, mix plain yogurt together with whey protein powder to make vanilla custard. It might look like there is too much powder at first, but it will come together eventually. Same goes for the "lumpy" feeling. Just let the custard rest for about a minute and it will become nice and smooth.

Top cake with vanilla "custard", raspberries and coconut.

Dig in!
Notes
Grain Free, Gluten Free, High Protein, Refined Sugar Free
If you've tried this recipe, please take a minute to rate the recipe and let me know how things went for you in the comments below. It's always such a pleasure to hear from you!
You can also FOLLOW ME on PINTEREST, FACEBOOK, INSTAGRAM and TWITTER for more delicious, healthy recipes!
Chocolate cake you say?  Just watch…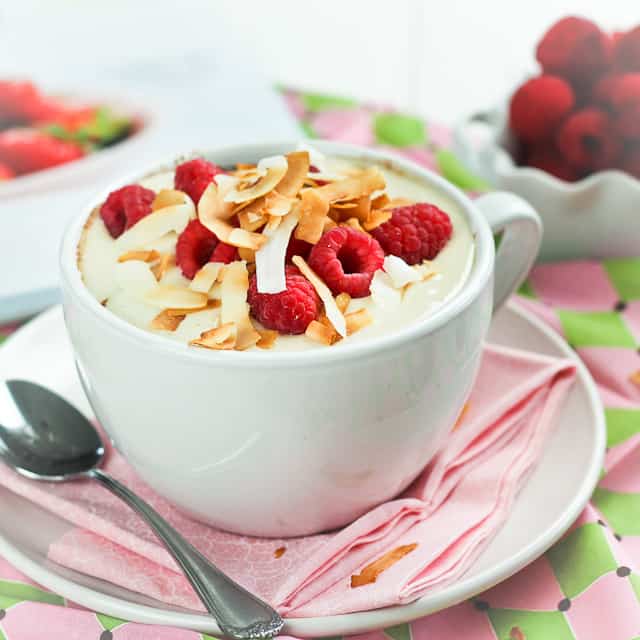 Spoon goes in…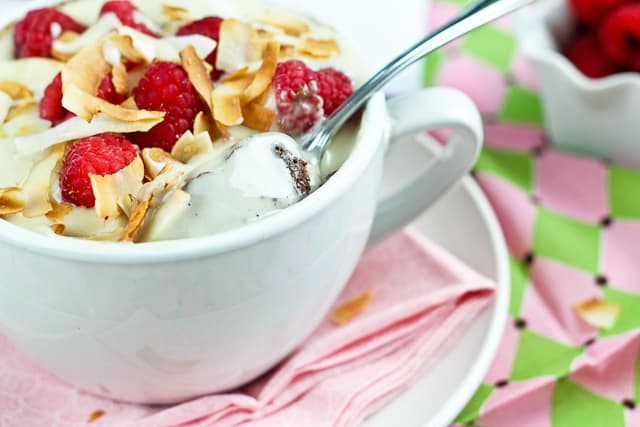 Spoon comes out! Chocolate cake revealed! 
Gooey enough for you?