Grilled Chicken Parmesan – A summertime version!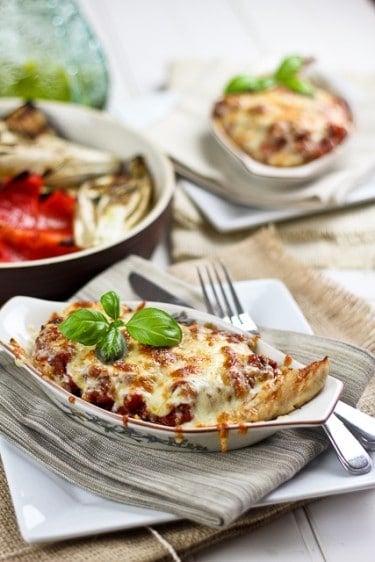 So the other day, I was at the restaurant and I saw the waitress pass by me with this incredibly good looking plate of Veal Parmesan.
At first, I was only attracted by its good looks…
A beautiful piece of tender veal, whose presence one had to guess for it was invisible to the eye, all covered in rich bright red tomato sauce and buried in ooey, gooey melted mozzarella that it was.
Fresh parsley had been lightly sprinkled on top, just to give it that little edge, you know…
Oh, and by its side was a pile, A MOUNTAIN of linguine, quite elegantly put and lightly covered in a very simple tomato sauce.
Once my eyes were good and hooked on that vision, the delicious aroma had to hit my nostrils.
Oh boy!
Thank goodness I had already placed my order: a salad, as usual, for I might very well have been weak that afternoon and ordered that exquisite looking dish instead.
Sadly, no matter how good it was, my salad wasn't quite as satisfying as usual that day; And for weeks after, no matter how hard I tried, I couldn't get that Veal Parmesan out of my head.
Until I finally decided I HAD to recreate it at home. Of course, I had to make that decision right in the middle of this CRAZY heat wave.
Well, heat wave or not, I really had my mind set on eating just that, and it was going to happen THAT very night too. I was NOT going to put it off.
So I decided to make it a "grilled" version.
Hey, why not?
And, seeing as how I don't really eat veal, I chose to use chicken instead. You don't mind, you do?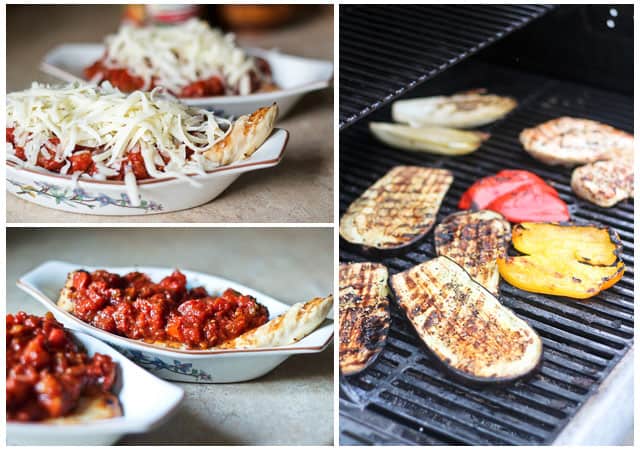 Since I had the grill going, I decided to serve my Chicken Parmesan with grilled vegetables.
In the summertime, I get a little obsessed with grilled vegetables. I eat them like all the time. I almost put them in my cereal, you know.
I'm surprised I haven't created a "Grilled Vegetables Smoothie" just yet. Hey, don't try me… I might very well do it!
So anyway, I decided to throw everything on the BBQ, so as to not heat up the entire house. Granted, I still had to make a tomato sauce, but I made it a very quick one that made use of the range for no longer than 20 minutes, and since I'm cooking with gas, it didn't generate that much more heat.
Hey, if it really is SUPER HOT and you can't stand to generate even one little degree of additional heat, you could always use a good quality ready-made tomato sauce and heat it up quickly in the microwave.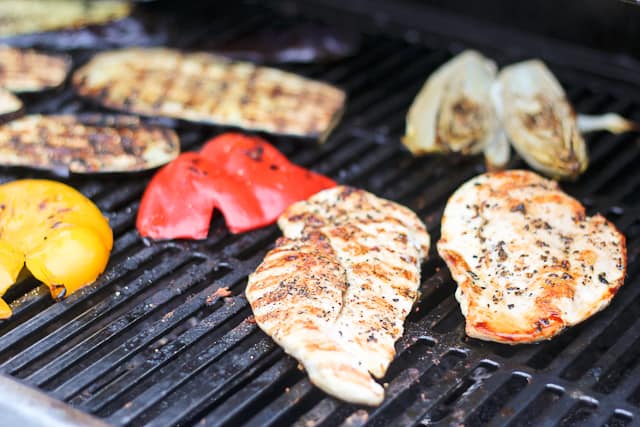 Then, there was still the matter of melting the cheese, but it only took a few minutes under the broiler to get the desired results. Again, the temperature in the house was pretty much left undisturbed.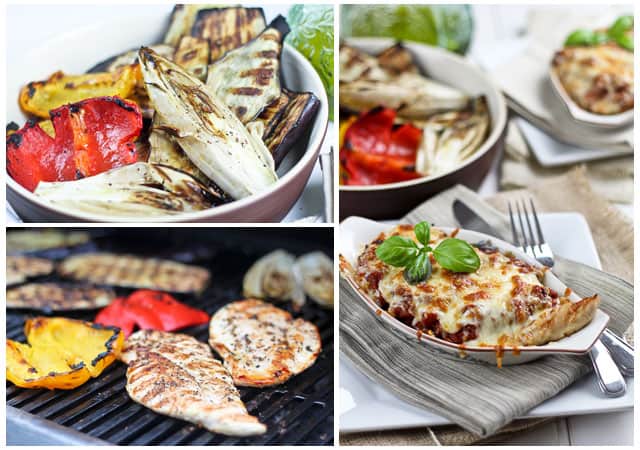 Now, doesn't that look like a dish that you would love to sink you teeth into, even in the summertime, EVEN in the middle of a crazy heatwave?
Or would you need to have an insane craving like the one I had?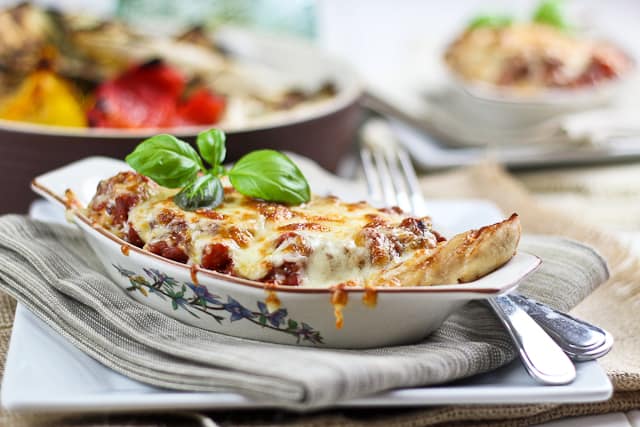 Let me tell you, this really hit the spot. It was exactly what my tummy had been dreaming of, and then some. It's what I would call Chicken Parmesan with benefits. Hey, you get the tomato sauce, the melted cheese AND the distinctive flavor of the grill as an added bonus.
What's there not to like?
There's only one problem though… I'm really not sure that it got rid of my craving!
I STILL want me some of that!
Grilled Chicken Parmesan
Servings: 2
Ingredients
1 large chicken breast, around 350g to 400g
1 tbsp extra virgin olive oil
Salt, pepper and dried thyme, to taste
30 g low fat mozzerella cheese, grated
30 g fresh parmesan cheese, grated
Instructions
First, you need to cut your chicken breast in half. To do that, place it on a cutting board and, while holding your knife parallel to the cutting board, start cutting down the length of the side of the breast, keeping your incision as centered as possible. Keep slicing the breast widthwise until you get to the other edge.

It might help to place a FLAT hand on top of the chicken breast and apply just a little bit of pressure on it.

Rub each chicken breast half with olive oil and sprinkle salt, pepper and dried thyme all over it. Transfer to a plate and set to rest in the refrigerator while you work on the tomato sauce.

Coat a large saucepan with a little bit of olive oil and heat over medium high heat. When pan is hot enough, add the onion, celery, salt, pepper and oregano and cook for about 5 minutes, stirring often, until fragrant and onion becomes translucent. Stir in garlic and continue cooking for another minute. Add tomatoes and tomato paste, stir well and bring to the boil then reduce heat and simmer gently for 10-15 minutes, stirring from time to time.

Meanwhile, preaheat your outdoor grill to medium high heat. Place the half chicken breasts on the grill and cook for about 4-5 minutes per side, or until cooked all the way through.

Transfer the chicken breasts to individual oven safe dishes. Top each breast with half the tomato sauce, then sprinkle the cheeses overtop the two dishes.

Place on the higher rack of your oven and set to broil, just until cheeses melt and start to bubble and turn golden brown.

Serve with a side of greens.
Notes
*While you're at it, why not throw a few veggies on the grill, like bell peppers, zucchinis, eggplants, radicchio or endives? Simply prep your veggies (slice, cut or half them) drizzle with a little bit of extra virgin olive oil, sprinkle with salt and pepper and place them on the grill next to your chicken.
If you've tried this recipe, please take a minute to rate the recipe and let me know how things went for you in the comments below. It's always such a pleasure to hear from you!
You can also FOLLOW ME on PINTEREST, FACEBOOK, INSTAGRAM and TWITTER for more delicious, healthy recipes!