Salad for breakfast? Oh yeah! Breakfast Quinoa Salad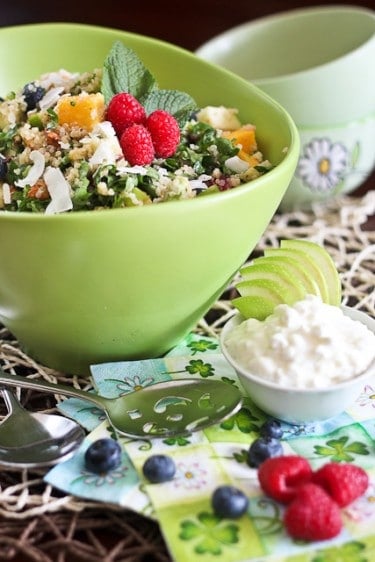 The salad kick continues.
Hey, I told you it was so bad that I'd even created a "Breakfast Salad", didn't I?
Well… see? I wasn't lying!
Here it is, in all its glory!
I initially meant to make that a "one person" salad, but I think I got a bit carried away, and it ended up being this HUGE salad that could very well have fed an army of starving soldiers.
Well, ok, I'm exaggerating once again, but seriously, this one could easily feed 3 or even 4 hungry people.
Yes, even people who have JUST finished working out.
The good thing is I got to enjoy it over the course of several days instead of just that one morning, AND it also allows me to tell you that it will keep somewhat well in the fridge for a few days…
Sure, the fruits might not look quite as dashing on the 3rd day as they did on the first, but still. The salad looked good enough for me to really look forward to having a bowl after my morning workout.
Now, if you take a look at the list of ingredients, you will probably find it a little weird at first, but believe me, it all blends in beautifully.
Topped with cottage cheese, coconut shavings and a tiny little drizzle of honey, it was just plain superb. Sure sent me straight to heaven!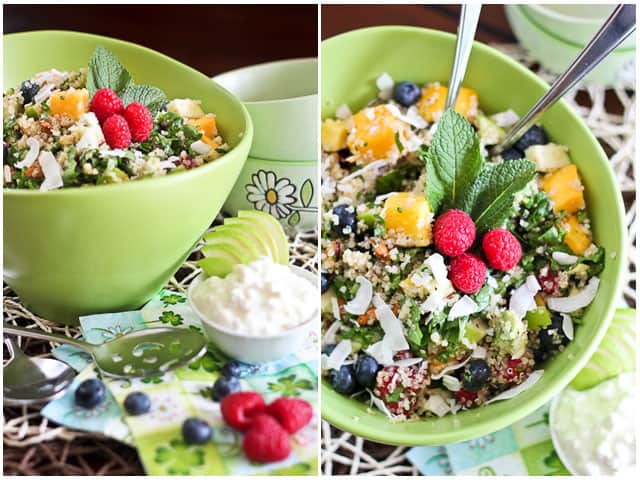 Breakfast just doesn't really get any better than this, guys.
You get hit by so many flavors and textures, it's like total bliss for your mouth. Plus, you get to put a whole bunch of veggies, tons of fruits as well as a decent amount of protein, which can be found in the quinoa and almonds, into your tummy.
And for a little bit of added protein (and even more om-n0m-ness) garnish with a little bit of low fat cottage cheese or fat free Greek yogurt.
Oh my! Be.still.my.heart.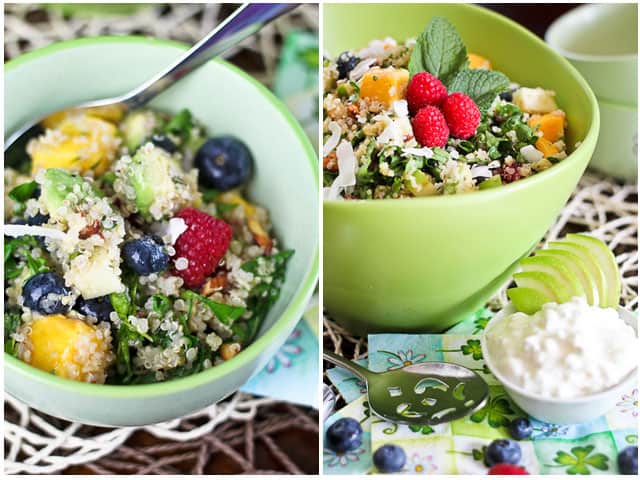 This one is simply packed with flavor AND wholesome goodness.
And hey, it's not because I decided to call it a breakfast salad that you ABSOLUTELY have to have it for breakfast.
It also makes for a magnificent snack, lunch, or even light dinner, why not?
Now before I go, I've one more thing to say.
Please, don't throw rocks at me…
I STILL have more salads coming! As in, quite a few more…
BUT HEY, WHOA, WAIT!
I also have other things lined up, you know. Like a gorgeous Blueberry Pancake Batter Smoothie, for instance.
Or… hum, hey! How does Dark Chocolate Hazelnut Spread (aka Nutella) sound to you? 
Perhaps you'd prefer a Chicken Parmesan in a light, grilled, summer version?
Or maybe a fragrant Cedar Plank Salmon would tickle your fancy?
Well, I've got all that coming, as well as MANY other decadently healthy eats…
See? I'm not completely totally obsessed with salads…
Just yet! 😉
Oh, and by the way guys, just as a little ps note, in case you didn't already know…
I GOT YET A THIRD FLAT TIRE THIS PAST WEEK-END!!! 
Breakfast Quinoa Salad
Ingredients
1 cup leftover cooked quinoa, cooled
1 ripe avocado, diced
1 Granny Smith apple, diced
1 jalapeno pepper, seeded, membrane removed, finely chopped
1 cup fresh blueberries
1 cup mango cubes (I used frozen)
1 cup fresh raspberries
2 collard leaves, shredded
¼ cup fresh parsley, chopped
¼ cup fresh mint, chopped
Vinaigrette
2 tbsp cidar vinegar
½ tsp salt
¼ tsp black pepper
2 tbsp fresh ginger, grated
1 tbsp liquid unpasteurized honey
juice of one lime
Garnish ideas
Low fat cottage cheese
Fat free Greek yogurt
Unpasteurized liquid honey
Toasted sliced almonds
Toasted coconut shavings
Instructions
If you don't have any leftover cooked quinoa, you'll need to cook some of that first. To get the required cup, bring 1 cup of water to a boil. Meanwhile, in a fine meshed sieve, rinse ½ cup of quinoa under running water until it no longer "foams" at the surface.
Add to boiling water, bring back to the boil then lower heat, cover and simmer for about 8-10 minutes, until all the water is evaporated. Allow to cool completely.
In a small mixing bowl, add all the ingredients of the vinaigrette and whisk until well incorporated. Set aside.
Add the rest of the ingredients to a large mixing bowl, pour vinaigrette in and give all that a good stir until all the ingredients are well combined.
Serve immediately or leave in the fridge for a few hours to allow flavors to develop.
Garnish as desired

Notes
Grain Free, Gluten Free
Nutrition Information
Serving size: Nutritional Information based on 1 of 4 servings