More Power Edamame Hazelnut Buckwheat Salad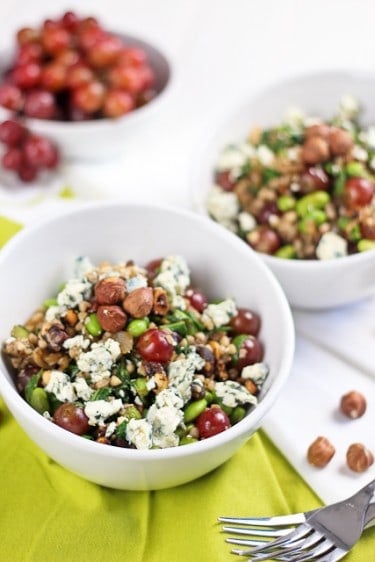 Once in a while, I'll come across a picture for a certain recipe and become sort of completely obsessed with it.
It pretty much becomes all I can think about and it gets to feel like my tummy will know no rest until it's had a taste of that dish.
I've had that happen to me not too long ago when I stumbled upon Lindsay's Honey Walnut Power Salad.
Just one glimpse at that picture and I was hooked. I just knew I would have to have it, and SOON.
I think I might even have dreamed about that one.
Yeah, it was that bad. 😉
Needless to say it didn't take too long for me to take a spin on it.
As much as I wanted to make it EXACTLY like the original, I still had to make a few substitutions. You know me, I couldn't follow a recipe if my life depended on it.
Still, I think that this time, I managed to stay pretty close to the real thing.
I had to sub the bulgur, only because I wanted to keep this grain free. Then, I chose to use hazelnuts instead of walnuts. Oh, and of course, I HAD to find a way to include my latest infatuation: collard greens. Easy peasy, use that instead of spinach, and wilt them quickly, just to make them a little softer and not quite as present. I was very comfortable with having them play a supporting role as opposed to taking ALL the room, like they would have if I had kept them fresh.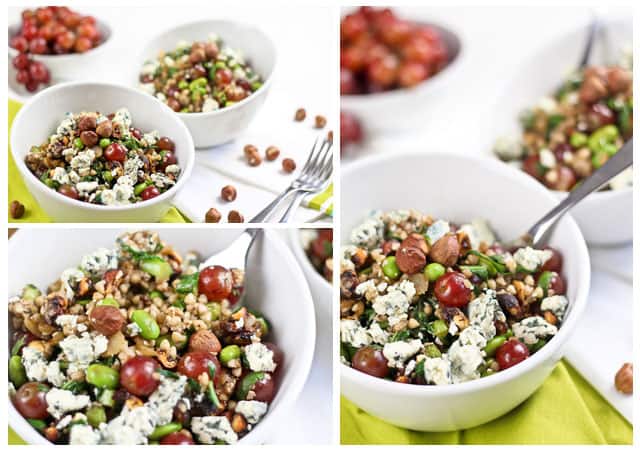 Apart from that, I think I pretty much stayed true to the original. Lindsay won't be able to say that I completely defaced her wonderful creation.
For a wonderful creation, it definitely is.
Oh, how magnificent! It was everything I'd hoped it to be, and more!
This is what I chose to eat the night before my big bike riding challenge. It might not have been the classic "pasta dish" that everyone suggests one should have the night before a big race, but I think it did a wonderful job at keeping my body energized throughout the ride the next morning.
And since I'd made a "recipe for 2", well, I was lucky enough to have some left in the fridge patiently waiting for my return.
Tell you what… that salad might have been patiently waiting for me, but I was quite impatient to get back home and have a little "one on one" time with it!
I think it was even better then than it had been the night before, although it was now missing the warm / cold contrast.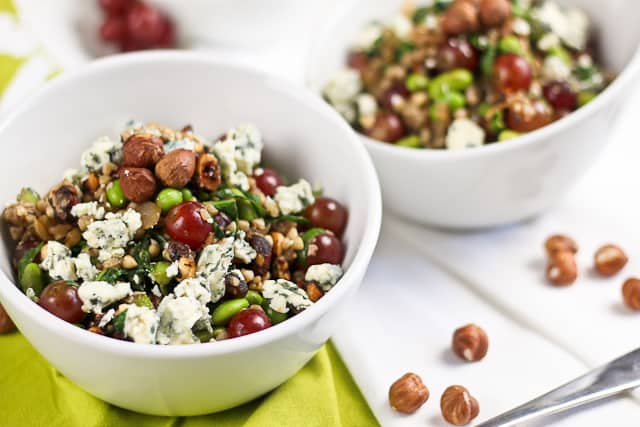 You know just how much I love contrasts in textures and flavors and in my food.
Well, that one certainly delivers on that level, and then some! It's nothing BUT contrasts.
For every sweet, you get salty. For every crunchy, you get soft and creamy. For every cold, you get nice and warm. For every tangy, you get mild and buttery.
You get the idea? 😉
Seriously, this is one salad you truly have to try.
Either this one, or Lindsay's original.
I'm sure they're equally amazing!
More Power Edamame Hazelnut Buckwheat Salad
Servings: 2
Ingredients
1 small onion, finely chopped
1 cup edamame, steamed (I used frozen)
1 cup cooked buckwheat, cooled
1 cup seedless red grapes, washed and cut in half
50 g raw hazelnuts, coarsely chopped
1 tbsp honey
3-4 collard leaves
1 tbsp balsamic vinegar
few gratings fresh nutmeg
40 g crumbled blue cheese
Instructions
To cook the buckwheat, bring 1 cup of salted water to a boil. Add ½ cup buckwheat groats and bring back to a boil. Reduce heat, cover and cook until all the water has evaporated, about 10-12 minutes. Let cool completely.

Steam the edamame over salted boiling water until they are tender but still retain a little bit of a crunch to them, about 2 minutes. Remove from heat and rinse under cold running water to stop the cooking process. Set aside.

Spray a non stick pan with olive oil or cooking spray and heat over medium heat. Add onions and cook for about 8-10 minutes, until fragrant and start to turn golden brown. Add collards and cook until just wilted, about one minute. Remove from heat and set aside.

Toast hazelnuts over medium heat in a small frying pan. When they start to take a nice golden color and become fragrant, add honey and stir until all the pieces are coated. Remove from heat and set aside.

In a large mixing bowl, combine all the ingredients except for blue cheese and mix until well blended.

Divide between 2 or 3 plates (or bowls) and add crumbled blue cheese just before serving.
Notes
Slightly adapted from Pinch of Yum's Honey Walnut Power Salad
- Grain Free, Gluten Free, Vegetarian. - Note that this recipe is NOT Paleo Friendly (this mention had been originally added by mistake)
If you've tried this recipe, please take a minute to rate the recipe and let me know how things went for you in the comments below. It's always such a pleasure to hear from you!
You can also FOLLOW ME on PINTEREST, FACEBOOK, INSTAGRAM and TWITTER for more delicious, healthy recipes!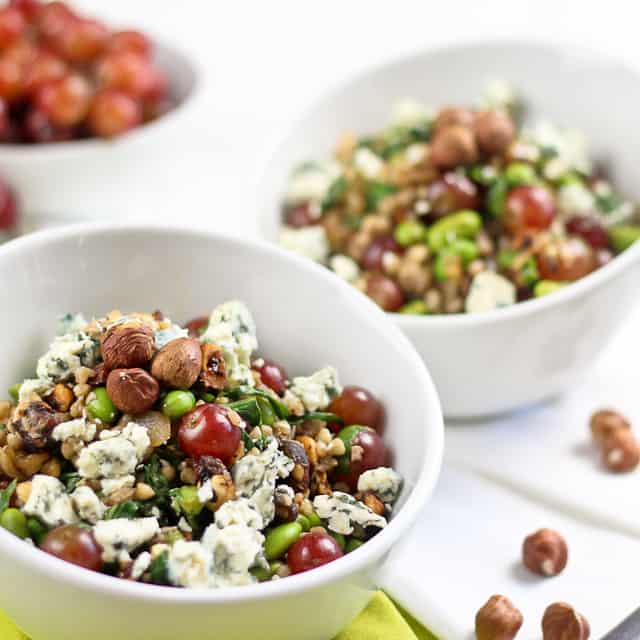 I feel the craving coming back…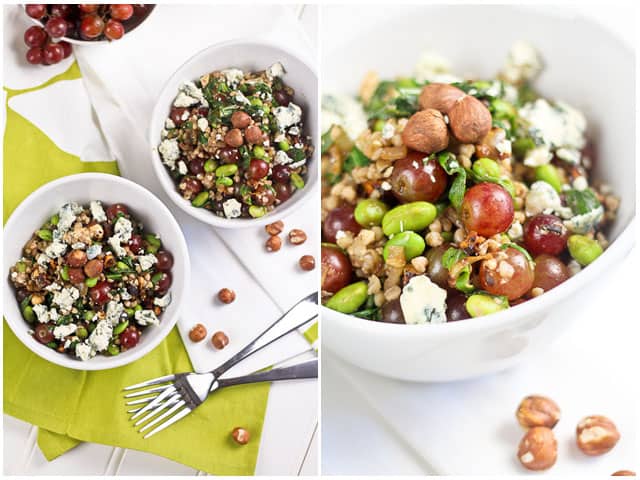 A feast for the eyes, that one is. Equally good on the palate, let me tell you!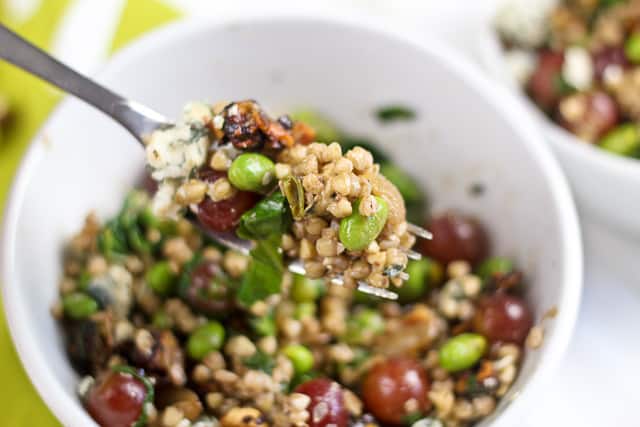 If I knew how to use Photoshop, there would be all sorts of arrows pointing here and there on that last picture with little keywords such as "Tangy" "Creamy" "Sweet" "Crunchy" and the like… 
But I'm useless with that software, so you'll have to imagine them! Really, they are covering the whole thing. You can barely see that picture! 
I'm sure you get the idea…