Poached Chicken, Green Apple and Goats Feta Salad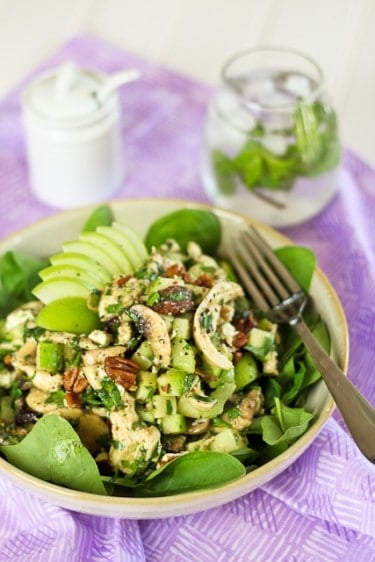 Let me start by saying that those aren't my favorite pictures at all.
Not even close. In fact, I think I should've probably passed on posting them…
But the thing is, you see, the salad itself is really worthy of sharing.
And the lousy pictures, well, they fit my mood of the late quite well.
So I thought they were very "appropriate" after all.
Indeed, I've  been feeling rather blah lately. Despite the fact that it's summer, despite the fact that the weather's been absolutely gorgeous, despite the fact that my life is incredibly busy and that I sometimes barely have time to sleep, or breathe.
No matter how busy and active I keep, there are times when I get extremely lonely. Life without a partner can be really tough, sometimes.
Mind you, the good thing about this is I never get to argue over my food choices.
What about my kids? Oh, they have given up on me a long time ago! Well, as far as my food choices are concerned, that is! 😉
Seriously, I am truly blessed to have them in my life, let me tell you!  I just don't know what I would do without them…
Oh, and there's the mutts too, of course! But they NEVER complain about my food choices either… in fact, they're quite happy to taste just about anything I make.
There's little Maisha right there, carfefully watching my every moves, anticipating with much hope that something will eventually fall to the ground, or that I'll find it in my heart to throw something at her. She's always more than happy to show me just how good she is at playing catch!
Alright, enough talk about my feeling lonely and my throwing food to the dogs… let's get serious here and talk about that salad, shall we?
Now, you MAY have noticed that I've been on a bit of a salad kick lately. Just a little.
It'll pass, you know. Just like the mood swings…
But I'm hoping that the mood thing will pass quicker than the salad kick! For, well, not that I want to toot my own horn, but I feel I've been coming up with some pretty yummy creations and I have a lot more in store, too!
For this last one, I needed poached chicken, so I had to poach some chicken the previous night just so I would have some ready.  Of course, I ended up making a lot more than I actually needed, but hey, it's not such an inconvenience to have leftover cooked chicken in the fridge, is it?
I thought not.
So I figured that, on top of sharing my salad recipe with you tonight, I'd also throw in the poached chicken…
Phew, all that talking and I still haven't told you about that salad!
Oh well… I feel like I already said way too much, so I guess you're gonna have to try it for yourselves.
Oh and please… don't judge that one by its cover, the pictures really do not do it justice.
Just think tangy, crunchy green apple, pungent goats feta, tender and creamy cooked chicken, sweet, chewy cranberries, slightly wilted mushrooms, fresh spinach leaves, mint and parsley…  add the delicate and nutty flavor of pecans and the intense crunch of celery… I'd say we have a winning combination here!
At least, I liked it. Very much so.
And hey, can you think of anything better than a deliciously healthy salad to pick up your spirits?
Yes, there is. A good salad in good company.
So I suggest you double that recipe and enjoy it with someone you love! 😉
Chicken, Green Apple and Feta Salad
Servings: 1
Ingredients
For the actual salad
125 g poached chicken, cooled and pulled
4 button mushrooms, sliced
1 celery rib, sliced
1 Granny Smith apple, peel on, diced (keep a few slices to garnish, if desired)
25 g dried cranberries
30 g goat feta cheese, crumbled
2 tbsp fresh mint leaves, finely chopped
¼ cup fresh parsley, finely chopped
25 g toasted pecans, coarsely chopped
About 2 cups fresh baby spinach leaves
Vinaigrette
2 tbsp unsweetened applesauce
¼ cup unsweetened all natural apple juice
2 tbsp cider vinegar
1 tbsp Dijon mustard
½ tsp date paste
¼ tsp each salt and pepper
1 tbsp fresh lemon thyme, chopped
1 tsp fresh rosemary, chopped
1/8 tsp guar gum
What I used for my poached chicken
2 large chicken breasts, deboned and skin removed
2 cups water
1 small onion, peel on, quartered
1 celery rib, cut into 3-4 pieces (try and find one that has a lot of leaves on it)
1 carrot, cut into 3-4 pieces
3 cloves garlic, peel on, smashed
1 tsp salt
1 tsp black pepper
2 tbsp dried thyme
Instructions
First, you need some poached chicken...
Add all the ingredients except chicken to a shallow pan with fitting lid and bring to a boil.

Add chicken breasts, bring back to a boil then reduce heat, cover partly and simmer for 12-15 minutes. Flip breasts around and continue cooking for an extra 10-15 minutes, until chicken is cooked all the way through.

Use immediately or chill for later use. Oh, and please, do not toss the cooking liquid! Take a few seconds to drain it and you'll be rewarded with a yummy, super lean and extra tasty chicken stock.
Then, you can make that salad
Add all the ingredients of the dressing to your small food processor or blender and process until nice and smooth. Set aside.

Add chicken, mushrooms, celery, cranberries, cheese, mint and parsley to a medium mixing bowl. Pour vinaigrette overop and mix until well combined.

Arrange baby spinach leaves at the bottom of a serving plate. Top with reserved salad, sprinkle chopped pecans and garnish with sliced apples if desired.
If you've tried this recipe, please take a minute to rate the recipe and let me know how things went for you in the comments below. It's always such a pleasure to hear from you!
You can also FOLLOW ME on PINTEREST, FACEBOOK, INSTAGRAM and TWITTER for more delicious, healthy recipes!