No-Bake High Protein Candied Ginger Cheesecake Bars [Oh, and Laurentians Challenge? Check!]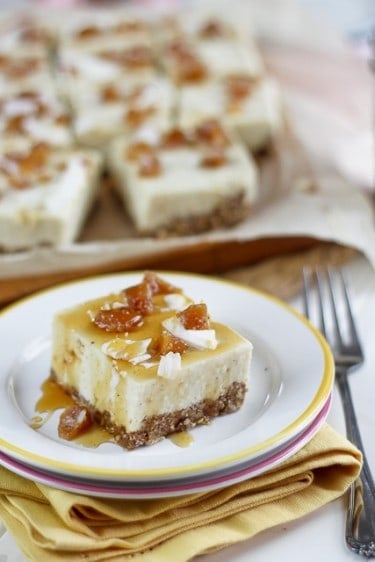 Hmpft…
I feel like I've been robbed!
What was stolen from me, you ask?
Distance! That's what!
Let me explain.
I did make it to the finish line yesterday. So technically, I DID complete the challenge.
Oh, it wasn't always pretty, let me tell you! I had to get off my bike and "walk it" at times. But some of those hills were just so steep, and others went on for what seemed like forever… Hey, at least I wasn't the only one walking, so that made me feel better…
Still, between kilometres 67 and 72, I thought I was gonna die. I felt like rolling into a little ball on the side of the road and cry for a bit couple of days. I even considered waiting for the "bus of shame" to pick me up and take me to the finish line. My legs just plain refused to pedal, they couldn't carry me no more, all they did was burn like mad. They didn't even want to bend anymore. They were stiff as metal rods. No word of a lie.
But just the thought of giving up made me feel so sad inside, I imagined telling you guys how I'd failed and I couldn't handle that thought. I HAD to keep pushing. Plus, I kept trying to convince my brains that it was just a passing phase, that things would get easier, like they always do… So I kept going, and just like I thought, by kilometre 75, I got a second wind and felt ready to tackle the rest of the ride. Hey, there was only 27 km to go… pfft, nothing to it.
Then, at kilometre 88, we entered the "city" and I thought OMG, the tough part really is behind me now, this is going to be such a joyride from this point on. I was so happy, I felt like crying again.
From joy, this time.
But only a few minutes later, the "finish line" appeared before me. There was something wrong with that picture. I wasn't supposed to see that before I'd travelled an extra 9 kilometres. I was really puzzled!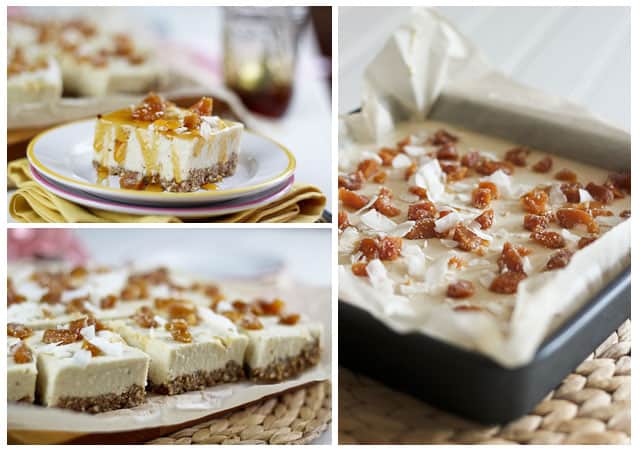 Well, turns out we took a wrong turn at one point and ended up taking a short-cut that shortened our circuit by 9 km. Which means I ended up finishing the challenge with only 92.5km to my name, instead of the 102km I had originally signed for.
Strangely, I felt sort of bummed about this. I felt as though it put some sort of a tamper on my victory. It's like I haven't really finished the challenge… Sure, I made it to the end, but I haven't quite completed it. And I'll never get those 9km back.
Still, I'm extremely pleased with my accomplishment, and I am very proud to have seen it to the end.
When I got home, I was totally pooped and felt like I had absolutely nothing to give.
I certainly didn't feel like cooking… but I was starving!
Luckily, I had these babies waiting for me in the fridge.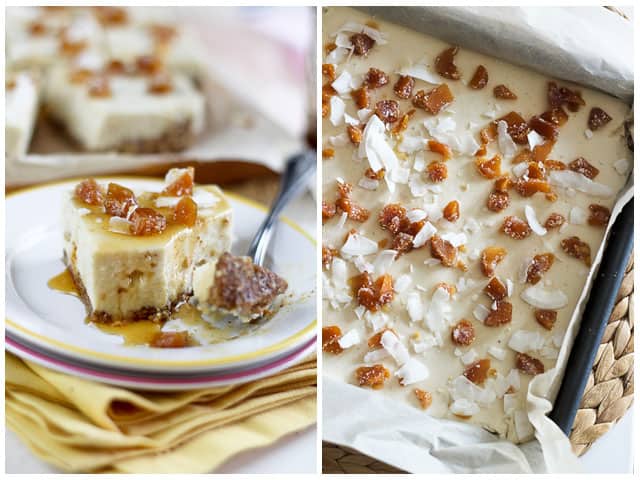 They sure hit the spot!
These cheesecake bars may not qualify as a healthy breakfast, as some of my healthy desserts do, but still, they are much healthier than your average cheese based desserts.
They contain no grains, which makes them gluten free by definition, and are sweetened with nothing but honey. They're already quite high in protein due to the addition of Greek yogurt and cottage cheese but I chose to boost that protein content even more by adding a little bit of whey powder. Since I tend to eat all my desserts as snacks (I don't really do desserts, you know) I figured that would make them a little more "suitable" and would remove some of the guilt factor for me.
I mean hey, they ARE no-bake CHEESECAKE squares after all!
Their texture is absolutely magnificent. Nice and firm, yet super creamy, just as I like them!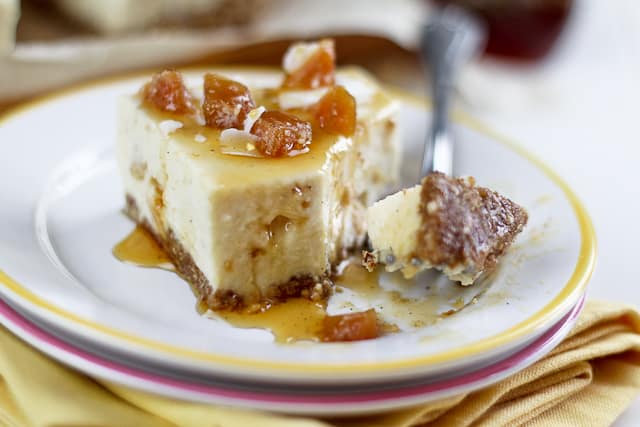 And of course, the addition of some of that home made candied ginger I recently made just sent these over the top.
Even my daughter, who does't care much for ginger, said they were absolutely, amazingly, positively delicious.
Definitely worth making again.
Oh, and no one will ever be able to tell that these glorious squares have undergone a healthifying treatment.
Even I tend to forget it and sort of feel guilty whenever I have one…
Yeah, they're that good!
No-Bake High Protein Candied Ginger Cheesecake Bars
Servings: 16 squares (or more if you want smaller squares)
Ingredients
Cheese Filling
1½ cup 1% fat cottage cheese
1 cup fat free plain Greek yogurt
1 cup low fat cream cheese
½ cup coconut butter
¼ cup coconut oil
4 scoops, 140g vanilla flavored whey protein powder
75 g candied ginger, finely chopped (I used home made)
1 vanilla bean
¼ cup unpasteurized liquid honey
10 g sheet gelatin
Instructions
For Bottom Layer
Combine all ingredients in the bowl of your food processor and process on pulse until well incorporated and mixture sticks together.

Press down on a 9 inch square baking dish lined with parchment paper. Set aside while you make the filling.
For the Ginger Cheese Filling
Cover the sheet gelatin in cold water and soak while making cheese filling.

In the bowl of your food processor (you don't have to rinse the bowl out), add all of the ingredients except for vanilla, honey and gelatin and process until smooth and well combined.

Cut the vanilla bean in half lenghtwise and scrape the seeds out. Add to the cheese mixture and process to blend in.

In a small saucepan, over medium - low heat, bring honey up in temperature without allowing it to boil. Remove gelatin from water and squeeze to remove excess water. Add gelatin to honey and stir gently until gelatin is melted.

Pour that mixture into the cheese filling while your food processor is running and process until just incorporated.

Immediately pour over the reserved crust and garnish with chopped candied ginger and unsweetened coconut shavings.

Refrigerate for at least 6 hours before cutting into 16 squares.

Drizzle with vanilla ginger honey (leftover from making candied honey) or liquid honey at the moment of serving, if desired.
Notes
Don't think too much of the "C" rating for that one, the recipe analyzer does not appreciate coconut at all and penalized this recipe for using a lot of it, which resulted in a high level of saturated fat, but coconut fat, even though it is saturated, is actually a very healthy fat.
If you've tried this recipe, please take a minute to rate the recipe and let me know how things went for you in the comments below. It's always such a pleasure to hear from you!
You can also FOLLOW ME on PINTEREST, FACEBOOK, INSTAGRAM and TWITTER for more delicious, healthy recipes!