Home Made Vanilla Honey Candied Ginger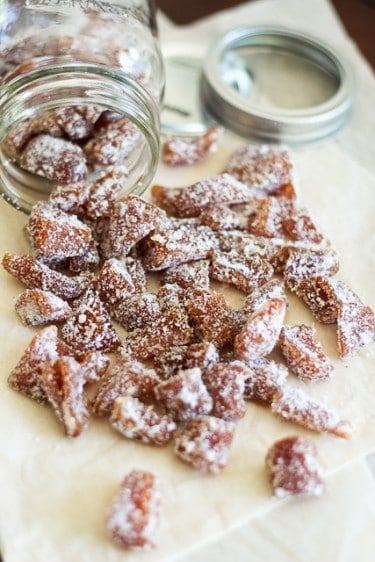 This is supposed to be a quick post.
I mean, there isn't much to it, is there.
Well, there isn't much to look at anyway… it's candied ginger.
But to me, this is almost pornography! I love the stuff THAT much.
I'd always been reluctant to eating the store bought stuff or use it in recipe though, because I KNOW just how much sugar goes in the making of anything "candied". And all the store bought ginger I found so far is always made with granulated sugar. Organic, perhaps, but still… sugar!
Plus, I find the chunks are usually way small and, well, a little bit on the dry side…
A few weeks ago, I came across a picture of TraderJoe's Uncrystallized Ginger and I thought it looked amazingly good. I found that the pieces seemed really big and looked extremely tasty and chewy.
I immediately thought that I had to try and recreate it at home. Of course, I could NOT be using sugar. I had to find an alternative.
I basically had 2 choices. Honey or Maple Syrup. I found that honey would be a better match, so I went with that option. Boy did I ever make the right decision.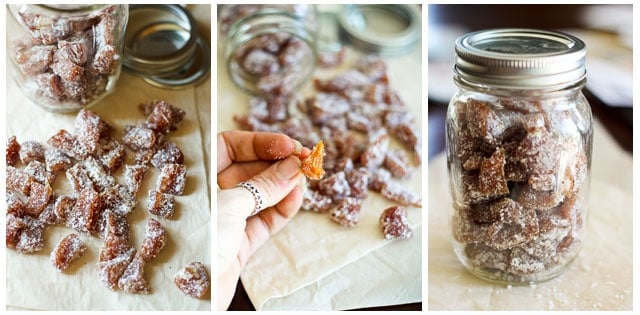 This ginger turned out INCREDIBLY good!
Now, I'm not gonna lie to you. Making candied ginger at home takes time.
A LOT OF TIME!
It's the kind of recipe that you have to make over the course of several days. It's not like you have to be there and watch it the whole time, but still, you do need to plan ahead and make sure that you will be available when your beautiful treats in the making need your attention.
And attention, they require a lot of! They are of the high maintenance kind!
Still, I think the resulting goods made every second spent at the stove very well worth my while! I have never before tasted candied ginger so good, so tender and chewy, so full of flavor.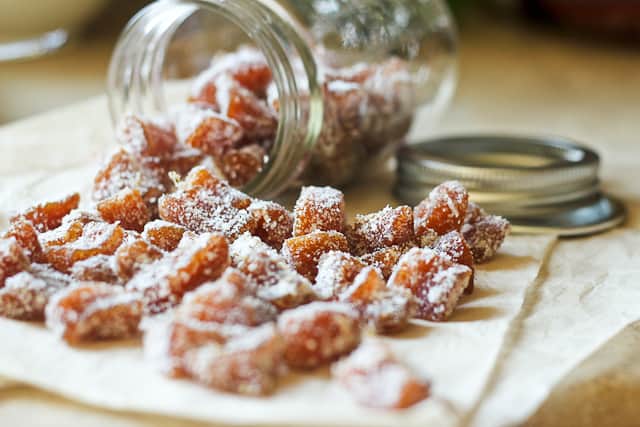 Not only do you get ginger, you also get real notes of honey, vanilla and coconut.
Seriously, if you like candied ginger, you're gonna LOVE this one. It never really gets hard and crunchy like the store bought stuff, it remains sort of soft and sticky, and tender and gummy…
It doesn't get any better than this, I tell you.
Oh! and as an added bonus, when you're done with the candying process, you are left with this incredibly concentrated ginger honey at the bottom of your pot, which you can just mix in with additional honey and you then get the most incredibly delicious vanilla ginger honey, which you can then use to drizzle over all sorts of good things, to make them even better!
Or, you can just eat it by the spoonful, like I do. 😉
Just don't tell anyone I said that…   
Honey and Vanilla Candied Ginger
Ingredients
700 g ginger, peeled and cut into 1" cubes (this should yeld about 575g once it has been peeled and cut into cubes)
400 g unpasteurized liquid honey
1 kg water
1 vanilla bean
2-3 tbsp unsweetened shredded coconut, ground really fine
Instructions
Add water and ginger to a medium pan with fitting lid and bring to a boil. Lower heat, cover and simmer for 30-40 minutes.

Cut the vanilla bean lengthwise and scrape the seeds. Add that, along with the honey, to the simmering ginger. Partly cover and simmer for an additional 45 minutes over low heat.

Turn the heat off and let the ginger soak overnight, or at least 6 hours.

Bring back to a boil, lower heat and simmer, partly covered, for 30 minutes. Turn off the heat and allow to cool completely, then repeat 2 more times.

Now bring bring to a boil one last time and allow to simmer, uncovered, until the honey syrup becomes really thick and takes a caramel colour. Do not allow it to burn. This should take about 15-20 minutes.

Remove pieces of ginger and place on a cooling rack placed over a cookie sheet and allow to dry overnight.

(Don't throw out that little bit of honey syrup that's left at the bottom of the pot! It's extremely concentrated as it is now, but just add more honey to it and you will have the most delicious Vanilla Ginger Honey... Bonus!)

Grind the coconut in a small food processor or coffee grinder. Transfer to a plate and roll the pieces of ginger in the coconut until coated on all sides.

Return to the cooling rack and let dry overnight once again.

Store in an airtight container (if you still have any left to store, that is!)
Notes
*For the record, almost 5 months later, I still have a few pieces of this in the cupboard, stored in a Mason jar, and it's still as good as it was on day one, if not better!
If you've tried this recipe, please take a minute to rate the recipe and let me know how things went for you in the comments below. It's always such a pleasure to hear from you!
You can also FOLLOW ME on PINTEREST, FACEBOOK, INSTAGRAM and TWITTER for more delicious, healthy recipes!
 I dare you not to grab a piece… you know you want one!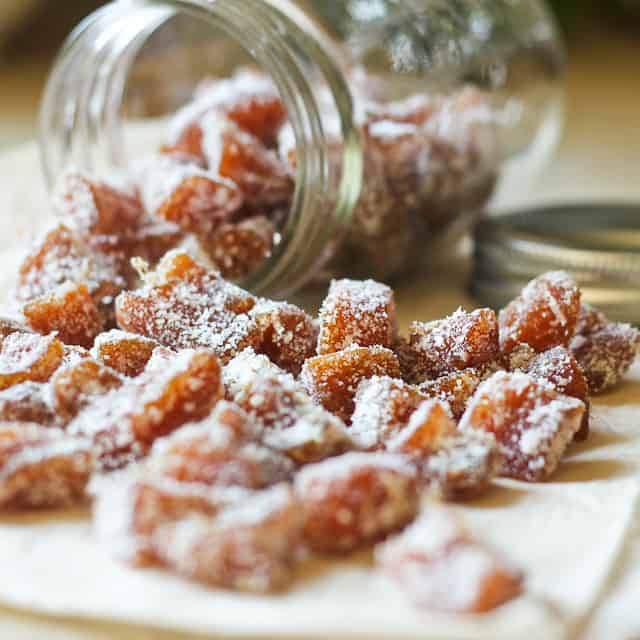 Before it gets coated in coconut… So sticky and sweet!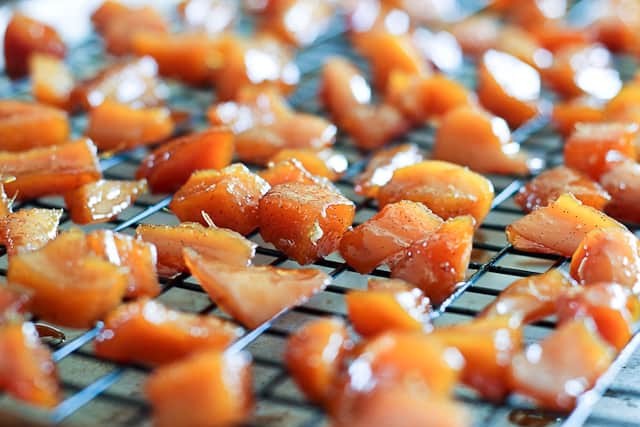 Better put this in the jar before I eat it all!