Warehouse Sale Shopping Spree [A Foodie Goes Crazy] and Blueberry Almond Instant Bake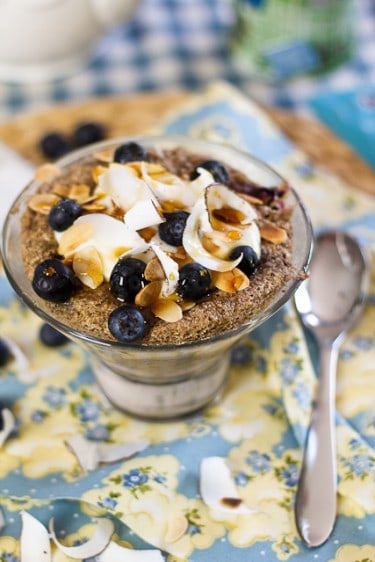 See this?
It had been a while since I'd come up with a new Instant Breakfast Bake recipe.
I tend to have the Chocolate Cherry version A LOT!
This time, however, I was in the mood for something different…
But wait… before I get to that, there's something I just have to get off my chest here…
Last week-end, Danesco was holding their Annual Warehouse Sale.
Now, for this food blogger, that could only mean two things: I was in deep s*#t, and I was in deep s#&t.
Seriously.
Warehouse Sales mean kitchen props galore at ridiculous prices. Ridiculous prices mean LOTS of items make it to the cart. And lots of items at ridiculous prices finding their way to my cart means that the bill adds up quite a bit.
Especially when said cart gets filled up so much it can't even be moved around much anymore, lest everything is going to fall out.
Think I'm exaggerating? Just take a look at Exhibit "A" below…
And see all the boxes? It almost looked like moving day… but ô, what fun I had unpacking all the goodies. I was just sooo happy that my son's girlfriend happened to be there when I got home and that she was patient (or polite) enough to check out ALL the goods with me.
I was just unpacking everything and going like "Oh, check this one out… oh, and that one… and ok, just you look at that one last piece then you're off the hook…" but then I'd see something else and go "But wait, you have to see this one!!!"
Of course, the poor thing ended up having to check out every last piece, but she was such a sweetheart, she stuck around and stayed until the very end, even though that "movie" must've been pretty darn boring to her! 😉
But hey, I bet you're just as excited as I am, aren't you?
Just to give you an idea; check this out…
See those cute tea cups and tea pot and little tea bag holder there, on the corner?
Well, the tea pot went for $3, the cups were $2 and that little holder was only $1
The salt and pepper grinders… Real top quality items, super heavy duty and really sturdy, valued at $59.95 a piece.
They cost me $5 each.
That cake stand that you see way out there in the back? Nine dollars!
That GORGEOUS green salad bowl… Just look at it, it's sooooo beautiful! How much for that one? Five bucks!
How about that beautiful ceramic mixing / pouring batter bowl? That one went for $4.
Oh! oh! wait…
Those nice big white coffee cups with matching saucer? $2, for all four pieces.
Heat proof rubber spatula? Two bucks… Wooden salad bowls, 3 dollars a piece!
Jealous yet? I don't blame you!
The total bill for all that you see (and don't see) here?
One.hundred.and.ninety.two.dollars.
Unreal!
But wait… what was I talking about? Right… Instant breakfast bake!
Oh, now that one is almost as exciting as the warehouse sale, let me tell you!
So light and fluffy and moist and tasty… this breakfast bake was just plain D.E.L.I.C.I.O.U.S. – To die for! – It almost tasted like it was loaded with butter, yet, as you can very well imagine, there is not an ounce of butter in it!
Still, it feels THAT rich and yummy!
Ready in just minutes, this is a gorgeous breakfast that you can enjoy without feeling guilty in the least, but that will leave you feeling like you've just indulged in a really decadent treat.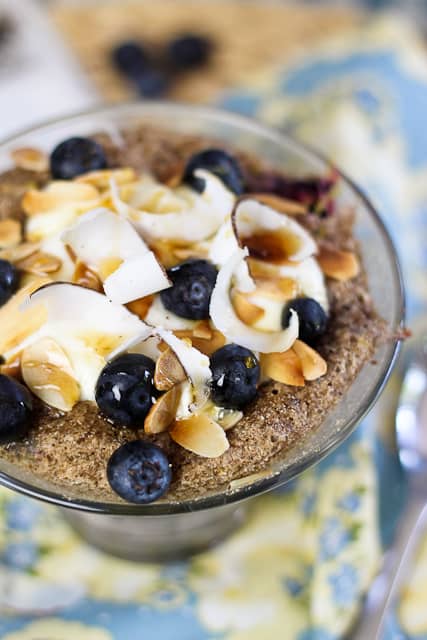 So quick and easy to make, you don't even have to save it for the week-end.
I've actually whipped one up before going to work this week. It sure makes for an amazingly satisfying post workout breakfast.
This one will make you want to work out just so you can have breakfast after!
Hummm… say, if I work out twice during the day, does it mean I can have 2 of these?
I wish… 😉
Almond Blueberry Instant Bake
Servings: 1
Ingredients
Toppings
Vanilla "custard", Mix 1/2 scoop vanilla whey protein with 2 tbsp 0% fat plain greek yogurt
About a dozen fresh blueberries
1 tbsp sliced almonds, toasted
Few fresh coconut shavings
½ tsp unpasteurized liquid honey
Instructions
In a bowl mash the banana until very creamy. Whisk in buttermilk, egg white, almond and vanilla extract.

In a separate bowl, mix dry ingredients, except blueberries, until well combined. Add banana mixture and mix well with a spatula until well incorporated. Delicately fold in blueberries.

Transfer to a microwave safe bowl, or dessert cup, cover with a paper towel and microwave about 2 minute and 30 seconds to 3 minutes, depending on desired level of doneness and microwave strength.

While cake is cooking, mix plain yogurt together with whey protein powder to make vanilla custard. It might look like there is too much powder at first, but it will come together eventually. Same goes for the "lumpy" feeling. Just let the custard rest for about a minute and it will become nice and smooth.

When cake is done, top with custard, blueberries, almonds, coconut shavings and liquid honey.

Have a seat and enjoy immediately.
Notes
Grain Free, Gluten Free, No Sugar Added
If you've tried this recipe, please take a minute to rate the recipe and let me know how things went for you in the comments below. It's always such a pleasure to hear from you!
You can also FOLLOW ME on PINTEREST, FACEBOOK, INSTAGRAM and TWITTER for more delicious, healthy recipes!
The honey isn't necessary at all, really…  I just added it because it looks pretty!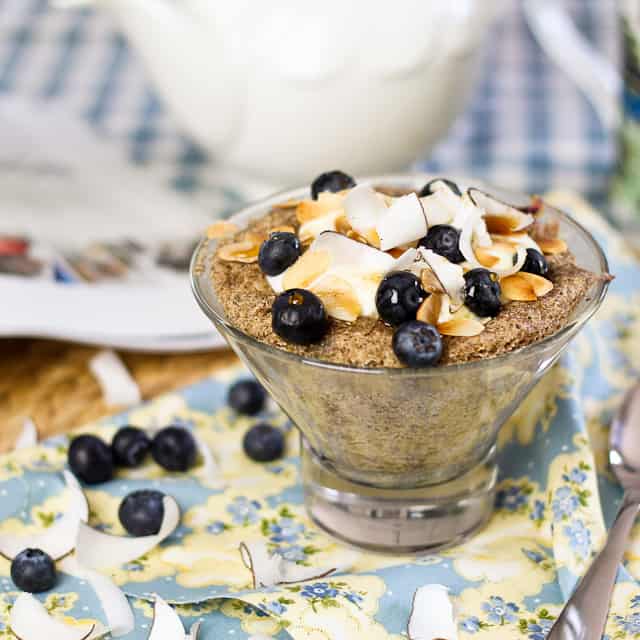 Of course, you could very well use raspberries for this one too! 
 Or blackberries… or strawberries, or bananas, or peaches, or mangoes… You get the idea!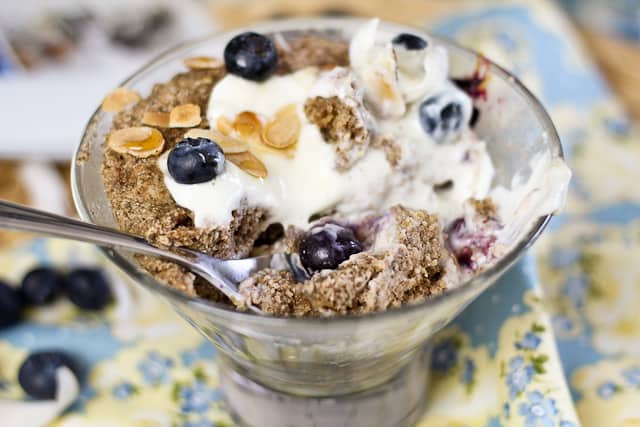 Wanna taste? 
 Better hurry, 'cuz it's going down fast…