Sun Dried Tomatoes, Arugula and Walnut Pesto
This is not what I had planned on posting tonight… I usually tend to do more elaborate posts on Friday nights…
But you see, I really want to go to bed early and get a good night sleep so that my body is well rested for tomorrow's big challenge.
While 102 kilometers might sound like nothing to an experienced rider, it IS a heck of a challenge to me and I am really scared. It almost feels like it's as big a challenge as my half marathon was, except that for my half marathon, I got to train throughout the entire summer and I went there totally prepared.
The decision to tackle the "Laurentians Challenge" was an impulsive one, based on my coworker challenging me to do it.
I feel totally unprepared, but hey… I'm totally committed now, so there is no going back.
He's picking me up tomorrow morning at 8, so by 9 I should be pedaling.
Hopefully, by 2 in the afternoon, I should be done pedaling, and probably even walking, for the rest of the day!
My fingers should be working fine, though, so I'll be able to fill you in and tell you how it went.
So anyway, before I go to bed, let me give you this super easy yet super tasty pesto recipe.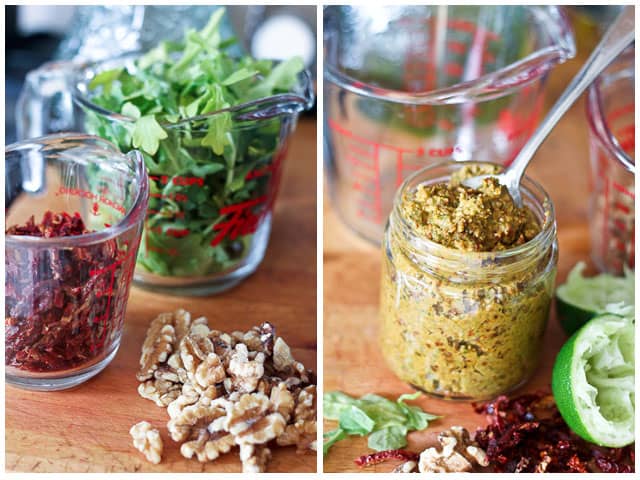 Wait… aren't all pestos super easy and super tasty?
Well, this one is no exception, how's that?
It's really super thick and creamy and chunky and yummy!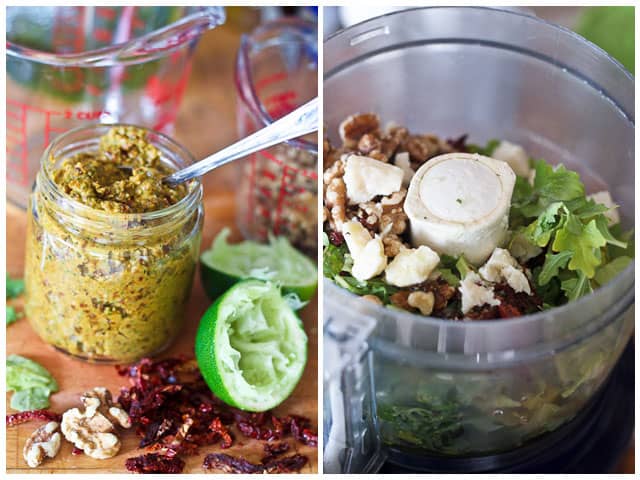 Oh, here's a little story on the importance of looking at nutrition labels.
The other day, I found this super huge bag of sun dried tomatoes at Costco that was going for a ridiculously low price. On the bag, one could read that the goods had been "lightly sprinkled with sea salt"
I wasn't too thrilled about that, but one quick glance at the list of ingredients was enough to convince me to get the bag anyway. All it contained was sun dried tomatoes and sea salt.
At that point, I didn't feel I needed to read the label, really…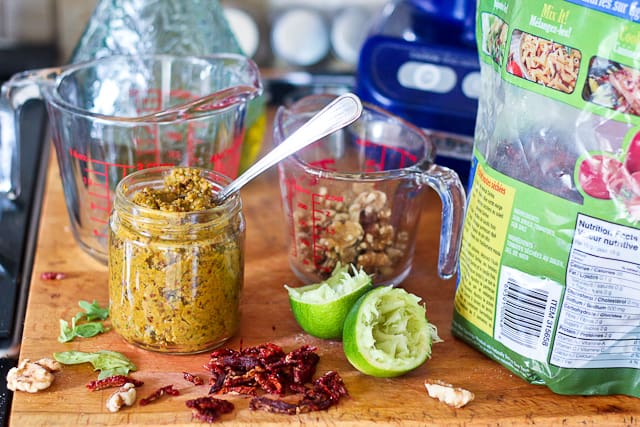 When I got home I was looking super forward to tasting them, so I opened up the bag and grabbed a handful…
"OMG! LIGHTLY SPRINKLED THEY SAID????", I exclaimed audibly.  "These things are so salty, it's not even funny."
THAT's when I decided to take a look at the label. I was shocked!
Just check it out for yourself: 15 grams, seriously… just fifteen measly little grams of these things contain a whopping 600mg of sodium!!! That's 25% of your daily allowance.
That's insane!
I almost chucked them right then and there, but then I figured I would use them "in lieu" of salt in my egg white omelets and various salads.
Needless to say I didn't add ANY salt to my pesto recipe.
And even then, it's still WAY salty…
But also way tasty!
Wait 'til you see what I used it for.
Can you say pizza, anyone? –  Oh yes I did! –  Grains and all! 🙂
And on that beautiful note, I'm going to bed. Wish me luck for tomorrow, guys!
Sundried Tomato, Arugula and Walnut Pesto
Servings: 8
Ingredients
2 cups arugula
¾ cups sundried tomatoes
½ cup walnuts
¼ cup olive oil
2 tbsp fresh Parmesan cheese
Salt and pepper to taste
Juice of one lime
Instructions
Add all the ingredients to the bowl of your food processor and process until you get a creamy and homogeneous paste, about 1 minute.

You might have to scrape the sides once or twice.

Transfer to an airtight container and store in the refrigerator for up to 3 weeks.

Pesto might get really thick in refrigerator, you can add a little bit of olive oil or water to loosen it up when using.

If adding water, add only to the amount you are going to be using immediately.
If you've tried this recipe, please take a minute to rate the recipe and let me know how things went for you in the comments below. It's always such a pleasure to hear from you!
You can also FOLLOW ME on PINTEREST, FACEBOOK, INSTAGRAM and TWITTER for more delicious, healthy recipes!