Collard Greens, Apple, Pecan and Gouda Egg White Omelette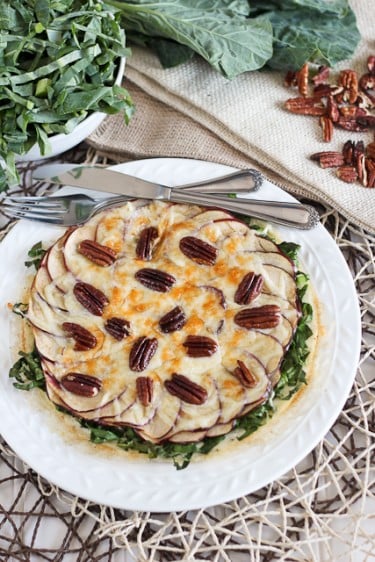 So I'm riding my bike the other day and I get this uncontrollable craving for a particular crêpe I remembered having as a teenager. It was loaded with caramelized apples and melted cheddar cheese, and drenched in pure maple syrup.
That was a school project in one of my high school classes…
I remember that, when making it, I had found it to be incredibly weird and I didn't even want to taste it. But I had no choice. Tasting it was also part of the project and I'd have lost points if I hadn't.
Need I tell you that I ended up really, REALLY liking it? To this day, I still dream about that crêpe, sometimes. For some reason, though, I have NEVER recreated it at home. Don't ask why, I have no idea.
So anyway, on that day, while riding my bike, I got this uncontrollable craving for THAT particular crêpe.
But then, I got this crazy idea.
What if I made it into an omelette, instead? And what if I added greens to the equation?
I couldn't wait to get home to give it a try! I dreamed about it THE WHOLE TIME. I could almost taste it. I'd envisioned using spinach, apples, sharp cheddar and pecans.
But when I got home, I realized that I was all out of spinach, and that my son had used up all of my sharp cheddar.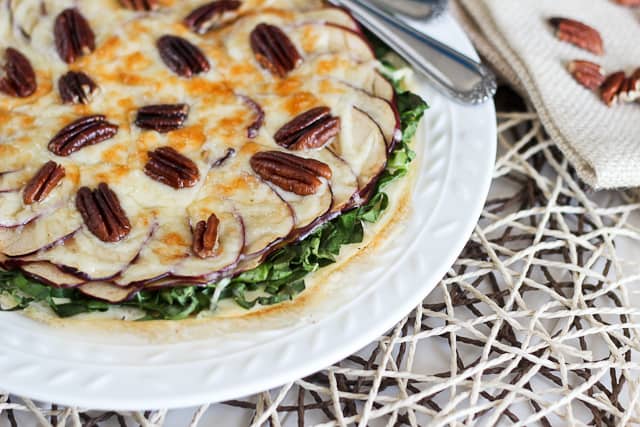 D'OH!
Oh well, I wasn't gonna let that stop me!
Time for plan B. I had collard greens, so I grabbed a bunch of leaves and shredded them super finely. Then I took a look at what cheeses were available to use. I decided on Gouda.
Wise decision, that was!
This wacky omelette turned out really good! Very different from that crêpe I was craving, but quite an experience. At first, I wasn't quite convinced, but the more I went at it, the more it grew on me. Especially after I decided to drizzle a little bit of honey on top!
It just gave the dish that little touch of sweetness that it was so desperately calling for.
Next time, I will try spinach instead (providing that I have some in the fridge!) and I will add a little bit of nutmeg and probably cinnamon,  too.
Oh, I can't wait for next time to be here!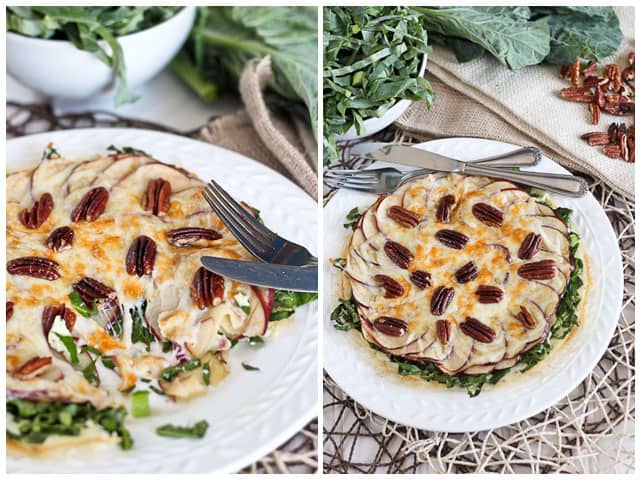 Maybe after my next bike ride? God knows I will need sustenance when I'm done, for that next ride is going to be 102km long!
Yep, you read that one right: ONE.HUNDRED.AND.TWO.KILOMETERS!
Indeed, I just committed to taking "The Laurentiens Challenge" with one of my coworkers, this coming Saturday.
I'm scared nonesense, for I've only ridden 450km so far this summer. And well, it had been well over 20 years since I'd been on a bike before that.
I feel totally unprepared, but I'm sure I can pull it off.
Right guys? Sure I can do this…
Please, have a thought for your Healthy Foodie this coming Saturday.
At 9am, she starts pedaling. After that, she doesn't stop for a very loooooong time!
Of course, I'll tell you all about it when it's all said and done!
Hey, if you've got tips and advice for me, please, feel free to share.
Of course, words of encouragement are also very welcomed! 🙂
Collard Greens, Apple, Pecan and Gouda Egg White Omelette
Servings: 1
Ingredients
¾ cup pasteurized egg whites, that's 6 egg whites
3-4 collard greens leaves finely chopped
1 Red Delicious Apple, thinly sliced (the use of a mandolin is higlhy recommended)
Pinch salt and pepper
About 25g Gouda cheese, shredded
12-15 pecan halves
Instructions
Preheat your oven on broil.

Slice the apple really thinly and shred the cheese. Set aside.

Roll the collard greens leaves and chop them really fine. Cook them in the microwave for about 1 minute, until sligthly wilted.

Meanwhile, coat a medium (10") non-stick pan with cooking spray and heat over medium heat

Add the egg whites, salt and pepper into a small mixing bowl and give this a quick whisk with a fork (or mini whisk, if you have one) until slightly frothy

Poor that mixture onto the preheated pan and swirl it around a little bit to spread your omelette evenly over the entire surface of the pan. Cover loosely (a pizza pan works wonders for this) and cook for 2-3 minutes, until the omelette is somewhat set.

Spread the collard greens evenly across your omelette and place the apple slices right on top.

Sprinkle cheese and pecan halves, then place under the broiler until the cheese begins to bubble and turns nice and golden brown.

Delicately slide omelette onto serving plate and serve immediately.

Drizzle a little bit of honey, if desired (I highly recommend!)
If you've tried this recipe, please take a minute to rate the recipe and let me know how things went for you in the comments below. It's always such a pleasure to hear from you!
You can also FOLLOW ME on PINTEREST, FACEBOOK, INSTAGRAM and TWITTER for more delicious, healthy recipes!