Simply Elegant Arugula Salad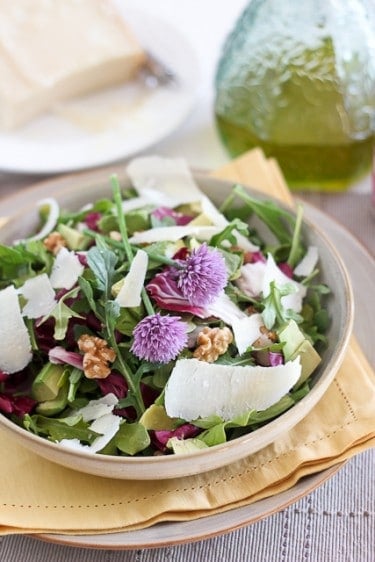 I'm not gonna talk much tonight for a change.
For this is a dish that calls for so very few words.
What could one possibly say about such a simple and elegant dish that its sheer beauty doesn't already reveal?
Just a mere glimpse in its direction and you're already convinced: you simply have to have it.
This one is a feast for the eyes just as much as it is for your tummy.
It's a pretty beauty queen that just begs to be admired.
But don't worry though… she's NOT the high maintenance kind.
All she asks of you really is a few minutes of your time to get her all good and ready to go, and a few more minutes to completely fill your eyes with her beauty before you finally surrender and lose yourself in her.
You might think that I'm pushing it a bit, but seriously, when I had her right in front of me, I thought it was one of the prettiest things I'd ever looked at.
Well, ok, let's be fair. One of the prettiest salads. I just couldn't take my eyes off her.
For one of the rare times during a photo shoot, I was in no hurry to dig in. I just wanted to take pictures.
Tons and tons of pictures.
I just couldn't get enough.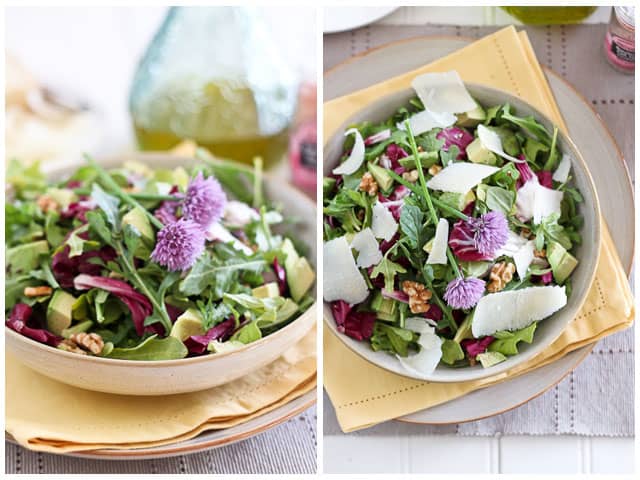 Until I finally dug in.
Then it was a whole 'nother story!
It IS just as good as it looks.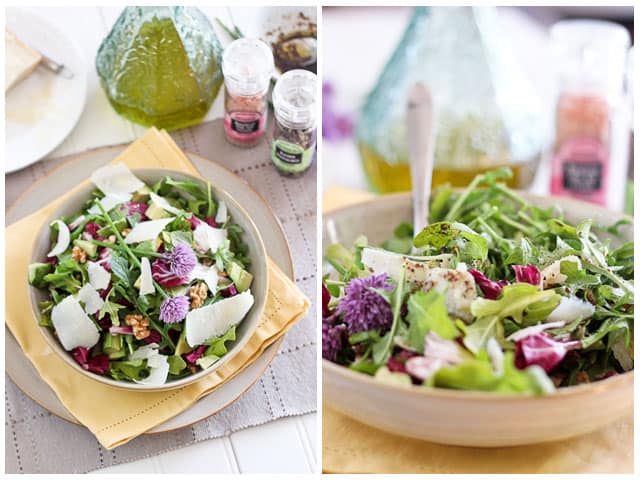 I get the feeling that this one will find its way to my dining room table on many many occasions during the course of the summer.
Ready in minutes, light, fresh, super tasty and oh so beautiful.
What's there not to like?
Simply Elegant Arugula Salad
Servings: 1
Ingredients
Salad
2 cups fresh arugula leaves
4-5 radicchio leaves, shredded
½ avocado, diced
25 g walnuts, coarsely chopped
10 g fresh parmesan shavings
1-2 chive sprigs, finely chopped
Chive flowers, to garnish
Instructions
Add all the ingredients of the vinaigrette to a small mixing bowl and whisk until well combined and slighlty emulsified.

Arrange the arugula leaves directly in your serving plate.

Top with radicchio leaves, avocado pieces, walnuts, parmesan shavings and chives. Garnish with chive flowers, if available.

Pour vinaigrette overtop and stir in when ready to serve.
If you've tried this recipe, please take a minute to rate the recipe and let me know how things went for you in the comments below. It's always such a pleasure to hear from you!
You can also FOLLOW ME on PINTEREST, FACEBOOK, INSTAGRAM and TWITTER for more delicious, healthy recipes!