Cherry Jalapeno Smoothie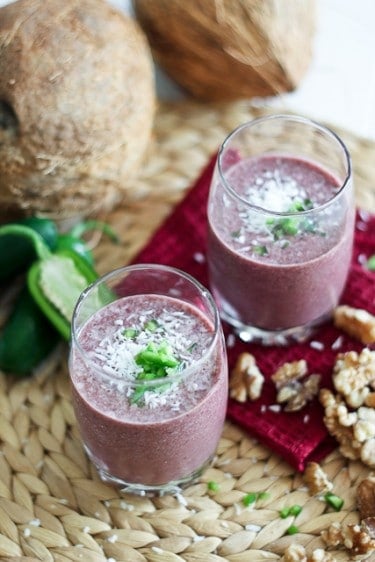 It had been a while since I'd last given you a smoothie recipe.
Well, to be completely honest, it had been a while since I'd created, or even got inspired to come up with a new smoothie recipe.
I'd even dare say I'd gotten a little bit bored with them and had instead been dreaming of creamy buckwheat cereal, peanut butter and banana on toasts and even oven baked sweet potatoes covered with vanilla custard, raisins, pecans and a drizzle of honey. Those who follow me on FB might have seen this latest crazy breakfast idea of mine. I must admit it was pretty decadent and I am planning on giving that one its very own post eventually.
But anyhow, back to smoothies, I hadn't really been inspired until Joann recently commented in her "own personalized smoothie post" and challenged me to create something with frozen cherries.
Having well over 3 pounds of them left in my freezer, I was more than happy to accept the challenge!
Originally, I had meant to use dried chipotle peppers but couldn't get my hands on them, so out of despair, I resorted to using fresh jalapeno. I was determined to give this one a really nice kick, you see, so I NEEDED to add some sort of a hot pepper.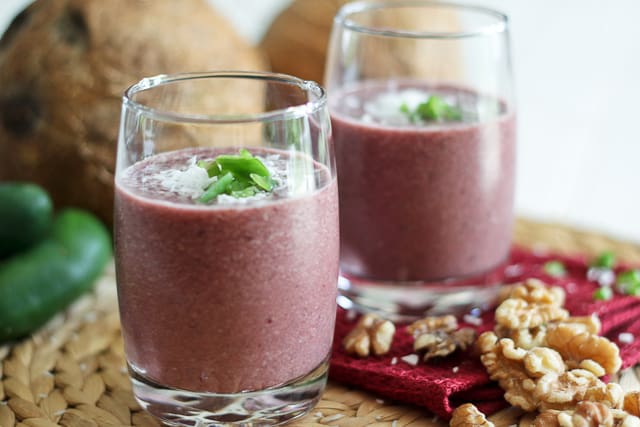 To tell you the truth, I'm real happy I never found the chipotle. The jalapenos work absolutely brilliantly. They do provide the kick that I'd been looking for without completely taking over. In fact, I think they add a great feeling of freshness to the combination.
This smoothie is probably my favorite so far; In fact, I'm so excited about it, it made it right to the top of the pile and bypassed all the other recipes that had been patiently waiting their turn… Most of them weren't too happy about being passed like that, but hey, they'll get over it and will look just as good and delicious when their time arrives…
After all, I'M the decision maker, and I decided you guys NEEDED to get your hands on this recipe sooner than later.
Especially you, Joann! Thanks again for another real winner!
For sure, one that I will be wanting to have over and over this summer. It IS so extremely refreshing. Perfect for a hot summer day!
Oh, and don't let the pictures fool you.
I might have poured this into 2 glasses, but I ended up drinking BOTH of them…
So save yourself the trouble… and pour the whole thing into a single glass.
Trust me on that one. You will NOT have too much…
You might even wish you had made a double batch!
Cherry Jalapeno Smoothie
Servings: 2
Instructions
Grind the chia seeds in using a coffee grinder or small food processor.

Cut the jalapeno pepper in half, remove the seeds and chop very finely. Save about a teaspoon to garnish.

Add all ingredients to your mini food processor or blender and process until smooth, about one minute.

Transfer to drinking glass(es), garnish with a pinch of unsweetened grated coconut and reserved jalapeno peppers.

Sit back and prepare to be amazed!
If you've tried this recipe, please take a minute to rate the recipe and let me know how things went for you in the comments below. It's always such a pleasure to hear from you!
You can also FOLLOW ME on PINTEREST, FACEBOOK, INSTAGRAM and TWITTER for more delicious, healthy recipes!