Teeny Weeny Healthy Chocolate, Ginger and Almond Butter Layered Cups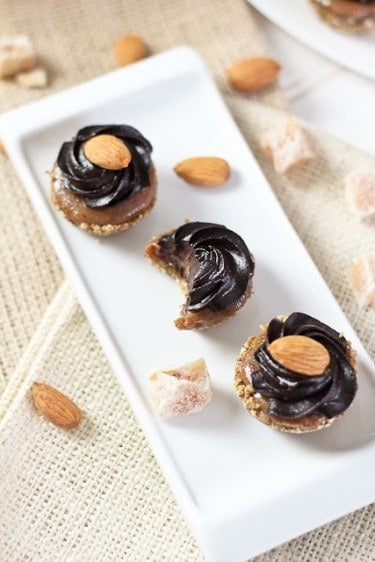 Phew…
How's that for a mouthful?
Bet it would take you less time to eat one of those decadent little bites than it would to actually call them by their name!
Hey, I could've made that title even longer, you know.
I could've mentioned that the ginger in them was actually candied.
I could even have specified that the ginger had been candied right under my roof in a luscious vanilla honey syrup.
I also could've added that these babies were grain free, hence, by definition, gluten free AND that they were also high in protein.
But you know what?
I'm not sure you even want to know all this.
Well, yeah… you probably DO want to know it, but you won't care one bit as soon as you sink your teeth into one of these babies.
Frankly, at that precise moment, all you will care about is what's taking place inside your mouth: the commingling of sticky, chewy, gooey and creamy textures, which are walking hand in hand with that subtle little crunch that you get every time your teeth touch, as well as the rich, nutty flavor of the almond butter, followed by the tangy bite of the ginger and the oh so intense flavor of the dark chocolate.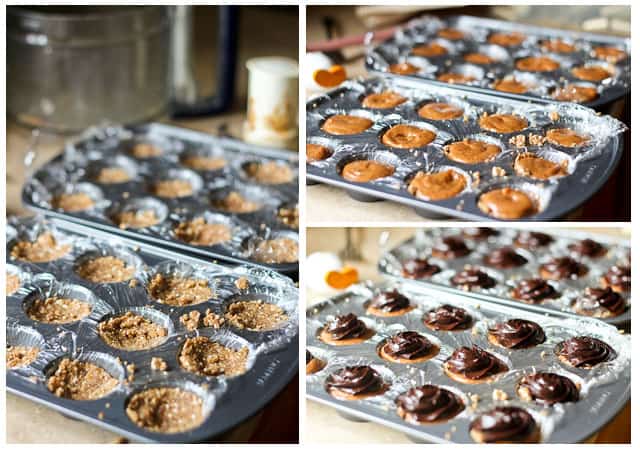 All this titillation of your senses makes the whole experience feel just like a New Year's Parade or something… I think there might even be fireworks involved!
Trust me, you WILL have a hard time believing that there's actually ANYTHING nutritious lurking in these seemingly devilish little treats, which, by the way, happen to be just as pretty to look at as they are good to eat.
Oh, and don't even try to hide them way in the back of the fridge. That won't work. Trust me, I tried… You won't even need to open the fridge door to hear them calling you.
I think they have an incorporated megaphone or something.
There's just no getting away.
To be totally honest, this is the kind of treat that will leave you feeling sad, almost broken-hearted, when you finish the last of the last piece.
You'll be wishing that you had made a bigger batch, that's for sure.
Perhaps I shouldn't have shared that recipe.
I get the feeling you guys will curse me…
Hmpft… you know what? Now that I think of it, if you must curse someone, curse Nora!
After all, she's the one who inspired these in the first place, so it's totally her fault.
There… I said it!
That's my story and I stick by it! 😉
Teeny Weeny Chocolate Ginger and Almond Butter Cups
Servings: 24 mini cups
Instructions
For Bottom Layer
Combine all ingredients in the bowl of your food processor and process on pulse until well incorporated and mixture sticks together.

Divide evenly between 24 mini cupcakes molds lined with plastic film (for easy removal) and press firmly to create mini crusts. You don't have to bring them all the way to the top. Set aside while you make the filling.
For the Almond Butter Filling
In the bowl of your food processor (you don't have to rinse the bowl out), add all of the ingredients and process until smooth and well combined.

Divide evenly onto the reserved crusts using a teaspoon or, if available, a pastry bag equipped with a medium round piping tip. Set aside.
For the chocolate topping
In the bowl of your food processor (again, you don't have to rinse the bowl out), add all of the ingredients and process until smooth and well combined.

Spoon on top of the almond butter filling or, if available, use a pastry bag equipped with a medium star piping tip. Garnish with whole raw almonds if desired.

Refrigerate the cups for at least 6 hours before indulging. (yeah, I know... TORTURE!)

Store in the refrigerator or freezer. If freezing, thaw for a few minutes before eating. I find the colder they are, the better!
If you've tried this recipe, please take a minute to rate the recipe and let me know how things went for you in the comments below. It's always such a pleasure to hear from you!
You can also FOLLOW ME on PINTEREST, FACEBOOK, INSTAGRAM and TWITTER for more delicious, healthy recipes!