Shrimp and Baby Bok Choy Stirfry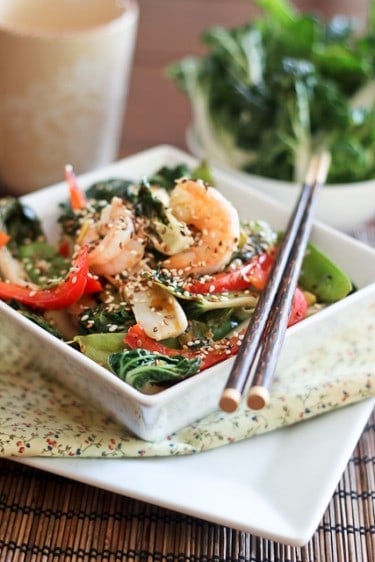 When my friend came to visit all the way from the other side of the States a couple of months ago (gosh, has it already been that long?) it was getting pretty late by the time we made it home, so I didn't feel like cooking the ratatouille that I had initially planned on making that night.
Well, not that I didn't feel like it, but I think we just didn't have that kind of patience…
We were both starving, and were pretty tired too.
So I looked in the fridge quick quick to see what I could find and decided to whip up this "minute stirfry".
Of course, I didn't write anything down and certainly didn't take the time to get all the gear, lights and camera out.
So the recipe didn't get logged. However, we both liked it VERY, VERY much. So much so, we decided to repeat the experience the very next day.
But again, I failed to log. Had better things to do, I guess… What a lousy blogger I made that week!
This recipe could very well have fallen into oblivion, had it not been for the fact that my friend kept reminding me of how much he really, truly enjoyed it.
For that reason alone, I couldn't let it be forgotten. I HAD to do it again and log it, if only for him,  so he could recreate it at home!
Bet he'll be pleasantly surprised when he sees this!
Does look good, doesn't it?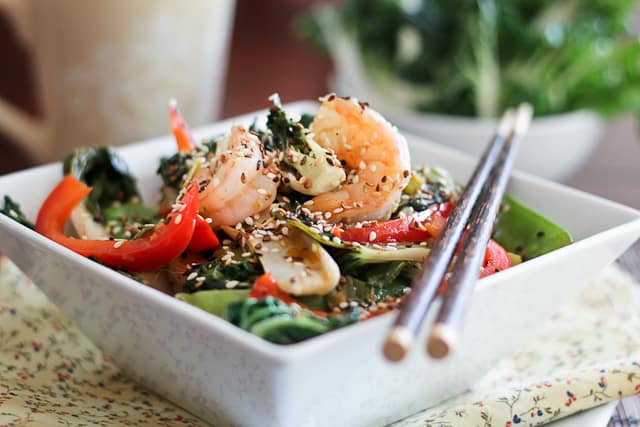 Well, to me it does anyway!
But hey… how's about I let you guys in on a… dirty little secret?
Apparently, I'm not all that successful at inspiring those who are the closest to me when it comes to adopting healthy eating habits…
Just take a look at what goes on "behind the scene" at The Healthy Foodie's dining room table.
In the foreground, my lunch.
In the background, my son and his girlfriend enjoying a true staple of the "Gastronomie Québécoise": poutine!
Complete with hotdogs, hamburgers and onion rings, of course! And let's not forget the ketchup, slushie and energy drink.
Hmpft… yeah, this goes on under my roof! :/
Sheeesh… can't win 'em all, can I?
Alright, let's put that focus back in the right place, shall we?
There… that's better! And you know what?
I'll choose my meal over theirs ANYTIME!
My lunch was super fresh, tasty, healthy, light, nutritious and didn't leave me feeling heavy, thirsty and bloated for hours…
Plus, I was done making the whole thing from scratch before they were even back from the restaurant with their take out order!
So tell me guys…
Which one would you choose?
Shrimp and Baby Bok Choy Stirfry
Servings: 1
Ingredients
2 green onions, coarsely chopped
½ red bell pepper, sliced
20 snowpeas, ends removed
6 baby bok choys, cut in quarters
12 large raw tiger shrimps, cleaned and shelled (I used size 26-30)
1-2 tsp black and white sesame seeds, for garnish
Sauce
1 garlic clove, chopped
2 tbsp fresh ginger, grated
2 tbsp white balsamic or wine vinegar, or rice vinegar if you don't want to keep grain free
1 tsp sesame oil
1 tsp Tamari sauce, I use gluten free
½ tsp sambal oelek
½ tsp unpasteurized liquid honey
Instructions
In a small mixing bowl, add all the ingredients for the sauce and stir with a whisk until well incorporated. Set aside.

Coat a skillet with cooking spray and heat over medium-high heat. When pan is hot enough, add shrimp and saute until they start to turn pink but are still slightly translucent. Stir in green onions, bell pepper, snow peas and bok choy.

Continue cooking for a minute or two, until the vegetables start to wilt.

Stir in sauce and cook for an additional minute.

Transfer to serving plate and garnish with sesame seeds
Notes
Grain Free, Gluten Free, Paleo Friendly
If you've tried this recipe, please take a minute to rate the recipe and let me know how things went for you in the comments below. It's always such a pleasure to hear from you!
You can also FOLLOW ME on PINTEREST, FACEBOOK, INSTAGRAM and TWITTER for more delicious, healthy recipes!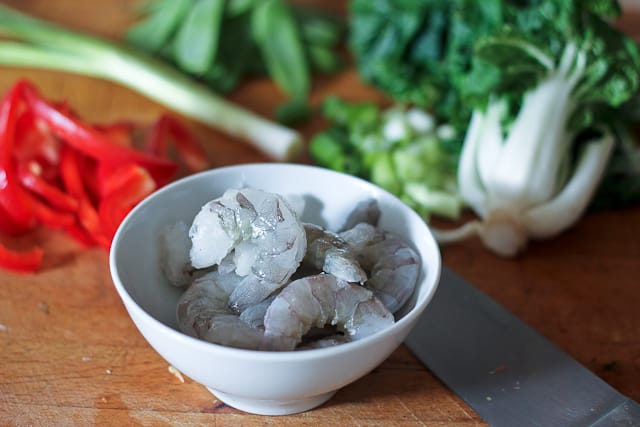 There's just something about shrimp… I find them so pretty, even in their raw state.
Am I normal, doctor?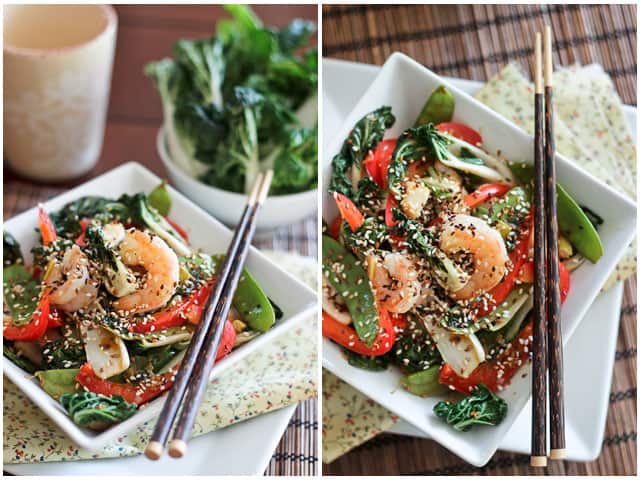 Of course, they're even prettier when cooked. Not to mention YUMMIER!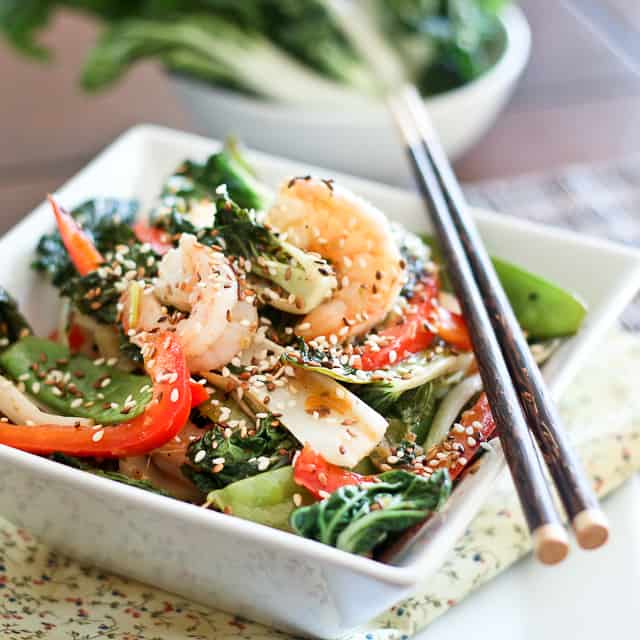 Wanna smell? Yeah, don't you wish… 😉 
 So nice and fresh and crisp! A vision of health, right there!