Quick Ratatouille, version 2.3.9
This blogger is so incredibly excited it's not even funny…
For you see, she is expecting company! Indeed, one of my very good friends from far far away, is coming over for a short stay.
At the time I am writing these words, said friend would be on a plane, on their way to Montreal. I can't even begin to tell you how excited I am. This feels just like Christmas!
Maybe I should mention that this friend and I have been exchanging extensive emails, thoughts and ideas over the past several months (you wouldn't even want to be around when we get on the subject of food: it just goes on and on…) but this will be the first time we actually get to spend time together.
By the time you get to read these words, though, friend and blogger will already have spent a couple of days together and are most probably having a blast, cooking up a storm, making a mess in the kitchen and coming up with all sorts of great new recipes!
For you can be certain that whenever two foodies meet up, there has to be at least SOME cooking involved. Food WILL happen, that is a certainty! And probably many times a day, too! 😉
Still, I can't help but feel extremely nervous. I mean you all know how I feel about cooking for others. I can share my recipes for the whole world to try, no problem. But ask me to actually cook for someone and I pretty much go to pieces.
Good thing I'm not planning on becoming a chef… That wouldn't be the career of choice for me, now, would it?
Here's what I intend to make as a first meal.
I think THIS is called ratatouille.
Or, well, at least, I like to call it that.
This is a good ice breaker I guess, for this is well known territory… for me anyway. My friend's never had ratatouille. Hmpft. Now I HAVE to remedy that!
This would be another favourite "quick" meal of mine. It's the kind of recipe that doesn't even really call for a recipe.
In all fairness, there must be at least fifty million different ratatouille recipes out there; And probably as many as two hundred thousand different opinions as to what should go in the making of said dish.
I have to admit to never having made the exact same recipe twice. I usually tend to just start from scratch and create a "new and improved" version of the dish each time.
For instance, last time I made this, I added chickpeas to it… It was great, but it sure didn't beat this new version here.
Seriously, I think that this time, I found MY ultimate ratatouille recipe; one that I will want to recreate over and over again. As in follow this exact same recipe.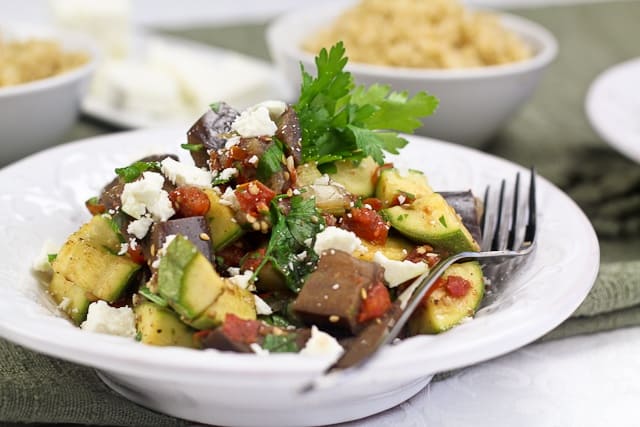 But, like I said, I'm not sure that it even officially qualifies as ratatouille… I'd probably have to run it by the "Ratatouille Consortium" to find out!
In fact, this one sort of reminded me of a warm version of a Greek Salad, especially after I had the brilliant idea of adding a few Kalamata olives to it.
Seriously… think of it. It's got tomatoes, zucchinis, onions, Feta cheese and Kalamata Olives. You could even add bell peppers, if you wanted to… One simly can't deny the resemblance!
It might sound weird like that, but trust me, it works!
Hope my friend likes it.
I'll let you guys know… 😉
Quick Ratatouille
Servings: 4
Ingredients
1 garlic clove, minced
1 onion, finely chopped
1 aubergine, cut into 1" cubes
5-6 grey zucchinis, cut in 1" thick quarter slices
1 large tomato, diced
1 small can diced tomatoes
¾ tsp salt
¾ tsp black pepper
2 heaping tbsp za'atar
½ cup fresh parsley, chopped
50 g goat feta cheese, crumbled
10-12 large kalamata olives, pitted and chopped (optional, not in picture)
Instructions
Coat a non-stick pan with cooking spray or drizzle with a little bit of olive oil and heat over medium heat. Add onion, garlic, salt and pepper and cook until the onion becomes translucent, about 3-4 minutes

Add za'atar, eggplant and zucchini and continue cooking until the vegetables start to colour and become tender, again about 3-4 minutes.

Add tomato and canned tomatoes, bring to a boil then lower heat and simmer for 6-8 minutes, until most of the liquid from the canned tomato is evaporated.

Stir in fresh parsley and transfer to serving plates.

Sprinkle crumbled feta and kalamata olives (if using) overtop and serve immediately, with a side of warm quinoa.
If you've tried this recipe, please take a minute to rate the recipe and let me know how things went for you in the comments below. It's always such a pleasure to hear from you!
You can also FOLLOW ME on PINTEREST, FACEBOOK, INSTAGRAM and TWITTER for more delicious, healthy recipes!