Simply THE Most Decadent Healthy Chocolate Cake EVER!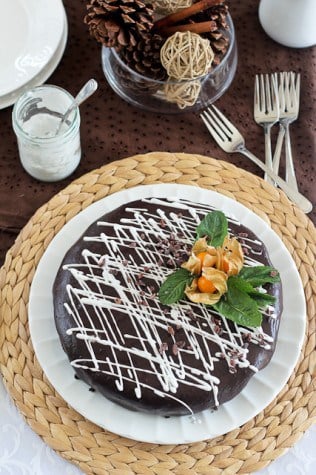 I know what you're thinking: NO WAY!
THAT CAKE? THAT ONE RIGHT THERE? IT'S ACTUALLY HEALTHY?
HECK YEAH!
And you know what? I don't blame you one bit for having these thoughts! How could I, when even I think the exact same thing every single time I look at it, or, even better yet, get to take a bite!
I just die, people, I'm telling you.
I've had 3 slices so far and thought the same thing every single time: "This can't be right. There is no way in hell that this cake can actually be healthy". In fact, if I hadn't made it myself, I probably wouldn't even believe it. But since I don't tend to lie to myself (well… I don't tend to lie period) I have no choice but to believe me!
Before I go on, I need to seriously take a moment here to thank Erin at Texanerin Baking, for challenging me to recreate this cake.
You see, for oh, probably 15 years now, that cake, to me, had been total synonym with extreme decadence: a cake made from nothing but heavy cream, butter, sugar, eggs and dark chocolate. It was THE ultimate chocolate lover's experience, one that never failed to throw me to the ground and leave me completely breathless…
And I'd been toying with the idea of healthifying THAT.
Right. Tough call! I wasn't sure that I was really up to it…
But, the challenge was thrown, the rules were set.
The healthified cake was to contain no grains, no beans and was to be at least somewhat creamy or fudgy.
If said conditions were met, Erin was to replicate the recipe and post it on her own blog if the results were to her liking.
Now if you know Erin, you know that THAT'S a whole 'nother tough call!  😉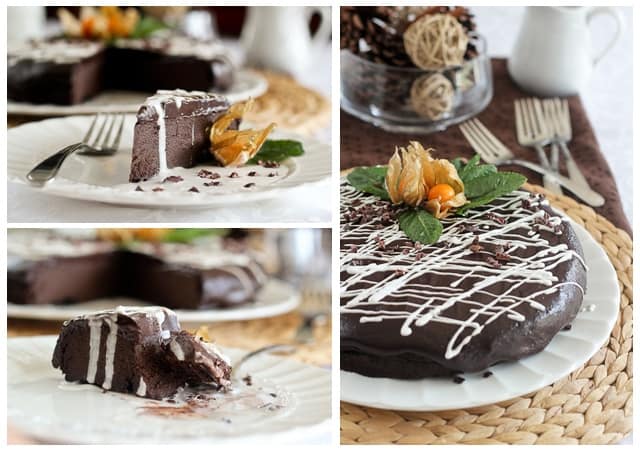 So anyway, I accepted the challenge with great pleasure, as well as a bit of apprehension, and got started the very same week-end.
Unfortunately, my first attempt, while still extremely decent, did not send me flying straight to heaven. And I wasn't gonna settle for just OK. I was shooting for OMG.
So sorry… try again! Back to the ole drawing board I went.
Boy! am I glad I did.
This second attempt resulted in a cake that sent me flying beyond heaven.
It's just plain magnificent.
If you're into rich, INTENSE dark chocolate flavour coupled with deliciously dense but smooth and creamy"cheesecake-like" texture, and if you're looking for healthier dessert options that won't let you down in the decadence department, then this cake is definitely for you. I mean just look at that silkiness… and don't even get me started on the icing. Oh my!
Be.Still.My.Heart.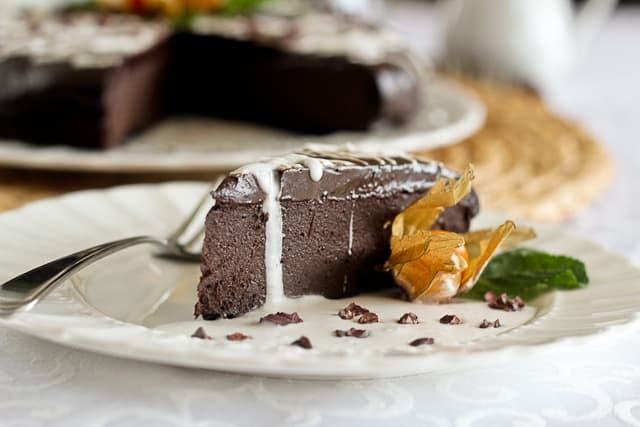 Now I'm not saying that this is a low fat, low cal cake that you should be enjoying for breakfast on a daily basis without feeling the least tiny bit of guilt. Well, guilt, you shouldn't feel, for there is absolutely nothing in that cake to feel guilty about. Not even sugar. Yeah. You read that one right! This cake has no added sugar.
I really wish I could have you all taste it before you get to take a look at the list of ingredients. Unfortunately, it's gonna have to be the other way around. And you're also gonna have to make your own… sorry!
Luckily enough, this beauty won't get you spending too much time in the kitchen…
So go ahead and take a look at these ingredients.
Then pick up your jaw from up the floor.
And get busy baking…
Healthy Flourless Chocolate Cake
Servings: 12
Ingredients
Garnish ideas
you can make it thicker by leaving the can in the refrigerator overnight
Berries, such as ground cherries, raspberries or strawberries
Unsweetened coconut shavings
Fresh mint leaves
Instructions
For the cake
Preheat oven to 375F

Line bottom part of a spring form pan with aluminum foil and fold the edges under it. Assemble pan by putting rim back in place, then bring aluminum foil up around the exterior of the pan. Grease bottom and interior of the pan with coconut oil. Set aside.

In your food processor, add avocados and date paste and blend until well combined and super smooth and creamy.

Add eggs and process until smooth.

Add the rest of the ingredients and process until well incorporated.

Transfer your cake batter to reserved pan and bake in the oven for 28-30 minutes, until top appears darker pretty much all over. Be careful not to overcook.

Turn the oven off, crack the door open and leave your cake in to cool for an hour or two, then transfer to the refrigerator and cool completely, at least 8 hours.
For the icing
In your food processor, add all ingredients except cacao powder and process until well incorporated.

Add cacao powder, about ¼ cup at a a time, and process until smooth and creamy with each addition.

At this point, your icing should have the consistency of chocolate pudding. If you find that it is a little bit too stiff, you can help loosen it up a bit by setting over it a double boiler and whisking it gently until it has reached the desired consistency.

Take cake out of the refrigerator and place it upside down on a serving plate.

Pour icing right in the middle of the cake and spread it gently all the way to the edge.

Drizzle coconut cream over icing and decorate with berries and mint leaves, if desired
Notes
Grain Free, Gluten Free, Dairy Free, No Sugar Added, Paleo Friendly
If you've tried this recipe, please take a minute to rate the recipe and let me know how things went for you in the comments below. It's always such a pleasure to hear from you!
You can also FOLLOW ME on PINTEREST, FACEBOOK, INSTAGRAM and TWITTER for more delicious, healthy recipes!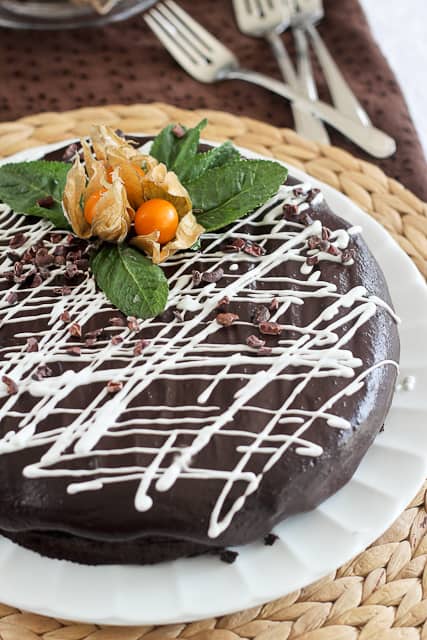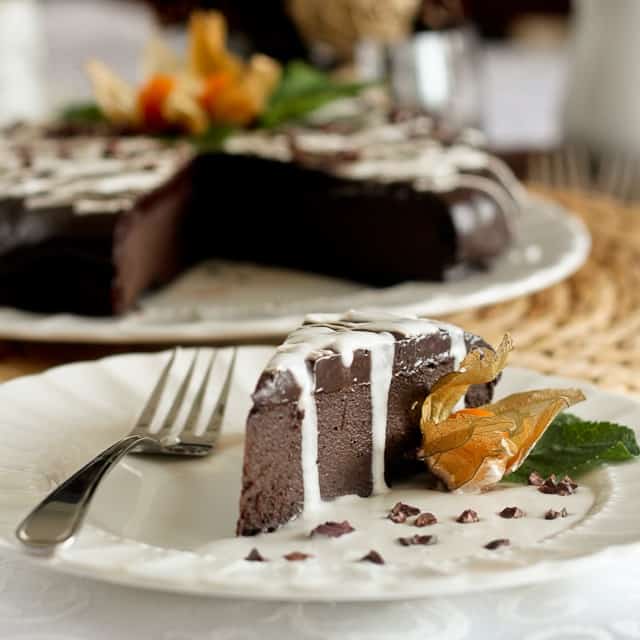 Creamy enough for you, Erin?