Mini Brownie Wannabe Fudgy Bites – Grain free, of course!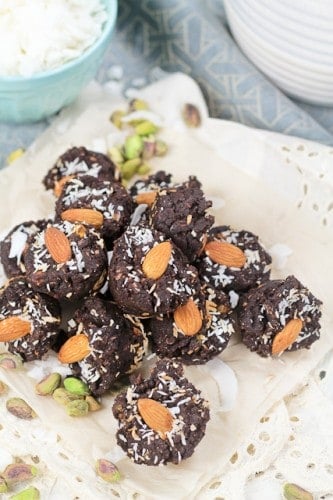 Guys, I fear we might have a problem.
A big problem…
You see, ever since I started making my own almond milk, I've become fascinated with finding creative ways to use the pulp that gets left behind.
And I do mean FASCINATED! I use the stuff everywhere. I try all sorts of different things.
While this is extremely exciting for me and might be an ideal situation for those of you who, like me, are avid "home made nut milk aficionados", it may become a tad annoying to those of you who don't really care to make their own milk and, therefore, don't have access to almond pulp.
The thing is, you see, I generate so much pulp on a weekly basis now, I just HAVE to find ways to use it up; You know me, can't let any food go to waste!
Sadly, or happily, depending on which angle you look at this issue, a lot of my experimentations don't really meet my standards and will never make it on this site.
But those recipes that do make it on here are usually WELL worth trying. Probably even worth making a batch of milk just so you can get the pulp!
This one certainly fits that bill!
These super cute and decadent little brownie wannabe fudgy bites really live up to their name. In fact, they are about a hundred times better than they look in pictures. You'll have to forgive me, I was on the phone, dealing car insurance quotes for my son while taking these pics. Not necessarily the best conditions to get inspired and pull awesome results, you see?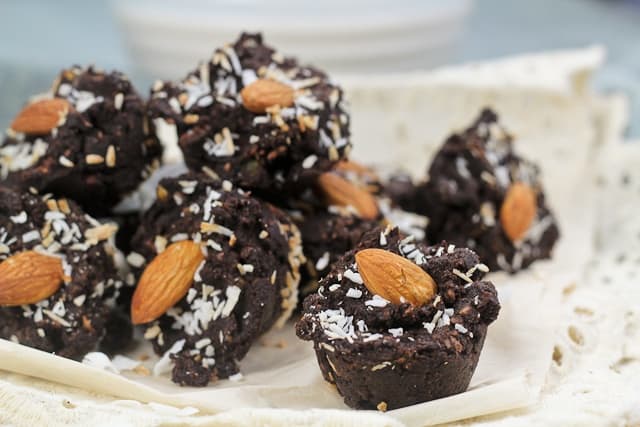 But trust me, they are sinfully good. So dense and chewy and fudgy and sweet and super chocolaty… plus, they will fill you up and keep you satisfied for a fairly long time!
They make for a great snack, or light breakfast on the go. Oh, and a healthy dessert too, why not? Just don't overdo it if you're gonna have them for dessert because I am telling you, they are very filling!
Also, I'm pretty certain that regular almond meal could be subbed for almond pulp without really affecting the integrity of the recipe, and that much probably holds true for all recipes that call for the pulp.
Trust me, they are definitely worth experimenting if you don't have any almond pulp on hand.
Who knows, they might turn out even better…
I know I would give it a try!
Mini Brownie Wannabe Fudge Bites
Servings: 24 pieces
Instructions
Preheat oven to 375F

Coat two non-stick 12-mini muffin pans with cooking spray and add about ¼ tsp of unsweetened shredded coconut to the bottom of each cup. Shake the pans gently so that the coconut climbs and clings to the sides a bit. Set aside.

Add banana, avocado and date paste to your food processor and blend until smooth and creamy.

Add almond pulp, cocoa powder, coconut flour, cinnamon and salt and blend until well incorporated, mo more. Throw in coconut, pistachios and cacao nibs and pulse a few times just to mix them in.

Divide this mixture between the 24 cups of your prepared mini muffin pans.

Gently press a whole almond on top of each "muffin" and place in the oven for 20 minutes.

Allow to cool completely on a cooling rack before removing from pan.

Keep in an airtight container in the refrigerator for up to a week.
Notes
* To make date paste, simply pack a glass jar (Mason type) full of pitted dates then top with water. Put that in the fridge for 24 hours then process in the food processor until nice and smooth then transfer this mixture back into the jar. This will keep for several weeks in the refrigerator (if you don't end up eating it all by the spoonful!) Grain Free, Gluten Free, Vegan, No Sugar Added, Paleo Friendly
If you've tried this recipe, please take a minute to rate the recipe and let me know how things went for you in the comments below. It's always such a pleasure to hear from you!
You can also FOLLOW ME on PINTEREST, FACEBOOK, INSTAGRAM and TWITTER for more delicious, healthy recipes!