Dried Fruit and Goat Cheese Buckwheat Salad
Have I told you just how much I'd been loving on buckwheat lately?
Right, of course I told you. 😉
I'd even told you how I'd have a second buckwheat salad recipe for you, right after I gave you this first one the other day…
I think I also told you that this new one here was even better than the last…
Well, if I hadn't told you, I'm telling you now.
You see, this year for Easter, we were invited to my mom's new boyfriend's family reunion and we were asked to each contribute a dish. I soooooo love these kinds of family gathering. You get to taste a little bit of what everyone sort of is about. You get to learn about people, and you get to try a whole bunch of new things.
Such as buckwheat groats, for some…
For the occasion, being the "weird healthy kiddo" that I am, I'd been asked to bring 2 of my "unusual" salads. I chose to bring my "Grain Free Tabouleh" as well as another cold salad which would contain buckwheat groats as the main ingredient.
At the time I made that decision, I had no idea what would actually go in said salad. All I knew is I wanted people to discover this wonderful and unknown ingredient that is buckwheat in its groat form.
In fact, I didn't even know what would go in that salad until I actually started making it.
It was a case of opening up the fridge and cupboards, grabbing this, grabbing that, and yelling over my shoulder to my daughter who was in her bedroom: "Say, what would you say to adding such and such to that salad? Yay or nay?"
To be honest, I hadn't even initially planned on taking pictures of that one. Or on writing down the recipe, for that matter. I mean, I'd JUST been making a buckwheat groats salad. Surely, I didn't need to log a second one now, did I?
But then I tasted it!
Oh . My . God. I immediately reached for my trusty pen and notebook and started recapping all of what had gone in the making of this magnificent creation!  I was not going to let that one be forgotten. It was way too delicious for that.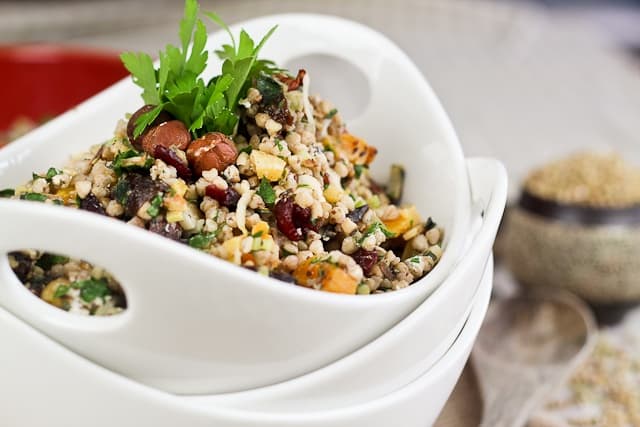 Granted, you all know how much of a fan of the savory sweet combo I can be. But this salad… You get tons of sweet dried fruits, crunchy nuts, creamy nutty buckwheat and tangy goat cheese with every single bite. I could've eaten it without end; I just didn't want to stop.
I wasn't quite sure whether it was dessert or side or even main dish. All I knew is it was sooooooo delicious and my taste buds were in heaven.  For a change.
You know what? I think that my taste buds are VERY happy to be attached to MY tongue. They get to visit heaven so very often.
And they're pretty thankful for that!
Dried Fruit and Goat Cheese Buckwheat Salad
Servings: 6 as a side
Ingredients
1½ cup buckwheat groats
3 cups water
¾ tsp salt
1 celery rib, finely chopped
½ chayotte, finely diced
1 large endive, shredded
½ cup fresh parsley, finely chopped
¼ cup fresh mint, finely chopped
½ cup hazelnuts, chopped
½ cup dried apricots, chopped
½ cup dried prunes, chopped
½ cup dried cranberries
juice of 1 lime
2 tbsp white wine vinegar
½ tsp salt
½ tsp black pepper
1 vanilla pod, seeds scraped (or 1 tsp pure vanilla extract)
1 tbsp olive oil
75 g unripened goat cheese, crumbled
Instructions
In a small saucepan, bring water and salt to a boil. Add buckwheat groats, reduce heat, cover and cook until all water has absorbed, about 10 minutes.

Remove lid and allow to cool for at least 60 minutes. You can also cook your buckwheat groats the previous day and let them cool overnight.

Add all ingredients, including cooled buckwheat to a large mixing bowl. Mix to combine.

Serve immediately or refrigerate for a few hours (preferably overnight) to allow for flavors to develop.
Notes
Grain Free, Gluten Free, Vegetarian
If you've tried this recipe, please take a minute to rate the recipe and let me know how things went for you in the comments below. It's always such a pleasure to hear from you!
You can also FOLLOW ME on PINTEREST, FACEBOOK, INSTAGRAM and TWITTER for more delicious, healthy recipes!