Buckwheat "Garden" Salad
I've really been loving on buckwheat lately.
Seriously, I've been having it several times a week for the past 3 weeks.
I know, that's so typical of me. It seems like I always have to get seriously obsessed with a certain ingredient for a while, then I eventually get tired of it and move on to something else.
Yep. This happens to me, like, constantly.
Remember how I did everything "orange" not so long ago?
And how I just threw smoothie after smoothie at you right before that?
Well, it looks like my flame of the moment would be buckwheat, so please, bear with me while I go through this little love affair.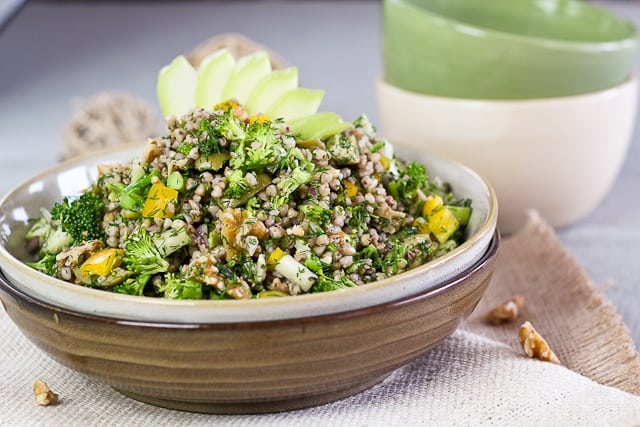 Hey, at least buckwheat comes in two forms: flour AND groats. And I've been loving equally on both of them. Plus, I do savory AND sweets. So at least, you get a little bit of variety…  😉
I promise it'll end soon. It always does.
Mind you, if I'm not going to be doing grains for an extended period of time, there is a very good chance that buckwheat will become my replacement of choice.
I don't know about you, but I happen to really LOVE its earthy, almost dusty flavor.
It sort of reminds me of my dad.
Do you also tend to associate certain flavors or odors with people or events?
Do they bring back memories?
They do for me, all the time. Food is a very powerful and very emotional experience for me. Usually one of the agreeable kind!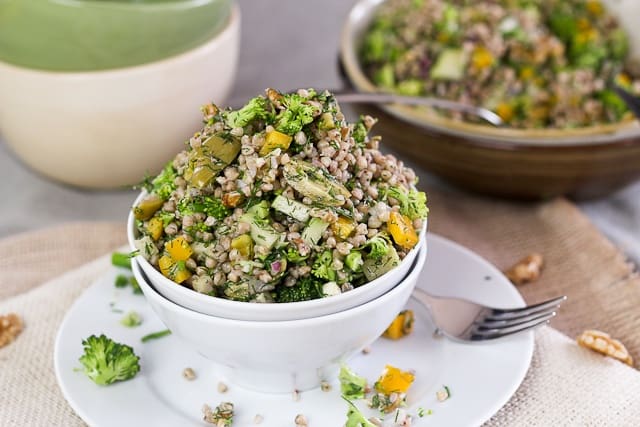 This salad right here sure was an agreeable experience. It was my first time eating buckwheat cold like that, in a savory salad.
It certainly wasn't the last. In fact, I made another version just a few days later, one that included a whole bunch of dried fruits and goat cheese… so you can expect another buckwheat salad recipe soon!
I'm telling you, cold buckwheat groats are awesome. In fact, buckwheat groats are awesome period. It seems like they work well with just about everything and anything.
They make great warm cereal, they are incredible baked with spinach and eggs, they are superb in salads such as this one here, you can add them to overnight oats or granola…
Seriously, if you haven't tried them yet, you definitely have to!
Start with this super fresh and simple salad, why not?
Buckwheat "Garden" Salad
Servings: 2
Ingredients
1 cup buckwheat groats
2 cups water
½ tsp salt
½ chayotte, finely diced
12 large green olives, pitted and quartered
1 small yellow bell pepper, diced
1 cup broccoli florets, chopped
¼ cup red onion, finely chopped
50 g walnut, chopped
½ cup fresh dill, chopped
2 tbs fresh mint, chopped
juice of 1 lime
2 tbsp white wine vinegar
1 tbsp olive oil
½ tsp salt
½ tsp black pepper
Instructions
In a small saucepan, bring water and salt to a boil. Add buckwheat groats, reduce heat, cover and cook until all water has absorbed, about 10 minutes.

Remove lid and allow to cool for at least 30 minutes. You can also cook your buckwheat groats the previous day and let them cool overnight.

Add all ingredients, including cooled buckwheat to a large mixing bowl. Mix until well combined.

Serve immediately or refrigerate for a few hours (or overnight) to allow for flavors to develop.
Notes
Grain Free, Gluten Free, Vegan, Vegetarian
If you've tried this recipe, please take a minute to rate the recipe and let me know how things went for you in the comments below. It's always such a pleasure to hear from you!
You can also FOLLOW ME on PINTEREST, FACEBOOK, INSTAGRAM and TWITTER for more delicious, healthy recipes!