Spinach and Buckwheat Egg Bake
OMG, I am so excited about that one, I have to tell you about it NOW! I mean, SHOULD be outside watering plants at this point, but this just can't wait.
This is the best, the most amazing, the awsomest breakfast creation EVER!
It's breakfast cereal meets savory egg. It's spinach and nutmeg dancing the tango with sharp cheddar cheese and toasted walnuts. It's a symphony of textures and flavors, a true savory and sensual experience.
Check this out!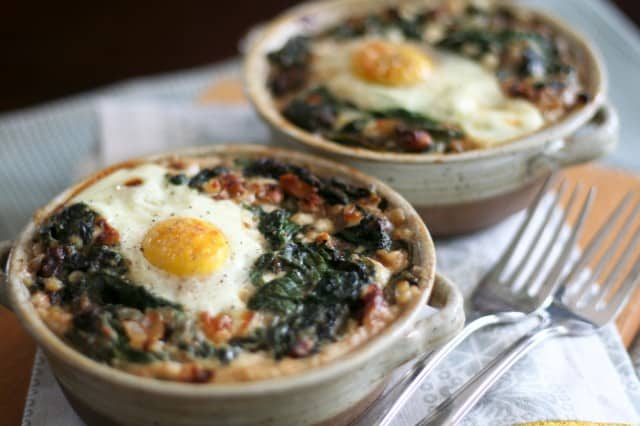 Now, having said that, it might just be me… I mean, you know how much I LOVE my breakfast cereal and how I have a soft spot of the buckwheat groats and amaranth variety. Well, I sort of mixed that with the baked egg and spinach that I had done a few months back. I remembered liking it, but I felt it had to be kicked up a notch.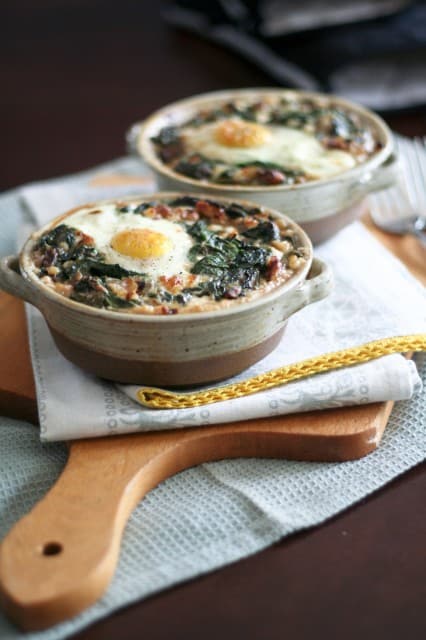 To me, the combination of the two was absolutely FANTASTIC. This is one breakfast experience I will truly remember, and this will no doubt become a regular. Now, I know it may sound a little strange , but trust me, you HAVE to give this one a try. And If you don't like it, I will give you your money back. 😉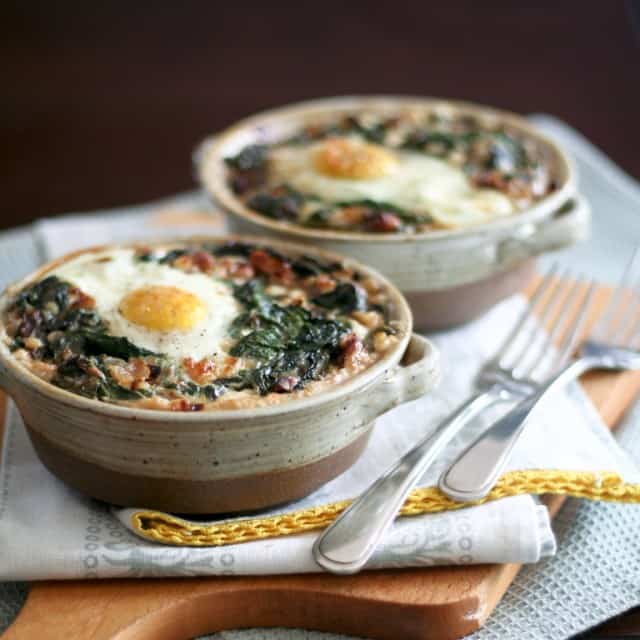 There is only one slight, if only very slight, drawback to this dish and that is that it's almost impossible to bake an egg and keep the yolk runny. The egg does become a tad bit rubbery, but I can't say it ruined the dish for me. A possible alternative would be to bake the "pie" without the egg, poach or panfry the eggs on the side and just place them on top when the "pies" out of the oven. But I find it would somewhat destroy the unity of the dish, and I'm not sure I'd want to do that.
Still, I might give it a try next time.
Spinach and Buckwheat Egg Bake
Servings: 2
Ingredients
½ cup buckwheat groats
2 tbsp amaranth
1 tsbp black chia seeds
2 cups water
¼ tsp salt
1 small onion
250 g baby spinach leaves
Salt & pepper to taste
1 cup 1% fat cottage cheese
50 g extra sharp cheddar cheese
A very generous grating of nutmeg
30 g toasted walnuts, chopped
2 eggs
Instructions
Preheat oven to 375F

Bring water and salt to a boil. Add buckwheat groats, amaranth and chia. Cover, reduce heat and simmer for 10-15 minutes, stirring occasionally, until mixture is creamy and all water is absorbed.

Meanwhile, in a non-stick skillet, cook onion, salt and pepper over medium heat until translucent. Lower heat, add spinach and stir until spinach is completely wilted, about 1 minute. Turn off the heat and set aside.

In a mixing bowl, combine cottage cheese, sharp cheddar and nutmeg.

Fold in spinach mixture and toasted walnuts. Mix until well combined.

Divide buckwheat mixture between 2 oven safe dishes and spread evenly.

Top with spinach and cheese mixture, make a little well to accommodate the egg.

Crack the eggs in the little well, sprinkle with salt and bake in the oven for about 15-20 minutes or until the egg has set.
If you've tried this recipe, please take a minute to rate the recipe and let me know how things went for you in the comments below. It's always such a pleasure to hear from you!
You can also FOLLOW ME on PINTEREST, FACEBOOK, INSTAGRAM and TWITTER for more delicious, healthy recipes!