Wax Beans and Asparagus Salad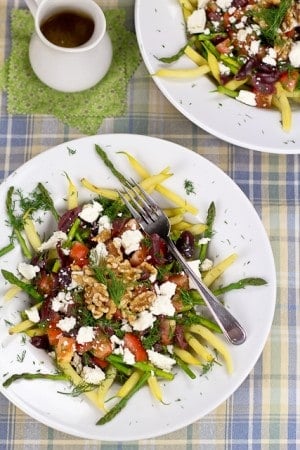 I have a question.
No, let me rephrase that…
I have a real silly question. Why is it that green beans are called… well, GREEN beans, whereas yellow beans are called WAX beans?
In French, we call them "Fèves vertes" and "Fèves jaunes".
From what I understand, Green beans are even referred to, in the English language, as Haricots Verts. So why is it that wax beans aren't known as Haricots Jaunes?
Why WAX? I don't know, but wax just doesn't sound appetizing to me, so I have a problem with that. Why give such a beautiful vegetable such a non-inspiring name?
To be honest, I always preferred wax beans to their green relative. I think they are prettier, and well, they taste better. But then again, maybe I find they taste better just because I think they're prettier.
Anywho, you have to admit that their pretty yellow color worked wonderfully well with this particular salad. Green just wouldn't have cut it.
You just HAVE to use the yellow, well, wax, hum… well, you know.
Not that it would change the taste all THAT much… It just makes it sooooo much prettier!
I got the inspiration for this dish from that Green Bean, Goat Cheese and Green Olive Salad, which I've enjoyed many many times since I discovered it. Only this time, I decided to add a few extra ingredients to it.
Alright, I admit. I had this HUGE bunch of dill and about 25 pounds of asparagus that I needed to use up! That sort of helped me get inspired some…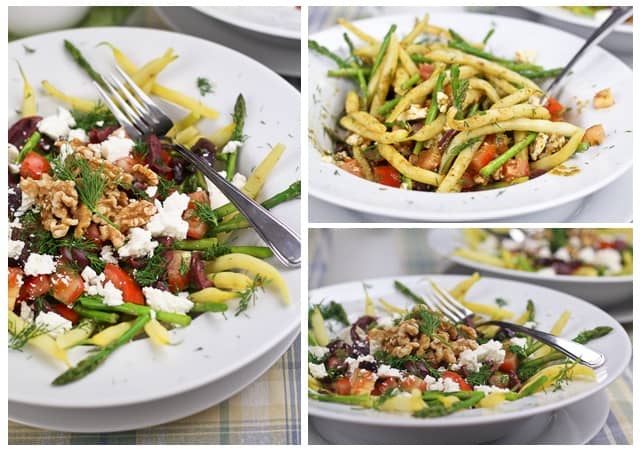 Hey, the dill was 69¢ and it was HUGE, seriously. I mean, I needed SOME of it to make my Trout Tartare, but I had way too much. And even if it only cost 69¢, I wasn't gonna chuck it. No way!
As for the asparagus, well, they were 99¢ a pound, can you imagine? They ARE one of my favorite veggies after all, so when I see them going for so little money, I just HAVE to stock up!
It was a good thing, because this salad really was a winning combo. It's fresh, crisp, tangy, super tasty, literally screams healthy… PERFECT summer salad, I tell you.
I can already see myself enjoying this one at a picnic, or by the lakeside while keeping an eye on my fishing rod… or even just sitting out in the yard, watching the flowers grow!
Now if only summer could get here!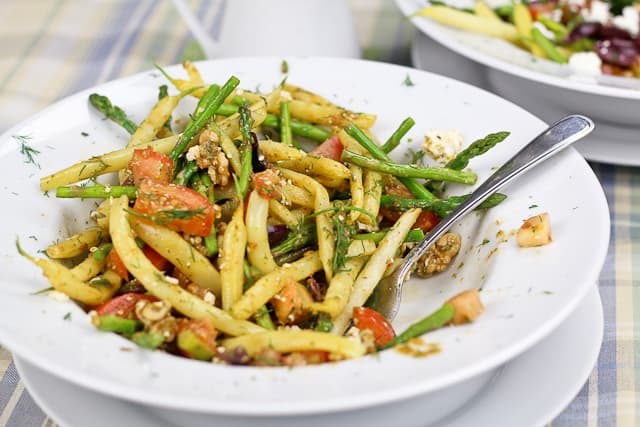 Oh, hey, guys… I almost forgot! Have I got a teaser for you today!
Some of you might remember, a while back, I got challenged to recreate this super decadent flourless chocolate cake, but in a healthy version, of course.
Well, after 2 tries, I succeeded! All I can tell you at this point is OMG! This cake will literally throw you off your chair. I swear!
Just take a little peek for now…  but just a little peek, eh?
We wouldn't want to lose interest in that glorious wax bean salad, now would we?
Good! Fear not, my friends, the recipe is coming soon!
Wax Beans and Asparagus Salad
Servings: 2
Ingredients
450 g wax beans, ends trimmed
300 g asparagus, cut into thirds
2 small tomatoes, diced
16 large kalamata olives, pitted and quartered
60 g walnuts, chopped
60 g goat feta, crumbled
Instructions
Bring about an inch of salted water to a boil. Place the beans and asparagus in a steaming basket and set that over the boiling water. Cover and steam until tender to the bite, 3 to 5 minutes (depending on how crisp or tender you like them)

Put beans and asparagus in the steamer basket, set over the boiling water, cover, and steam until tender to the bite, 3 to 5 minutes (depending on how crisp or tender you like them)

Meanwhile, add all the ingredients for the dressing to your mini blender or food processor and blend until smooth and well combined. Set aside.

As soon as beans and asparagus are ready, plunge them in a bowl of icy cold water to stop the cooking, then drain and divide them between two serving plates

Top with tomatoes, then kalamata olives, feta cheese and finally, walnuts.

Sprinkle a few sprigs of dill over the salad for garnish.

Serve immediately with dressing on the side.
If you've tried this recipe, please take a minute to rate the recipe and let me know how things went for you in the comments below. It's always such a pleasure to hear from you!
You can also FOLLOW ME on PINTEREST, FACEBOOK, INSTAGRAM and TWITTER for more delicious, healthy recipes!