Fiddleheads, Green Olives and Almond Salad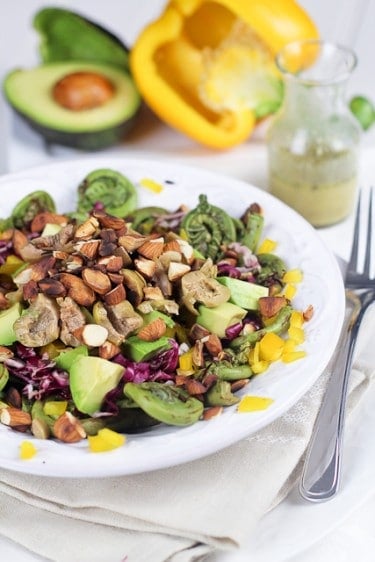 Now here is something I don't eat all that often. MAYBE once a year, if that. Not too sure why, though, because I happen to really like them.
Maybe it's because I used to always have them the exact same way: steamed, then sauteed in butter with salt, pepper and LOADS of garlic.
I don't really do garlic anymore.
It's not that I don't like it or that I think it's not good for me. No way. It's just that I don't care much about having it on my breath for so long!
So I guess I had pretty much given up on eating fiddleheads because I didn't want to reek of garlic.
But when they came in season this year, I decided that I HAD to have some. I figured they should still taste good even without the millions of cloves of garlic.
And I was right! They do! I think I like 'em even better without.
They have an extremely fresh flavor to them. And a very interesting soft yet firm texture. But what I like best about them is their "alienesque" appearance. You have to admit that they do look pretty unique!
Another thing that I made differently this time is I enjoyed my fiddleheads cold and added them to a salad.
Or rather, made them the star of a salad.
First, I steamed them for the recommended 10 minutes (I really wish I didn't have to cook them for THAT long, but that would be the minimum recommended cooking time to avoid foodborne illness*) then I plunged them in icy cold water to stop the cooking process and preserve their beautiful color.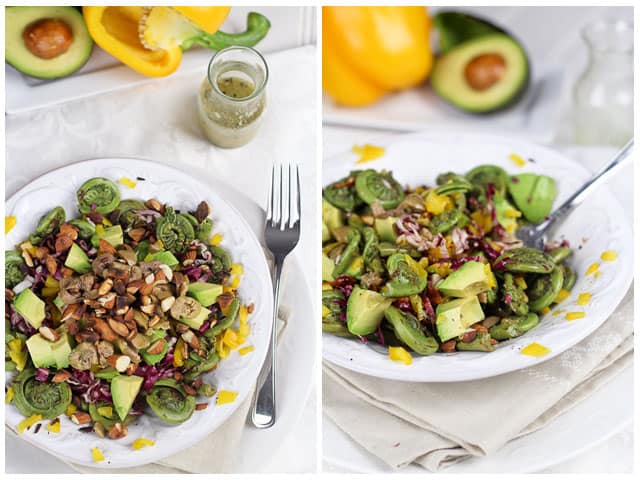 I still added a touch of garlic, in the form of fermented garlic flowers to my vinaigrette, but frankly, this doesn't even compare. Fermented garlic flowers have a very mild flavor that doesn't really stay on your breath like raw garlic does. They just add a little bit of a fragrance, without taking over and overpowering the taste of every other guest that had been invited to join the party…
You know what? I think this was my favorite way of enjoying fiddleheads so far.
I really wish I could've repeated the experience, but their season is so short, the next time I was at the grocery store, they'd already disappeared.
Oh well… there's always next year.
At least, now I know that I like them even sans the garlic.
Fiddleheads, Green Olives and Almonds Salad
Servings: 1
Ingredients
1½ cup fiddleheads
½ avocado, diced
½ yellow bell pepper, finely chopped
¼ cup radicchio, shredded
10-12 large green olives, pitted and coarsely chopped
25 g raw almonds, coarsely chopped
Vinaigrette
1 tbsp Dijon mustard
2 tbsp white wine vinegar
1 tsp fermented garlic flowers
¼ tsp each salt and pepper
½ tsp unpasteurized liquid honey
The juice of 1 lime
1/8 tsp guar gum
Instructions
Cut off the ends of the stems of the fiddleheads. Place them in a bowl of cold water and swirl them around to clean them thoroughly. Discard water and repeat process.

Drain the fiddleheads and steam them in a steam basket for at least 10-12 minutes, then place them in icy cold water for 1 or 2 minutes to stop the cooking process.

Drain and transfer to serving plate. Set aside.

Add all the ingredients of the dressing to your small food processor or blender and process until nice and smooth. Set aside.

Toast almonds in a small non stick pan, over medium heat, for about 2 minutes or until they take a nice golden color. Remove from heat and set aside.

Place radicchio, bell pepper, avocado, olives and almonds on top of reserved fiddleheads.

Pour vinaigrette over salad at the moment of service.
If you've tried this recipe, please take a minute to rate the recipe and let me know how things went for you in the comments below. It's always such a pleasure to hear from you!
You can also FOLLOW ME on PINTEREST, FACEBOOK, INSTAGRAM and TWITTER for more delicious, healthy recipes!
*There have apparently been cases of temporary illness in Canada and the United States associated with eating raw or undercooked fiddleheads. To date, studies have not determined the cause of these illnesses. Read more about it here.