Collard Greens, Blue Cheese and Apple Salad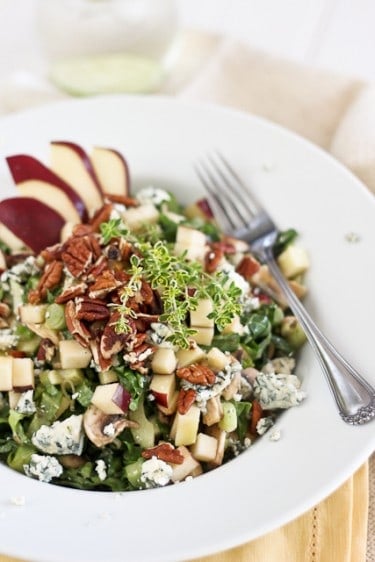 Why yes, it's another salad.
Sorry about that…
I have been loving on salads lately. Big time!
Dare I admit that I still have quite a few lined up?
Dare I admit that I' ve been enjoying salads so much lately, I even have a "breakfast salad" lined up?
Really, I do!
But hey, I mean, look at that. Aren't salads a thing of beauty? So fresh, so colorful… how could anyone pass on such a gorgeous looking dish.
I'd been hooked on kale for a couple of months, now it looks like it's collard greens' turn to get my attention.
Actually, it had been a while since I'd given them any at all. Since I've been without an iguana, I think.
Did I ever tell you how I used to own iguanas?
Every second week, I would make this unbelievably huge batch of salad for them and I would bag it in Ziplocs so it would stay good for a while and I'd have a great source of food readily available for them.
The only problem is, I ended up eating almost all of it.
OK, I admit that it might sound weird. I mean ewwwwww….  who would want to eat iguana food, right?
Yeah… I know!
But seriously, hear me out. This salad was made from all of these incredible greens:
Collards
Kale
Dandelions
Beet Greens
Mustard Greens
Escarole
Chickory
Arugula
Watercress
This very salad was in fact directly responsible for my discovering pretty much all of the aforementioned greens. All of them found their way into my regular diet for a while after that.
I remembered collards being one of my faves. I usually like to remove the stems, rolls the leaves really really tight and chop them very finely.
I'd go plain nuts for them! They're just as good as spinach, if not better! And God knows I LOVE spinach!
Now, the grocery stores that I usually go to don't carry collard greens, so I had pretty much stopped eating forgotten about them.
That's until I started shopping at this ethnic food store again, the one where I used to buy all the greens for my iguanas' salad, and my eyes happened to lock on the pile…
That's when it all came back to me.
Oh, the love!
If you've never tried collards, I urge you to. You won't regret it, I swear!
Especially not if you try them in this particular salad.
It's just plain glorious!
Collard Greens, Chicken, Blue Cheese and Apple Salad
Servings: 1
Ingredients
2-3 cups collard greens, finely shredded, leaves only
1 celery rib, finely sliced
3-4 button mushrooms, sliced
1 Red Delicious apple, peel on, diced (save a few slices to garnish, if desired)
25 g pecans, coarsely chopped
30 g blue cheese, crumbled
Vinaigrette
2 tbsp unsweetened applesauce
¼ cup unsweetened all natural apple juice
2 tbsp cider vinegar
1 tbsp Dijon mustard
½ tsp date paste
¼ tsp each salt and pepper
1 tbsp fresh lemon thyme, chopped
1 tsp fresh rosemary, chopped
1/8 tsp guar gum
Instructions
Add all the ingredients of the dressing to your small food processor or blender and process until nice and smooth. Set aside.

Toast the pecans in a small non stick pan, over medium heat, for about 2 minutes or until they become fragrant. Remove from heat and set aside.

Add shredded collards, mushrooms, celery and half the apple to a small mixing bowl. Add vinaigrette and mix until well coated.

Transfer to serving plate, add the rest of the apple, pecans and blue cheese.

Garnish with apple slices and sprigs of thyme, if desired.
If you've tried this recipe, please take a minute to rate the recipe and let me know how things went for you in the comments below. It's always such a pleasure to hear from you!
You can also FOLLOW ME on PINTEREST, FACEBOOK, INSTAGRAM and TWITTER for more delicious, healthy recipes!