Hasselback Sweet Potatoes
Whether you are looking to wow your guests or treat yourself to a stunning baked potato, learn the simple trick to easily make Hasselback Sweet Potatoes!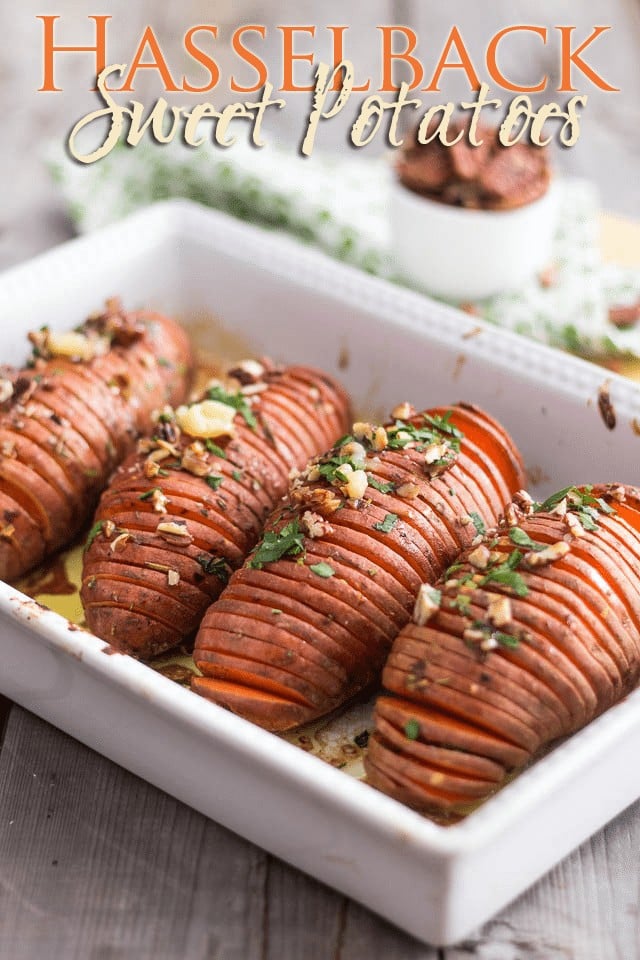 Hasselback is now my new favorite way of enjoying baked potatoes. Especially baked sweet potatoes!
I mean, hey, not only are they super soft and creamy and unbelievably tasty, they're also super cool to look at. Seriously, put one of these beauties on a plate and it clearly becomes the star of that plate! I think that even those who aren't really big on sweet potatoes would badly want to eat this one, just because it's so pretty!
And while it might look like one needs to hold a degree in Intricate Potato Slicing Techniques in order to successfully make the Hasselback cut, rest assured that it's not the case at all. There's a very simple trick to cutting these and once you know it, it becomes SUPER easy!
Ah, and of course, if you really don't care for sweet potatoes, you can use this very same technique with any kind of potatoes, although you might want to use a different kind of seasoning…
So… you ready to go? Alright, let's do this, then. You'll see, it's incredibly easy!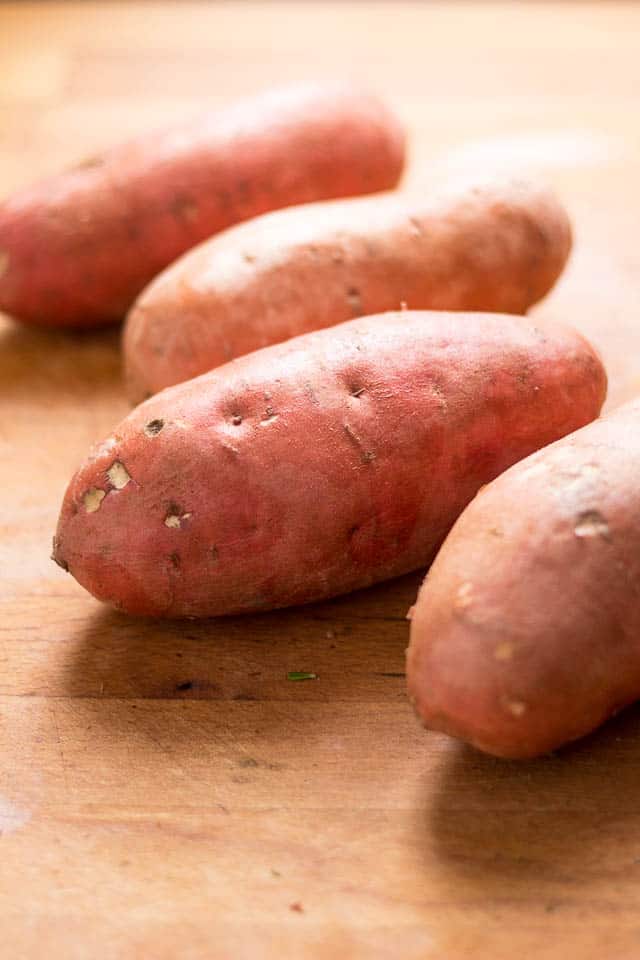 First, you'll want to carefully select your tuber candidates…
You need potatoes that are as uniformly shaped as possible and about twice as long as they are wide.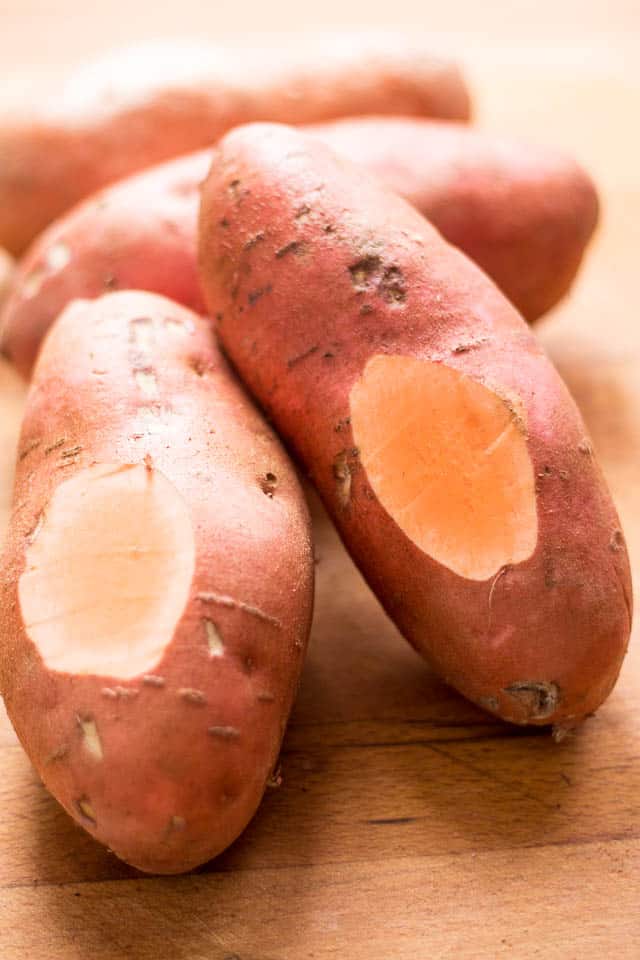 Also, it really helps to choose potatoes that naturally sit nice and steady on any given flat surface, but if they're a tiny bit wobbly and need a little help in keeping steady, just remove a thin slice of flesh from their underside.
No one will ever notice…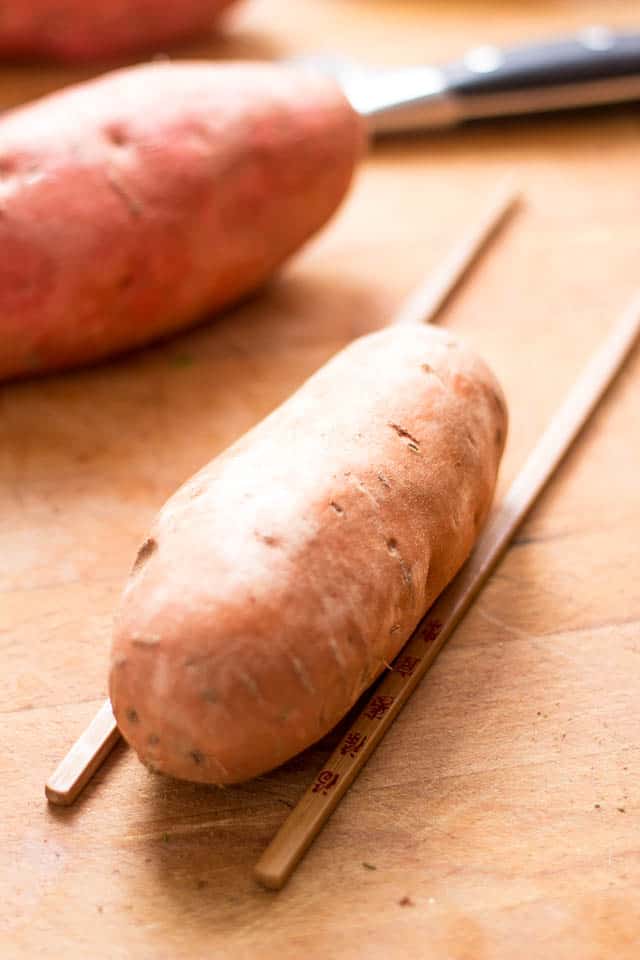 Now, we need to get the slicing started. Of course, we don't want to slice all the way through the potato, so to make sure this doesn't happen, lay wooden chopsticks on either side of your tuber. This will prevent the blade from ever slipping too far…
Clever and simple!
You do need to be careful when slicing the extremities, though, as these tend to sit a little bit higher and sometimes aren't covered by your instant protective contraption. So keep a close eye on your blade for those few cuts…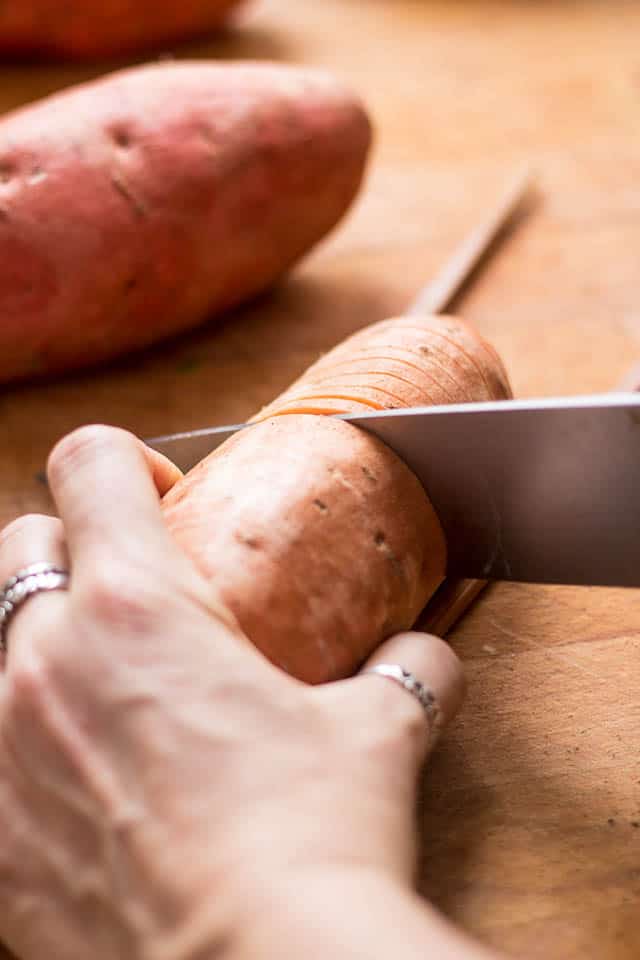 You'll want to hold on firmly to the potato and chopsticks and slice your potatoes as thinly as you can, although not paper thin.
You'll want those slices to hold their shape nicely after the potatoes have been baked!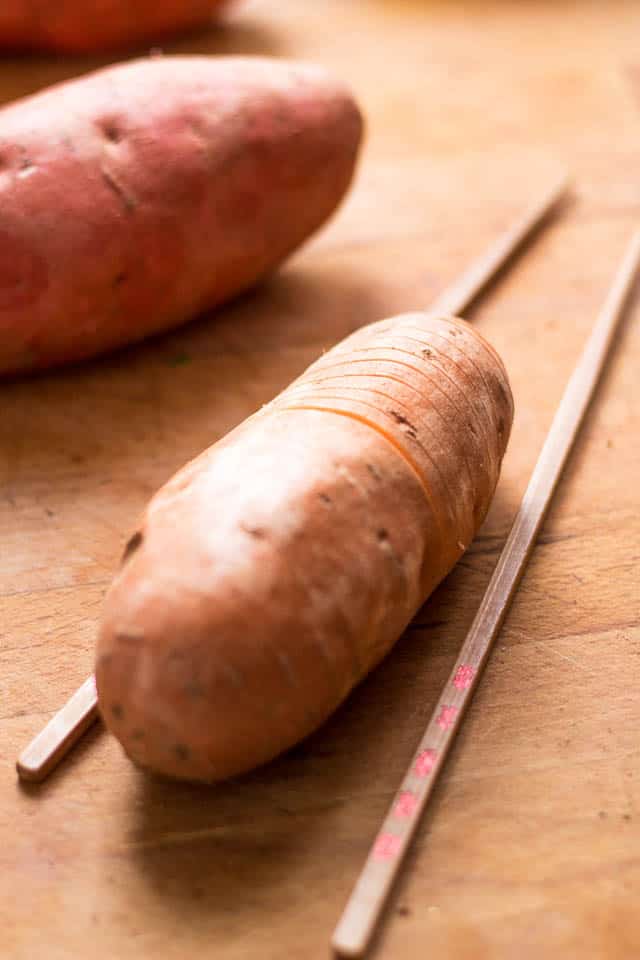 It's also important that you slice your potatoes as evenly as possible. This will ensure more even cooking, for starters, but will also be a lot more visually pleasing.
So slices about yay thick and as even as possible.
Not too complicated, is it?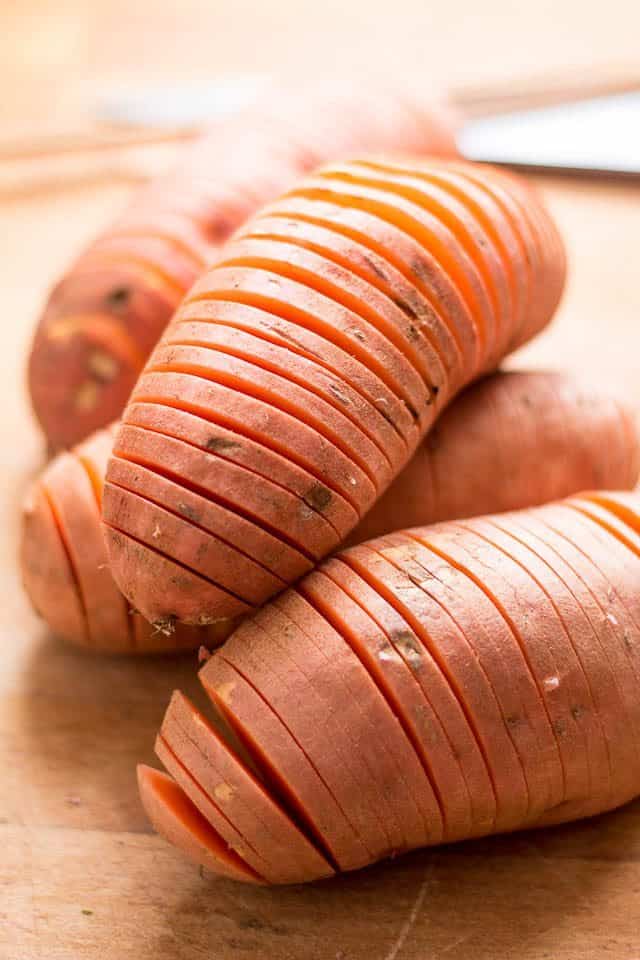 And there you have it. Perfectly sliced potatoes, almost ready for the oven.
They look just like giant caterpillars, don't you think? Or a slinky, maybe?
Oh, and although they are much fun to play with at this stage, by all means, resist the urge. You wouldn't want to break them now that you've worked so hard (or not!) at slicing them this perfectly.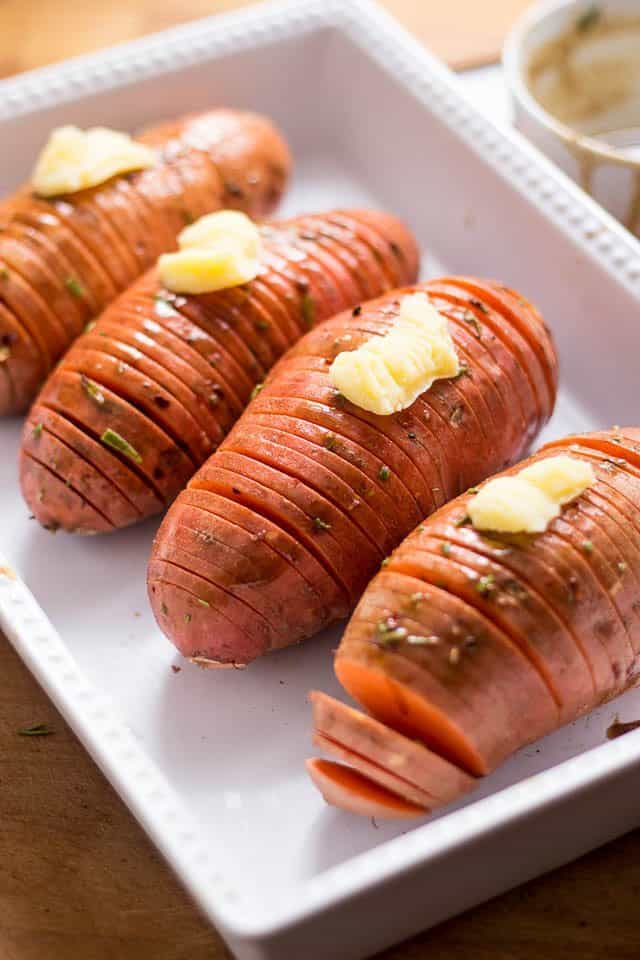 Now we need to add a little bit of yummy flavor to these puppies.
Spoon the spicy honey mixture over them and gently push it down between the slices by rubbing the potatoes all over with your fingers. This will ensure maximum distribution of flavor.
Lastly, place a dab of ghee over each potato, cover with foil and send to the oven for about an hour.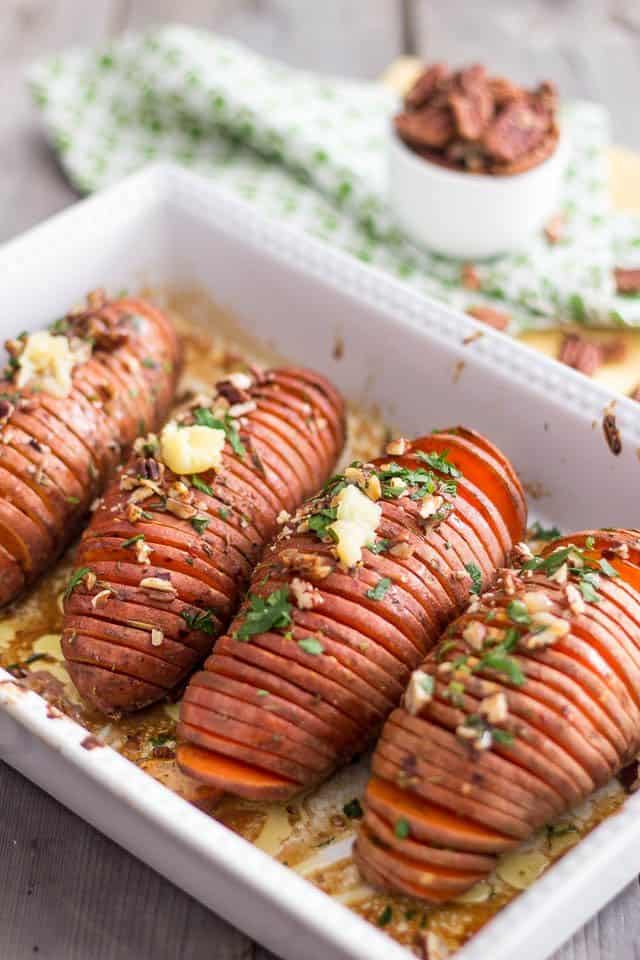 See that stuff that's at the bottom of the pan? That's pure crack, I swear!
Do NOT let that go to waste! Spoon it over your finished baked potatoes, then garnish with a few chopped nuts, some fresh parsley and a tad more ghee.
Serve to your guests and prepare to get complimented big time!
Hasselback Sweet Potatoes
Whether you are looking to wow your guests or treat yourself to a stunning baked potato, learn the simple trick to easily make Hasselback Sweet Potatoes!
Servings: 4
Instructions
Preheat the oven to 375°F

In a small mixing bowl, add honey, mustard, rosemary, cinnamon, nutmeg, salt, chili pepper flakes and black pepper and stir with a spoon until well combined. Set aside.

Wash the potatoes and, if necessary, remove a little bit of flesh from the bottom so the potatoes sit flat and steady on the cutting board.

Place a wooden chopstick on either side of the potatoes and, with the help of a sharp knife, slice the potatoes as thinly as you can without going all the way through. The chopsticks will help to prevent that from happening, but you still have to be careful on the ends, for the chopsticks might not be high enough to completely cover them.

Spoon the honey mixture over the potatoes and push it in between the slices by rubbing the potatoes with your fingers.

Place the potatoes in a baking dish, add a little dab of ghee on top of each potato and cover with foil.

Bake in a 375°F oven for 60 to 75 minutes.

About 15 minutes before the potatoes are done cooking, remove the foil, baste with some of that liquid that's at the bottom of the baking dish, sprinkle with chopped pecans and resume cooking

At the moment of serving, garnish with chopped parsley, drizzle with a little bit more of that delicious cooking liquid (that stuff is pure crack, I swear) and top with another little dab of ghee.
Nutrition
Calories: 251kcal, Carbohydrates: 36g, Protein: 3g, Fat: 11g, Saturated Fat: 5g, Cholesterol: 19mg, Sodium: 449mg, Potassium: 469mg, Fiber: 5g, Sugar: 14g, Vitamin A: 18542IU, Vitamin C: 4mg, Calcium: 47mg, Iron: 1mg
If you've tried this recipe, please take a minute to rate the recipe and let me know how things went for you in the comments below. It's always such a pleasure to hear from you!
You can also FOLLOW ME on PINTEREST, FACEBOOK, INSTAGRAM and TWITTER for more delicious, healthy recipes!