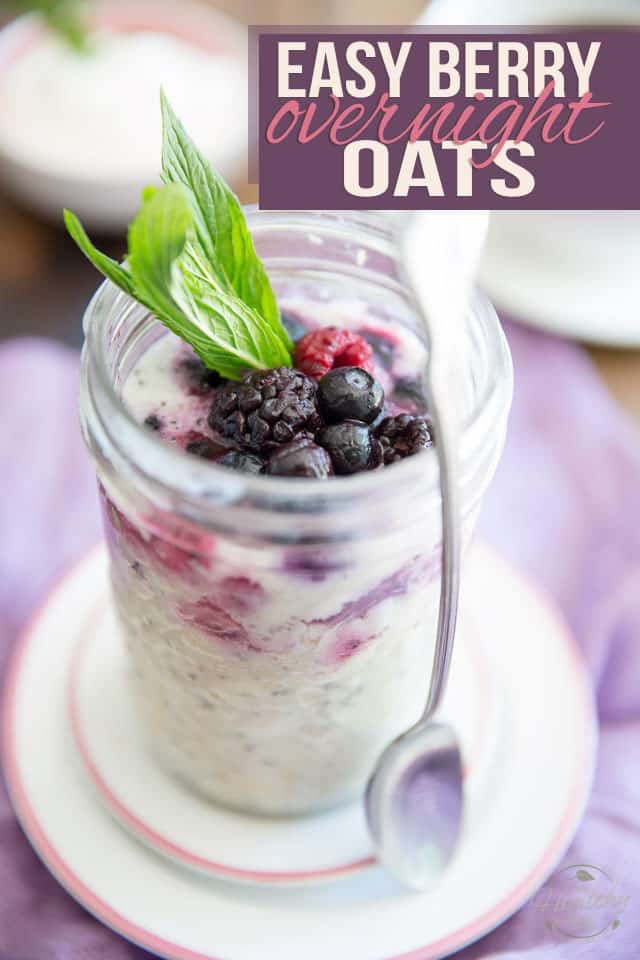 I think that summer is finally officially here! As I am writing these words, it's so hot and humid out, I'm having a hard time concentrating on my work. Instead, I find myself dreaming of swimming pools and air conditioning…
But even when it's super hot out, I still enjoy, i.e. have to have, my post work out oatmeal. Only I don't feel like making the full-on, stove top cooked version. Overnight Oats are definitely the way to go, and These High Protein Post Workout Easy Berry Overnight Oats have been serving me well for the past few days!
Indeed, they are so refreshing, so delicious and so easy to make, they're pretty much the only thing I've been wanting to eat lately. I especially appreciate having them waiting for me in the fridge as soon as I'm done working out in the morning.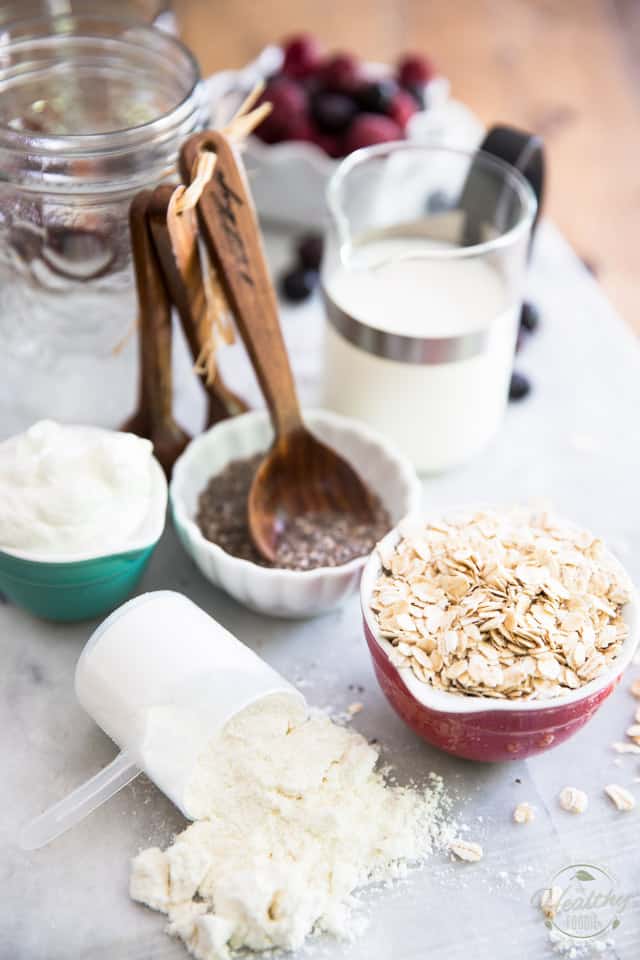 The beauty of overnight oats is that they will keep in the fridge for a whole bunch of days, so you can make more than one batch at a time, enough to last you the whole week!
And, quite frankly, you don't even have to be absolutely exact with your measuring… with time, you'll probably be making them with your eyes closed, and maybe even improvising!
So just grab however many jars you want and fill each of them with the right combination of ingredients.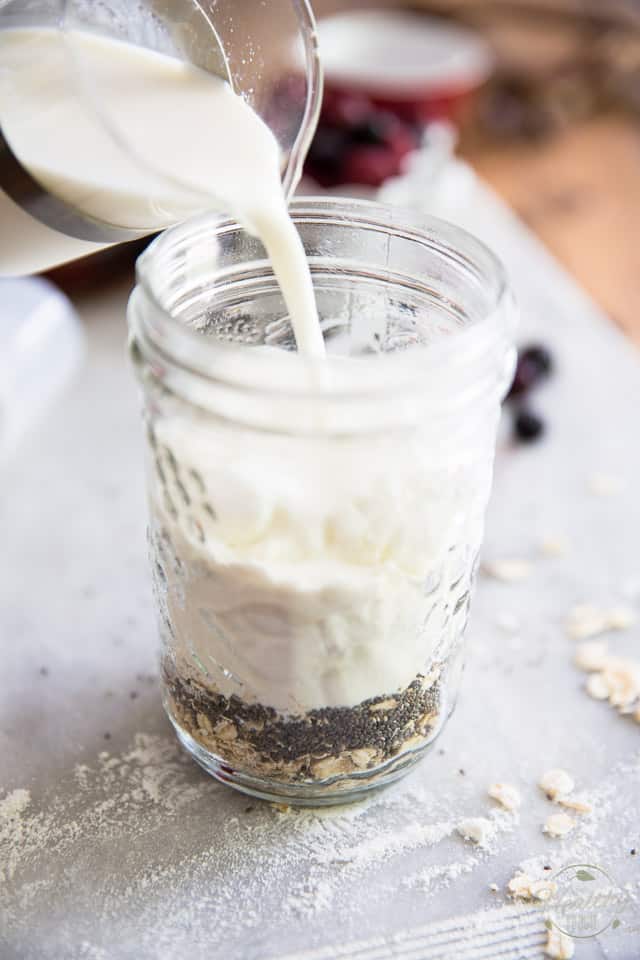 For each jar, start by adding the rolled oats, about a 1/2 cup worth, followed by a tablespoon of chia seeds, a full scoop of whey protein powder — I used unflavored but vanilla would work really great as well.
Then, throw in a third of a cup of plain Greek yogurt (or make that a really generous blob), a half cup of your favorite kind of milk (any kind will work, really) and last but not least, a tablespoon or two of maple syrup, depending on how sweet you want your oats to be, as well as a pinch of salt.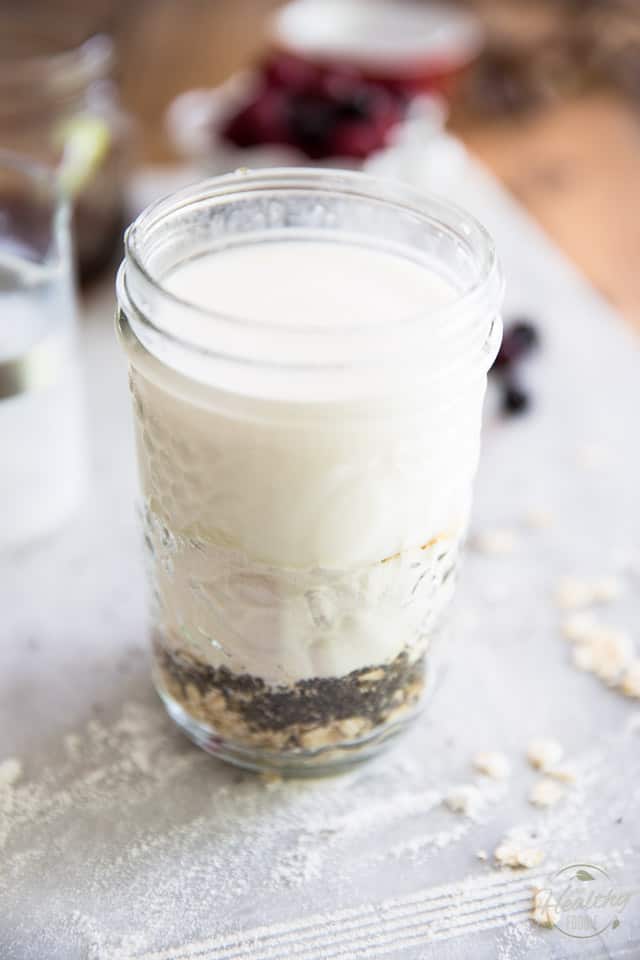 Your jar(s) should be filled pretty much all the way to the top right now, so you're probably thinking that there won't be any room left for the fruits, but fear not. We're about to make some…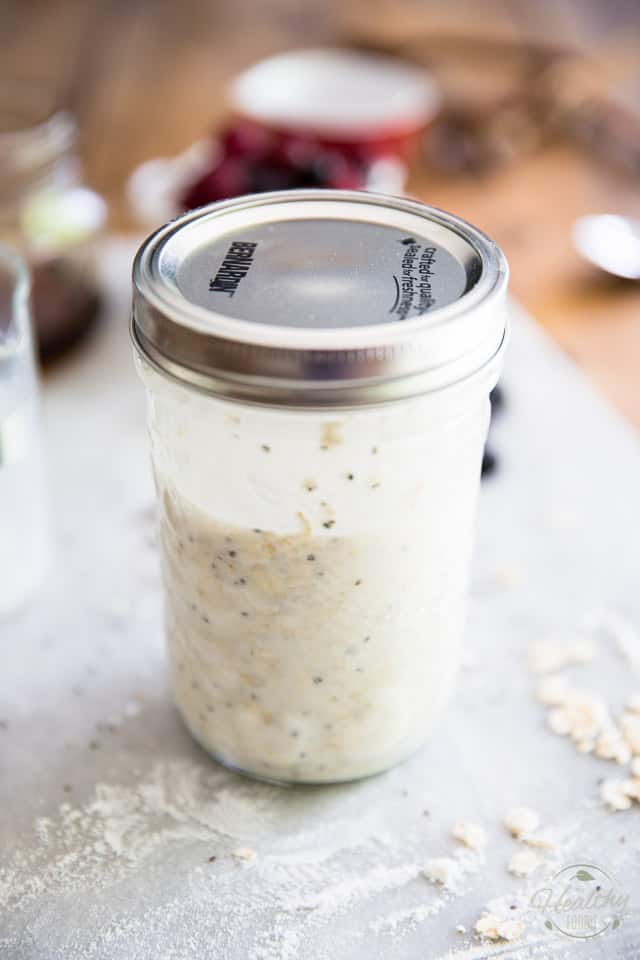 Put the lid(s) on and give the jar(s) a vigorous shake. Vigorous enough that all the ingredients in the jar become fully combined.
As you can see, the ingredients also became much more compact and just like that, we now find ourselves with plenty of room to add fruits to our overnight oats.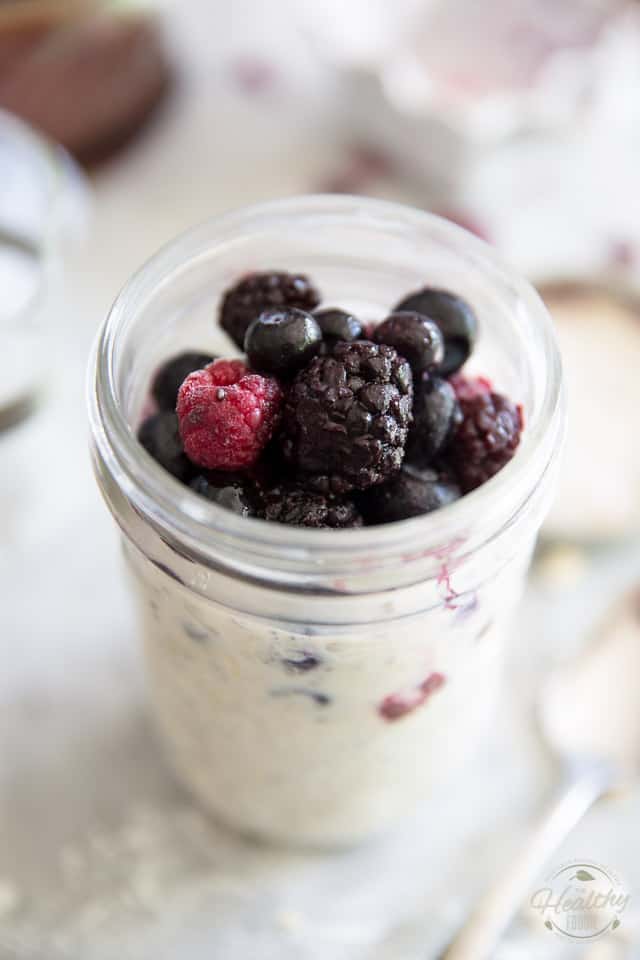 Top with as much frozen fruit as the jar will hold, which should be about half a cup.
I like to use a combination of raspberries, blackberries and blueberries, but feel free to use whatever berries you prefer…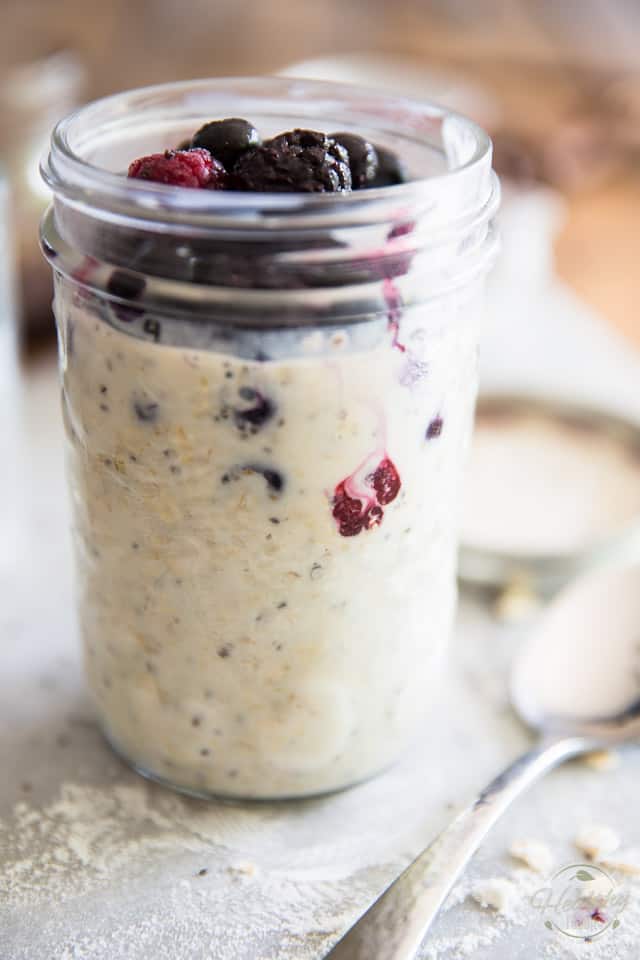 You could also use fresh berries if you wanted to, but they wouldn't release nearly as much juice as their frozen counterparts do as they thaw…
Personally, I think you would be missing out on a certain level of deliciousness if you used fresh, but still; they would be a totally acceptable option.
Now just put the lid back on and put the jar(s) in the fridge to rest undisturbed for at least one night, but up to 4 or even 5.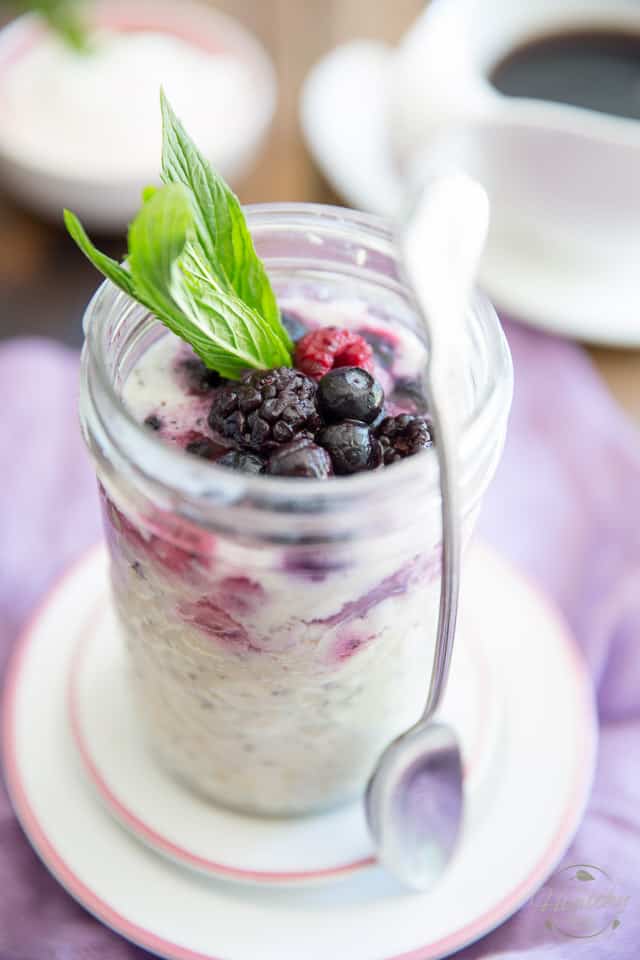 The next morning, or the one after, or the one after the one after that, your rolled oats and chia seeds will have absorbed all kinds of moisture and flavor from the milk and Greek yogurt and fruit juices and will have turned all plump and deliciously creamy as a result
The only thing left for you to do at this point is pop that lid open (or twist it, rather), stir and enjoy!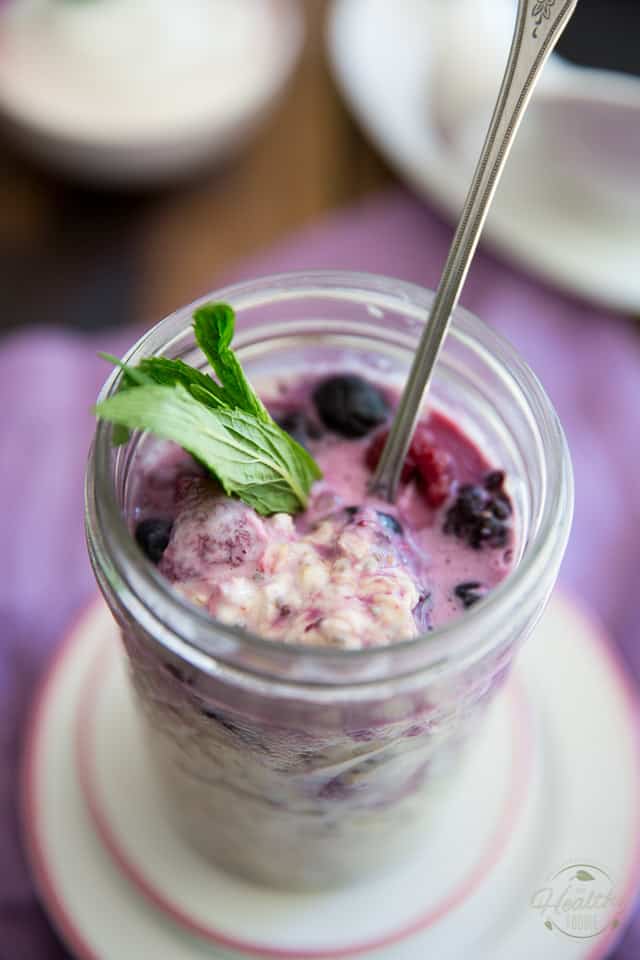 Does that not look incredibly good or what? Totally worth working out for, if you ask me!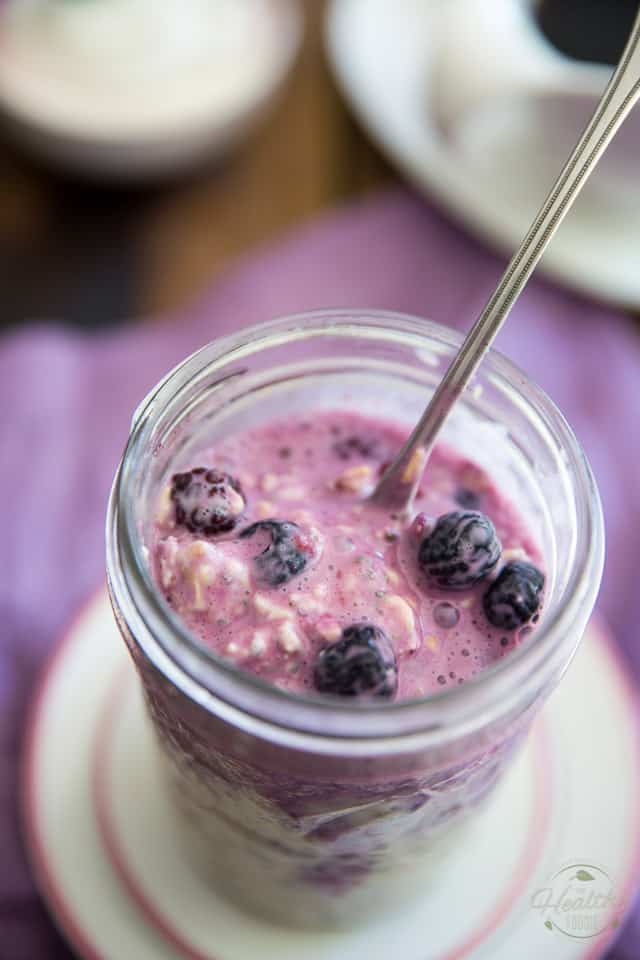 High Protein Post Workout Easy Berry Overnight Oats
Ingredients
For each jar you will need
½ cup (50g | 1.7oz) rolled oats
1 tbsp chia seeds
1 scoop (30g | 1.1oz) plain protein powder
⅓ cup (75g | 2.7oz) plain Greek yogurt
½ cup (120ml) milk of choice
1-2 tbsp pure pure maple syrup
Pinch salt (I use Himalayan salt)
½ cup (50g | 1.8oz) frozen berries (I used a combination of blueberries, blackberries and raspberries)
Instructions
Combine the rolled oats, chia seeds, whey protein powder, Greek yogurt, milk, maple syrup and salt in a 16oz. Mason type glass jar.
Put the lid on and shake vigorously until the indredients are fully combined.
Top with frozen berries, put the lid back on and refrigerate overnight.
Stir and serve!
Can be prepared up to 5 days in advance.