Home Made Soy Milk and a BIG Announcement: Change is in the air!
Do you like color palettes?
I loooove color palettes! Especially when they are made into pretty works of art.
I even created a special board for them on my Pinterest page where I like to catalogue all kinds of pretty palettes that capture my attention.
Painting and decorating a new room is always a cause for celebration for me, as it pretty much means that I get to spend hours at the hardware store, looking at hundreds of swatches, mixing and matching them, trying to find the perfect color combination.
Well, I've been sort of doing that over the last few months, and boy have I got a GREAT palette for you today.
It HAS to be my mostest favoritest color palette ever!
Just take a look…
Care to guess what's getting a complete makeover?
RIGHT ON! Of course, I'm talking about this very space, the one you are staring at right now!!
It's getting completely redone, redesigned, redecorated. I'M JUST SO EXCITED!!!
So tell me, you like the colors? I hope you do, and I truly hope that you guys will love the new and improved version of my humble site. It will be so much more pleasing to the eye…
Oooh! I so can't wait for you guys to see it! Luckily, you won't have to wait too long. A couple of weeks, at most. 
Maybe not even.
So just be prepared. If one day you land on this page and it looks nothing like what you are used to, don't think that you just entered the wrong apartment or something… You'll be in the right place! 
Now, enough talk about decoration, let's get back to business, shall we?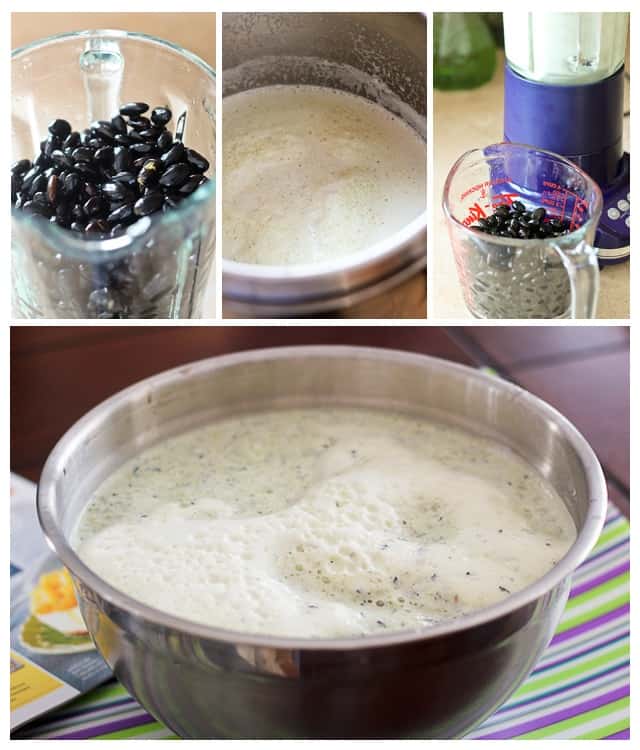 After I made almond milk at home for the first time, I became totally, completely hooked. I've been making a different batch of milk every week since. While I mostly do almond, I've also tried hazelnut, which was absolutely sublime, and an almond / walnut combination, which was celestially good and remarkably creamy!
While I'm fairly satisfied with the ingredients that usually go in the making of commercial soy milk, I thought that it would be fun to try and make my own at home. Also, I thought that it would be interesting to use black soy beans, instead of the more traditional white. I figured that it would confer a pretty color to the milk.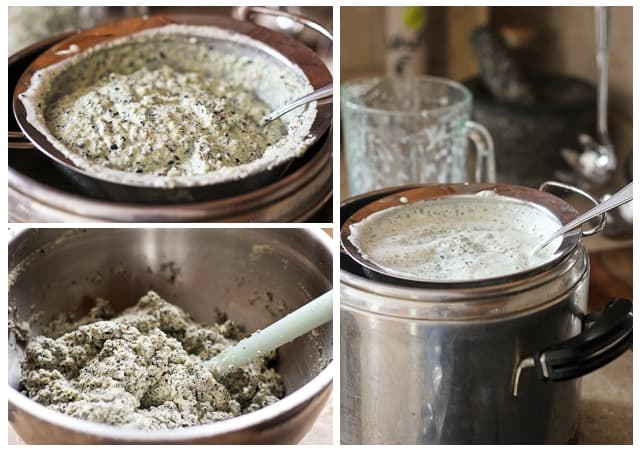 And, I supposed that, since nut milk was so easy to make, soy milk would be just as easy.
I mean, why should it be any different?
Well… unfortunately, I was wrong. Way wrong. For you see, soy milk you have to cook. That extra step I find makes the whole process that much more time consuming, and well, milk is something that I usually want to have ready rather quickly.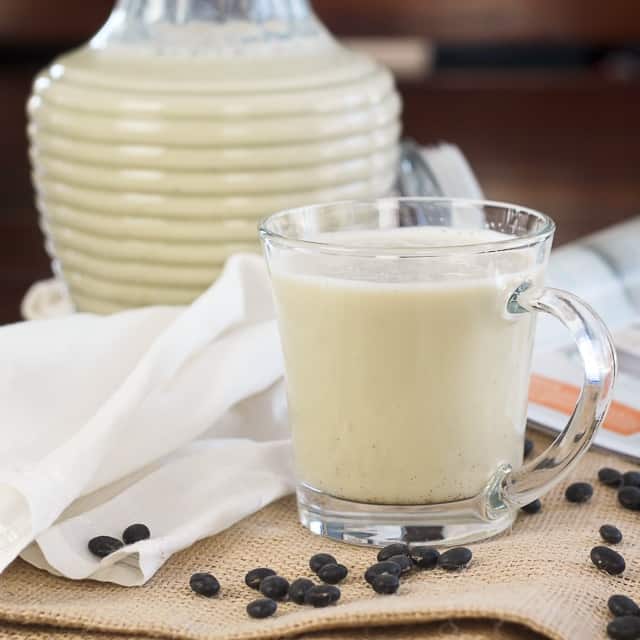 The resulting milk, though, I have to admit, was way superior in taste to that of the commercial stuff, and much creamier. As for the color conferred by the black beans, while it was not as unusual as I thought it would be, was still very pretty to look at. Those three aspects together made it somewhat worth the extra effort.
But still, home made soy milk is not something that I will be making on a regular basis.
I'll still want to make a batch once in a while, though.
Especially if it passes the freezer test that it's currently taking.
Now that, would make it worth my while!
HOME MADE SOY MILK
INGREDIENTS
(Yields 10-12 cups)
1 cup black soy beans, soaked overnight
10-12 cups water (not your soaking water)
1 whole vanilla bean, seeds scraped (you could also use pure vanilla extract)
1-2 tbsp maca powder (totally optional)
DIRECTIONS 
Drain and rinse soy beans
Add beans and 4 cups of water to your blender and blend on high speed for about 2 minutes. Pour half the mixture into a large bowl or container and add 2 more cups of water to what's left in the blender, then blend for 1 or 2 minutes. Repeat this process until you have used up all the water.
Once all your beans have been liquefied, strain your milk over a large stockpot using either cheesecloth or a fine mesh sieve. You can just let the milk drip and it will happen rather quickly, but you can help facilitate (and speed up) the process by pressing it down with a spoon.
Make sure to squeeze every last drop of liquid out of those soy beans.
Cut vanilla bean in 2 and scrape the seeds. Add to milk, along with maca powder, and whisk until well blended.
Bring soy milk to a boil over medium high heat. Lower heat and simmer for 10 minutes. Make sure to keep a close eye on your milk, as it will foam and rise just like regular milk. Also make sure you choose a stock pot that is large enough to allow for this and prevent your milk from boiling over.
After 10 minutes, remove from heat and skim surface. Allow to cool and transfer to airtight container or pitcher.
The soy milk will keep in the refrigerator for up to 5 days. Just make sure to give it a good shake before each use.