Lemony Artichoke Salad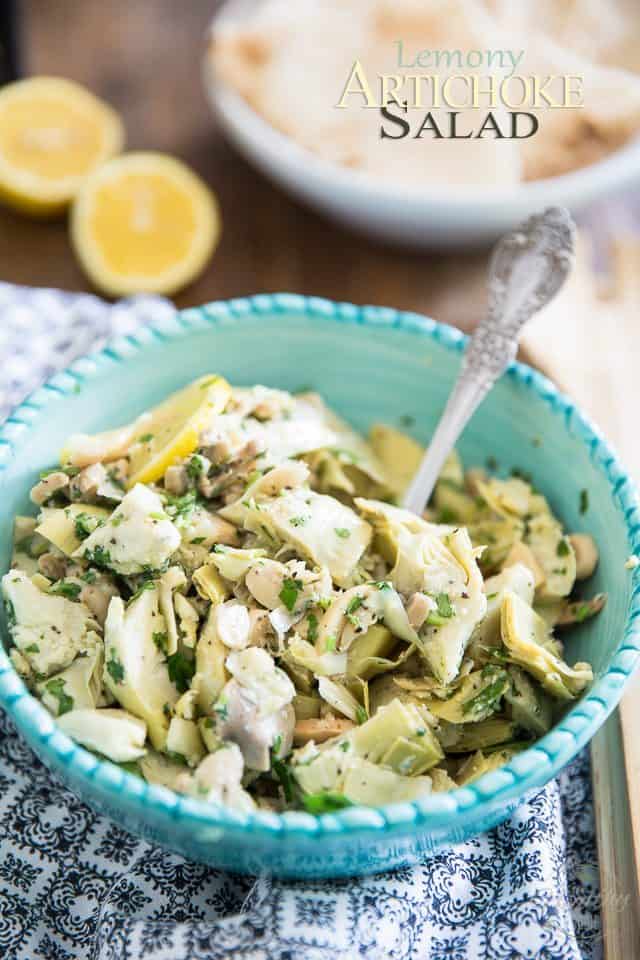 This has got to be the easiest recipe that I've ever shared on THF to date…
In fact, this Lemony Artichoke Salad is so crazy easy to make, I didn't think, not even for a second, about including my usual "step-by-step" pictures. I mean, who wants to see me opening a few cans of artichoke, or draining canned mushrooms, right? 'Cuz yeah, all the main components of this salad actually come from a can. That's right, a can!
Please don't throw rocks at me. I know, fresh and in season is always better, but sometimes, canned is very convenient, and sometimes too, canned is sort of your best option, because the canning process totally changes the taste and texture of the food. Such is the case with the present salad. If you were to use fresh mushrooms and fresh artichokes, which are its two main components, you would be looking at a totally different product. Oh, it would still and undoubtedly be very good, but the artichokes would have you spend quite a chunk of time in the kitchen, since they are so hard and tricky to prep, and would also be fairly demanding on your wallet, unless you were to get them at a really good price (which, in my part of the world, very seldom happens…)
And plus, I don't know about you, but I've always preferred canned or marinated artichoke hearts to their fresh equivalent. But maybe that's just me…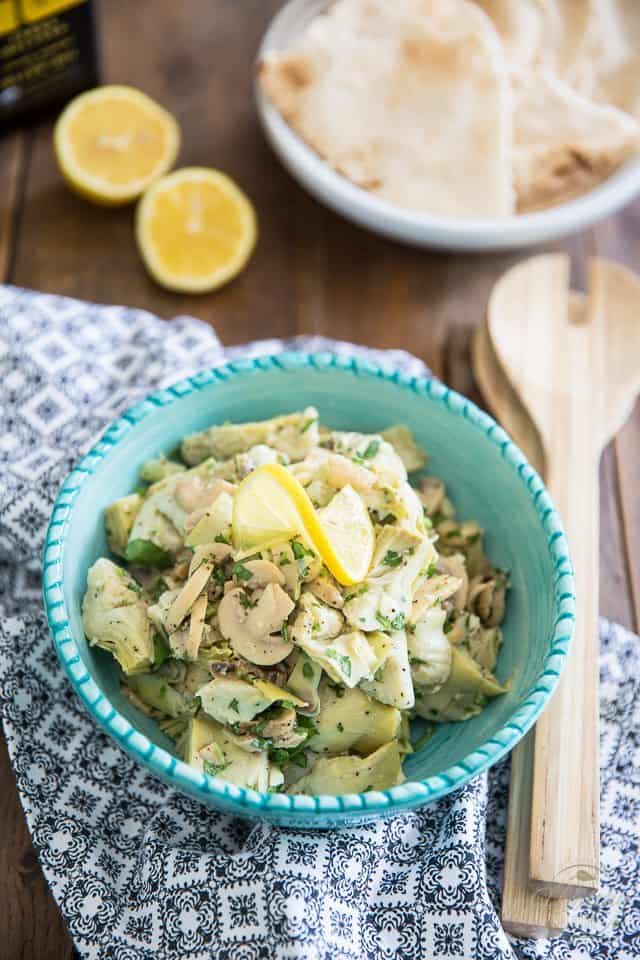 The only real "tricky" part about making this salad, if there is one, is that you need to remove the skin, pith and membrane from a lemon, otherwise known as supreming, but you don't even need to be fancy about it. It's not like you need to make pretty little supremes to garnish or decorate the salad… you only need to remove those components to render the lemon less bitter, more palatable…
If you're not too familiar with this supreming technique, check out this video by the very adorable Ming Tsai, one of my favorite food show hosts, as he demonstrates exactly how to do it. And if you were in a real pinch, or weren't too comfortable with the technique, you could even get away with removing just the skin and pith with a sharp knife, leaving most of the membrane in place and chopping the insides of lemon into tiny little bite size pieces.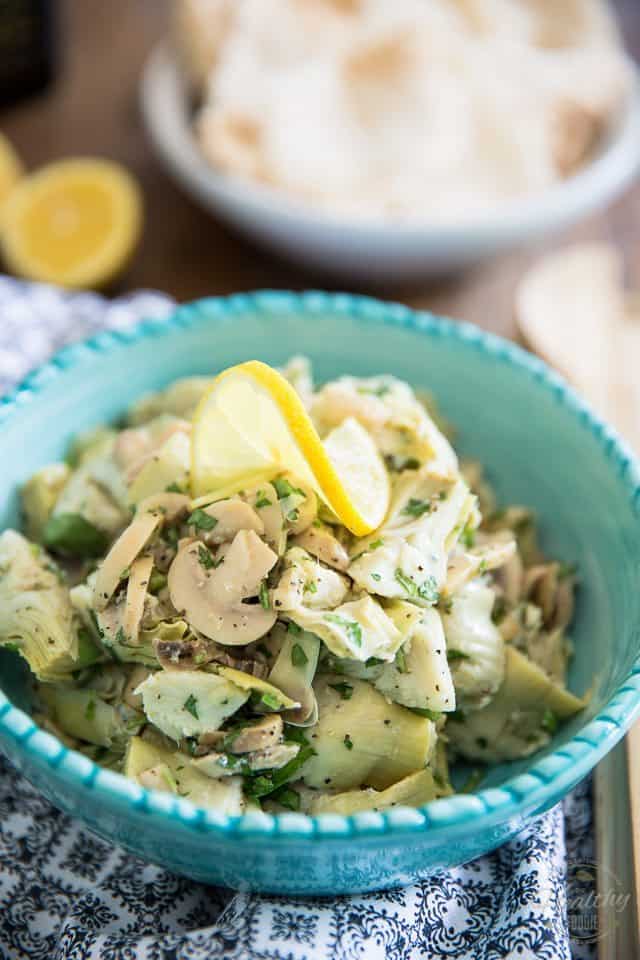 Once the "supreming" thing is out of the way, all that's left to do is throw everything into a bowl, give it a gentle toss and feast on that delicious salad. Although I do recommend that you let it sit for at least a couple of hours, just to give all the flavors a chance to meld and develop.
I'm telling you, it might not look like much, but this salad is so tasty and fresh and "more-ish", it'll probably become your best friend this summer. Just you wait until you tasted it. You won't be able to stop at one bite, or one serving, for that matter.
I'm telling you, if you make this salad, you better be prepared to repeat the experience very often.
Good thing it's ready in minutes!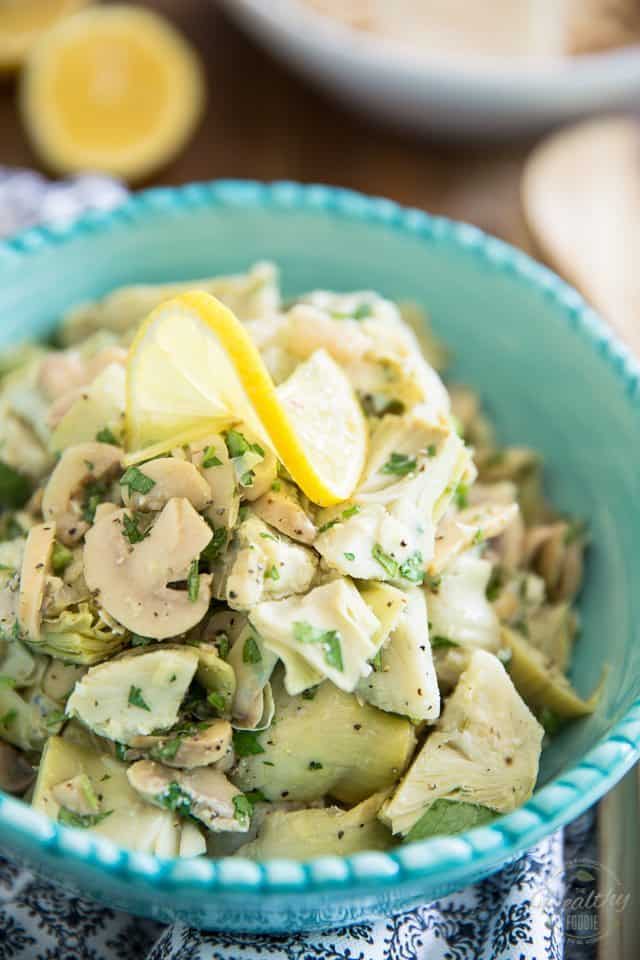 Lemony Artichoke Salad
This Lemony Artichoke Salad is probably the easiest thing that will ever come out of your kitchen, yet it's so good, you'll want to make it every day!
Servings: 4
Ingredients
2 - 14oz cans quartered artichoke hearts, drained
1 - 10oz can sliced mushrooms, drained
1 medium lemon, supremed and chopped
2 cloves garlic, minced
1/4 cup chopped parsley
2 tbsp extra-virgin olive oil
1/2 tsp salt
1/2 tsp ground black pepper
the juice of 1 medium lemon
Instructions
Place all the ingredients in a large bowl and toss delicately until well combined.

Serve immediately or place in the fridge for about an hour to allow flavors to meld.

This salad will keep well for 3 to 4 days in the refrigerator.
Nutrition
Calories: 167kcal, Carbohydrates: 22g, Protein: 7g, Fat: 8g, Saturated Fat: 1g, Sodium: 688mg, Potassium: 642mg, Fiber: 10g, Sugar: 2g, Vitamin A: 622IU, Vitamin C: 30mg, Calcium: 60mg, Iron: 2mg
If you've tried this recipe, please take a minute to rate the recipe and let me know how things went for you in the comments below. It's always such a pleasure to hear from you!
You can also FOLLOW ME on PINTEREST, FACEBOOK, INSTAGRAM and TWITTER for more delicious, healthy recipes!