Loaded Spinach Salad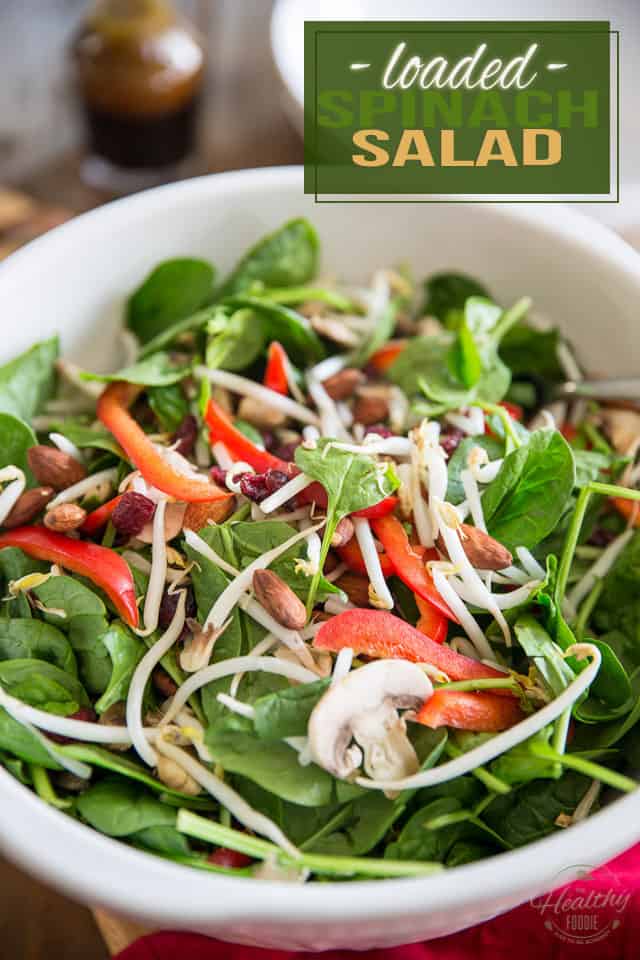 I've been loving on this Loaded Spinach Salad like mad these last few days. Funny thing is in French, this salad is known as "Salade d'Amour", which literally translates into "Salad of Love". Maybe that's why I'm lovin' it so much!
Oddly enough, up until recently, I didn't even know of its existence. Lucky for me, though, my daughter introduced me to it a couple of weeks ago when she invited me for dinner. Apparently, it's a great classic in my neck of the woods; why I'd never heard of it until now, I really can't understand! What a shame, too! Now I've A LOT of lost time to make up for.
Mind you, it's probably a good thing because, as is the case with most classics, there seems to exist as many different versions of this salad as there are people making it…
So I've lots of different combinations to try.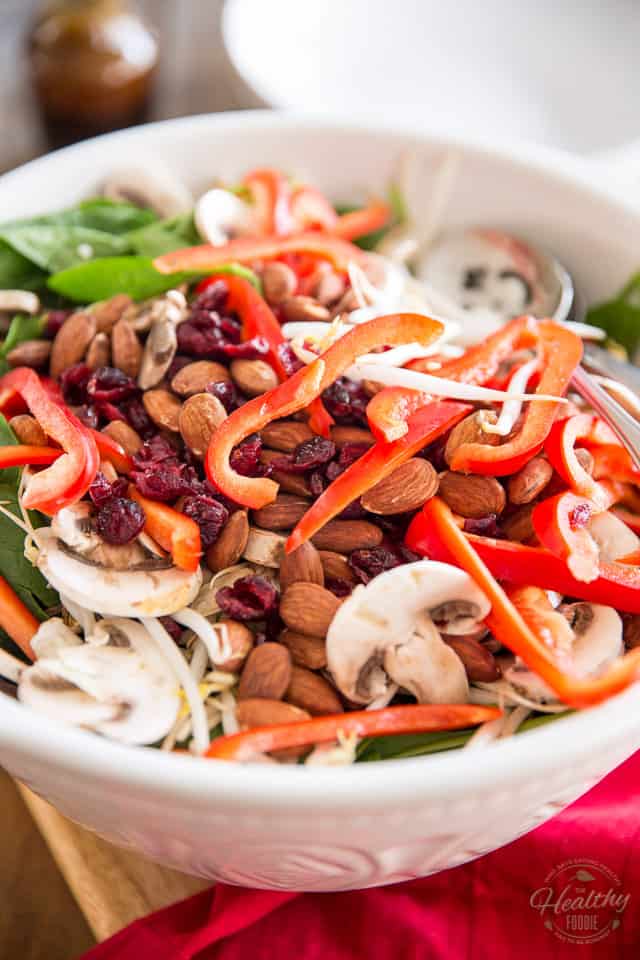 The common ingredients that go into the making of a typical Salad of Love seem to include LOADS of fresh spinach leaves, bean sprouts, sliced mushrooms, bell peppers, roasted cashews and raisins.
Some of the recipes that I've seen called for chopped celery or green onions. While I personally chose to leave them out, I think that they would work fantastically well in this salad.
Apparently, most people tend to add rice to it, too, but I'm not really a fan of cold rice so I chose to leave that out as well. I came *this* close to adding bulgur wheat to it, but then decided against it at the very last minute. In retrospect, I'm thinking that it would've made for an awesome addition, what with its chewy texture and all, so next time, I'll definitely throw some in.
Also, I didn't have any cashews on hand, so I chose to use roasted almonds instead. I think that the key here is to use a variety of nuts that has a lot of flavor and that's still agreeable to eat even after it's been subjected to humidity for a little while, especially if you're not planning on serving the salad right away. Cashews, almonds and walnuts, I think, are all great contenders.
Lastly, I chose to add cranberries instead of raisins because that's what my daughter had used in her version and I really prefer them to raisins, so there…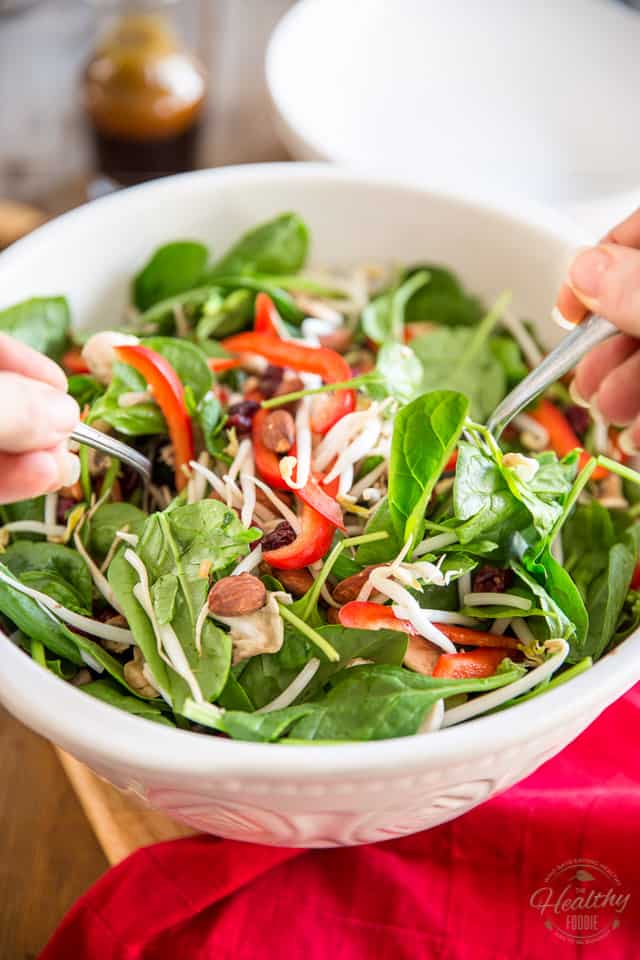 Now the dressing: it's so easy to throw together, you'll probably know the recipe by heart after making it just once.
You basically need to use a one quarter measure of every ingredient:
1/4 cup oil — I used evoo but feel free to use your own favorite
1/4 cup unseasoned rice vinegar — I'm guessing that ACV would also work great
1/4 cup tamari sauce — sub coconut aminos if you prefer a soy free alternative
1/4 cup pure maple syrup — unpasteurized honey makes for a great replacement
1/4 tsp ground black pepper — or cayenne, or chili pepper flakes, for an added kick
1/4 tsp salt — you might want to taste the dressing before adding this guy: the tamari sauce already adds a lot of saltiness
Then come the add-ons, which are exceptions to this "one quarter measure" regimen: we're talking one large garlic clove, minced, and about one tablespoon of grated fresh ginger.
Mind you, if you didn't have any fresh garlic or ginger on hand, I'm guessing that 1/4 tsp garlic powder and 1/4 tsp ground ginger would work out very well!
As you can see, you can play around with the ingredients quite a lot without ever going wrong; there are no strict rules to follow here.
Except maybe one: when making this salad, you absolutely must grab the biggest possible mixing bowl that you can find in your kitchen, 'cuz this really makes a MASSIVE salad. The good thing is that it's fairly sturdy and will keep well for a few days in the fridge, so long as you haven't added the dressing to it.
So when it comes to adding that dressing, again, the choice is yours: if you know you're going to eat the whole thing right away, then go ahead and add the dressing directly into that big bowl, but don't do it until you are good and ready to serve.
Otherwise, just keep that dressing handy and serve it on the side.
Whatever you decide, I'm sure that you'll agree with me in saying that this is quite probably the simplest but tastiest salad you'll have ever eaten.
And that dressing… it's so good, you could probably drink it by the glassful!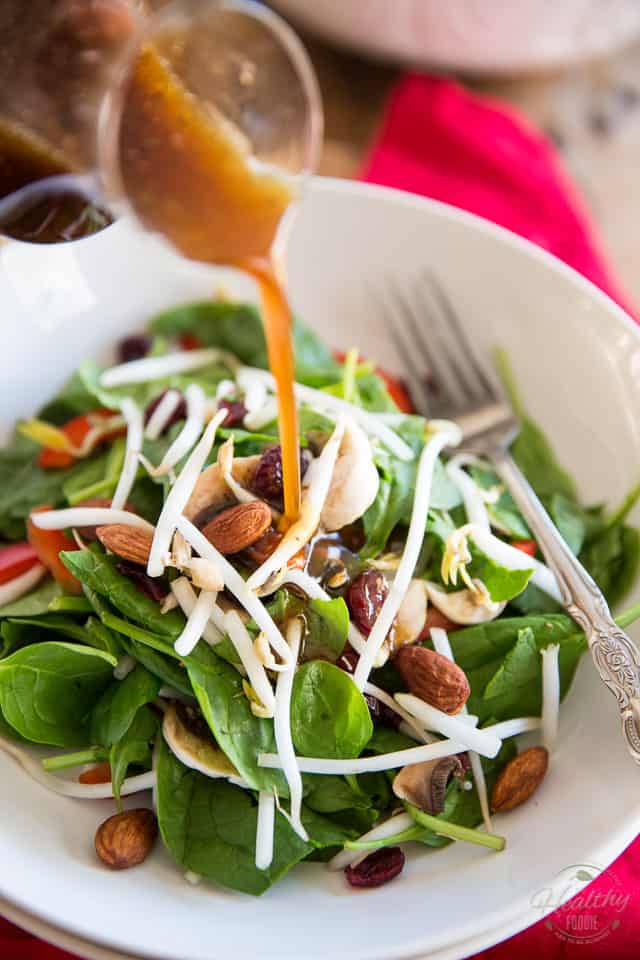 Loaded Spinach Salad
This loaded spinach salad is probably the easiest but tastiest salad you will ever eat. And that dressing is so good you'll want to drink it by the glassful
Servings: 6
Ingredients
For the salad
8-10 cups fresh spinach leaves
4 cups sprouted beans
1 cup almonds, roasted*
1 pint white mushrooms, sliced
1 red bell pepper, sliced
1/2 cup dried cranberries
Instructions
Grab the largest mixing bowl you can find and in it, combine all the ingredients for the salad.

Then, in a small bowl or measuring cup, vigorously whisk all the ingredients for the vinaigrette.

When ready to serve, pour the salad over the vinaigrette and toss until well combined.
Notes
*To roast the almonds, simply place them in a 350°F oven for about 8-10 minutes; allow them to cool for about 15 minutes before adding them to the salad.
Nutrition
Serving: 1g, Calories: 336kcal, Carbohydrates: 31g, Protein: 11g, Fat: 21g, Saturated Fat: 2g, Sodium: 677mg, Potassium: 697mg, Fiber: 6g, Sugar: 20g, Vitamin A: 4385IU, Vitamin C: 46mg, Calcium: 127mg, Iron: 3mg
If you've tried this recipe, please take a minute to rate the recipe and let me know how things went for you in the comments below. It's always such a pleasure to hear from you!
You can also FOLLOW ME on PINTEREST, FACEBOOK, INSTAGRAM and TWITTER for more delicious, healthy recipes!