Luscious, Creamy, Decadent and Totally Guilt Free Chocolate Pudding
Yeah… I can already hear you say: "Whoa, hold the phone! Aren't you supposed to be observing Lent, you? What's the deal with the decadent chocolate pudding?"
Well, believe it or not, that chocolate pudding, as decadent as it may look (and as decadent as it may be) is actually Lent friendly.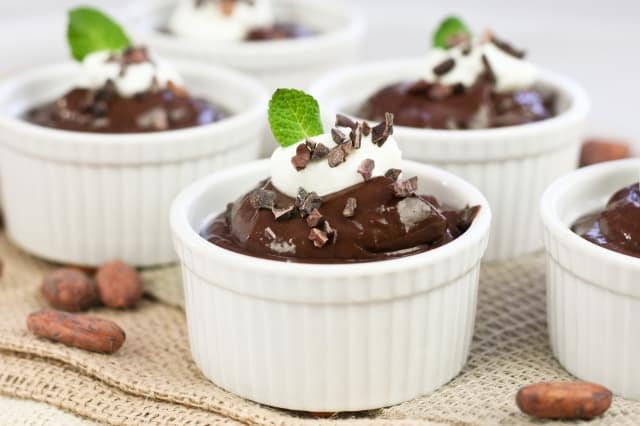 It doesn't contain any added sugar. Well, save for the one that's in the whey protein, that is… but since the protein that I use is entirely natural and is sweetened with Stevia, I decided that it was ok to use during Lent.
Hey, my Lent, my rules! 😉
Up until the very last minute, I wasn't sure whether I would allow any added sugar or not. I finally decided that Stevia sweetened protein powder and honey were the only two forms of sugar that I would be using for the entire duration of Lent, which now means the next 43 days. (Oh yeah, I keep track, trust me!)
Would you believe me if I told you that I created this pudding very unintentionally?
The fact is, I'm wanting to come up with another version of my home made "Nutella", one that would be lighter, smoother, fluffier, creamier, yummier… well, closer to the real thing, you know!
AND, I also wanted to experiment with caramelizing bananas. Now, that didn't go exactly as planned, but still worked out very well for the purpose that I had in mind.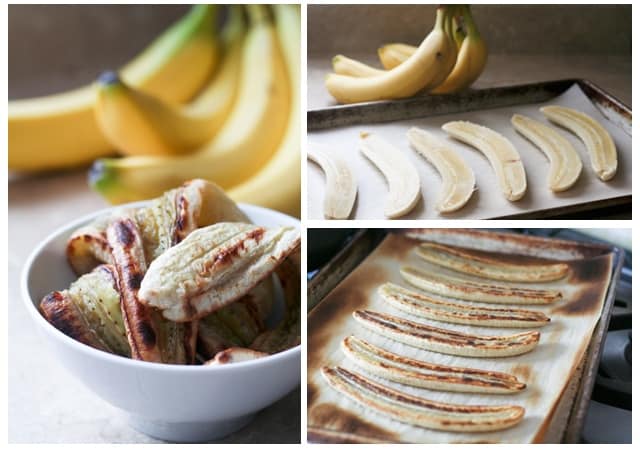 But seeing as how I still had to go through a full jar of Pumpkin Nut Butter, I decided to be good and postpone the project. However, since I'd already started working on it, I had to think of some way to use the ingredients that I'd already put together…
To tell you the truth, I'm kind of happy that things turned out that way, because I am telling you, that pudding turned out absolutely AMAZING! Even better than the real thing!
Be warned, though. This is NOT a low cal recipe. Just take a look at the list of ingredients, and I guess you can very well see that it's quite heavy in the calorie department. For that reason, I chose to precede that luscious pudding with nothing more than a whole bunch of fresh veggies.
And that, my friends, has been lunch for me all week.
Hey, you have to admit that the thought of enjoying this gorgeous dessert is a great incentive to getting those veggies in your tummy!
At least it was for me!
Luscious, Creamy, Decadent and Totally Guilt Free Chocolate Pudding
Servings: 6
Ingredients
2 bananas, not too ripe
1 ripe avocado
1 cup 0% fat Greek yogurt
½ cup pasteurized egg whites
½ cup dark cocoa powder
2 tbsp all natural peanut butter
3 scoops, 100g vanilla flavored whey protein powder
½ tsp salt
½ tsp ground cinnamon
Optional garnish
Greek yogurt
Fresh mint leaves
Instructions
Set your oven to broil.

Peel the bananas, cut them in half lengthwise and lay them on a baking sheet lined with parchment paper.

Put them in the oven on broil and cook until they start to "caramelize" and get a nice golden color, about 5-6 minutes. Flip them over and continue cooking until this side also gets a nice golden color. Remove from the oven and allow to cool for 10-15 minutes.

Add all the ingredients to your food processor and process until smooth and creamy, about 1 minute.

Transfer to individual ramequins. Cover with plastic film and allow to rest in the refrigerator for at least 1 hour before serving.

Garnish with a dollop of yogurt, a pinch of cacao nibs and a mint leaf, if desired.
If you've tried this recipe, please take a minute to rate the recipe and let me know how things went for you in the comments below. It's always such a pleasure to hear from you!
You can also FOLLOW ME on PINTEREST, FACEBOOK, INSTAGRAM and TWITTER for more delicious, healthy recipes!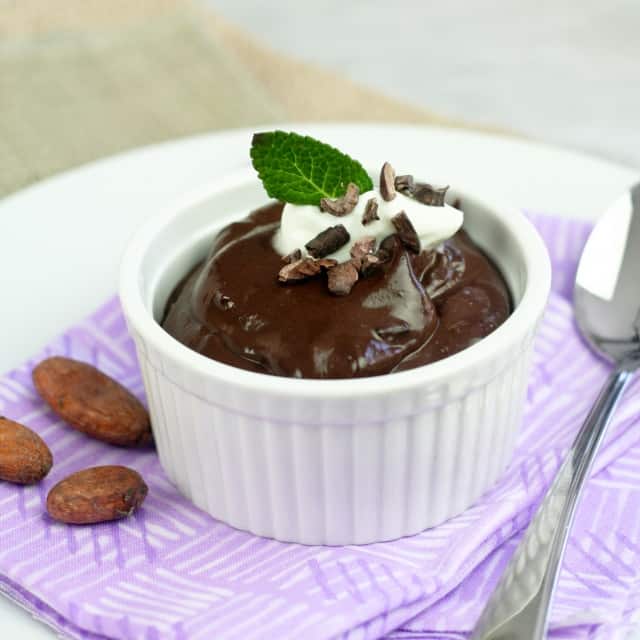 Creamy enough for you?