Mango Cucumber Rice Salad
Well, that's it guys! I'm off to beautiful and hopefully sunny Cuba. In a few hours, I will have both my feet buried in the sand and will be staring at the grandiosity of the gorgeous turquoise ocean. Oh bliss!
But let's do one more recipe before I go, shall we?
This one started with a picture…
You know the kind of picture that just makes you stop and stare and totally lose track of time? The kind of picture that just leaves an imprint in your mind and will not let you find rest until you've finally tasted the dish that was so beautifully portrayed?
Well, that's exactly what happened to me when I saw Natalie's beautiful Mango-Cucumber Rice Salad. I just wanted to grab a fork and reach through my computer screen. That salad looked so fresh, so summery, so tasty, so amazingly beautiful!
I just had to have it.
I didn't waste any time and added the recipe to my Must Try List, although it wasn't really necessary. I knew there was not a chance in the world that I'd forget about it, especially since I knew I was going to try it way sooner than later.
It didn't take long before it made it to my weekly menu.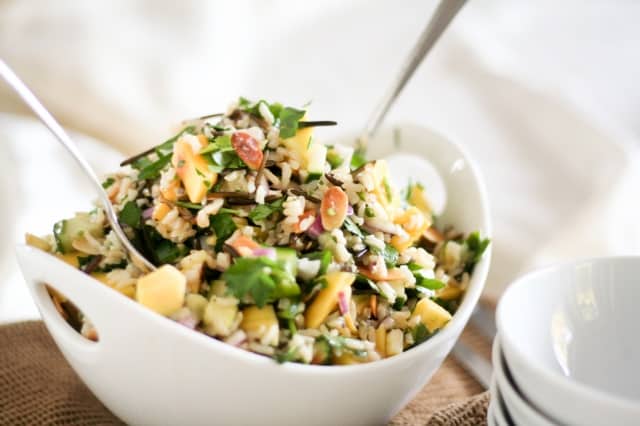 Hmmmmm! This salad is good. I mean, really. It's just as good as it Natalie's looks (hers looks sooooo much better than mine 😉 ). For real, this salad is to summer as chicken fried rice is to winter. It's sweet, it's tangy, it's crunchy and fresh, and it's got just a little kick from the jalapeno.
Perfect.Flavor.Combination.
No doubt this one would make an awesome contribution to any potluck dinner, or a lovely dish to bring on your next picnic.  It sure would be a nice change from the more traditional macaroni salad… Got some leftover? Lucky for you! You now have yourself a gorgeous lunch to bring to work. I am telling you, you will be looking forward to lunch time. 😀
There's only one small tiny little detail that I would change. Next time, I will use short grain rice instead of long grain, as long grain rice tends to become somewhat hard when it's cold, whereas short grain doesn't.
Millet could be a good alternative also… Oh, and I left the quinoa out too, but I will definitely reinstate it!
What was I thinking, leaving quinoa out?  I mean, I love quinoa! Had I completely lost my mind?
I'm strange like that, sometimes…
Mango Cucumber Rice Salad
Servings: 4
Ingredients
1 cup brown rice
½ cup wild rice
Zest and juice from 1 lime
1 tbsp honey or agave nectar
1 tbsp white wine vinegar
½ tsp salt
¼ tsp freshly ground pepper
1 mango, peeled and diced
½ of an English cucumber, diced
1 jalapeno, seeded and finely chopped
2 green onions, thinly sliced
¼ cup red onion, finely chopped
½ cup chopped fresh parsley, chopped
1/3 cup toasted almonds, chopped
Instructions
Bring a large saucepan of water to boil over high heat. Add about 2 tsp of salt to the water, then add the wild rice.

Lower heat, cover and cook for about 30 minutes, then add the brown rice to the water. Cook for an additional 25-30 minutes or so until rice is tender. Drain and and rinse under cold water until grains have cooled. Shake off excess water.

Meanwhile, whisk the lime juice and zest, honey, white wine vinegar, salt, and pepper in a large bowl.

Add the rice, mango, cucumber, jalapeno, green and red onions, and almonds and toss to combine.

Adjust seasoning and serve immediately or refrigerate for a few hours to allow flavors to blend.
If you've tried this recipe, please take a minute to rate the recipe and let me know how things went for you in the comments below. It's always such a pleasure to hear from you!
You can also FOLLOW ME on PINTEREST, FACEBOOK, INSTAGRAM and TWITTER for more delicious, healthy recipes!