Tropical Tuna Ceviche
I'm so excited!!! Our trip to Cuba is now officially booked! I so can't waaaaait!
There's this one tiny little detail that I will need to figure out, though… You see, according to the initial plan, we were supposed to leave rather late on Sunday night, but when I went to actually book the trip, that option was no longer available.
Woopsie Daisy, looks like we need a plan B!
No problemo! I'm flexible, you know… But plan B says we now leave bright and early on Friday morning. Well, actually, make that dark and early, 'cause at the time we have to be at the airport, trust me, the sun won't be up yet!!!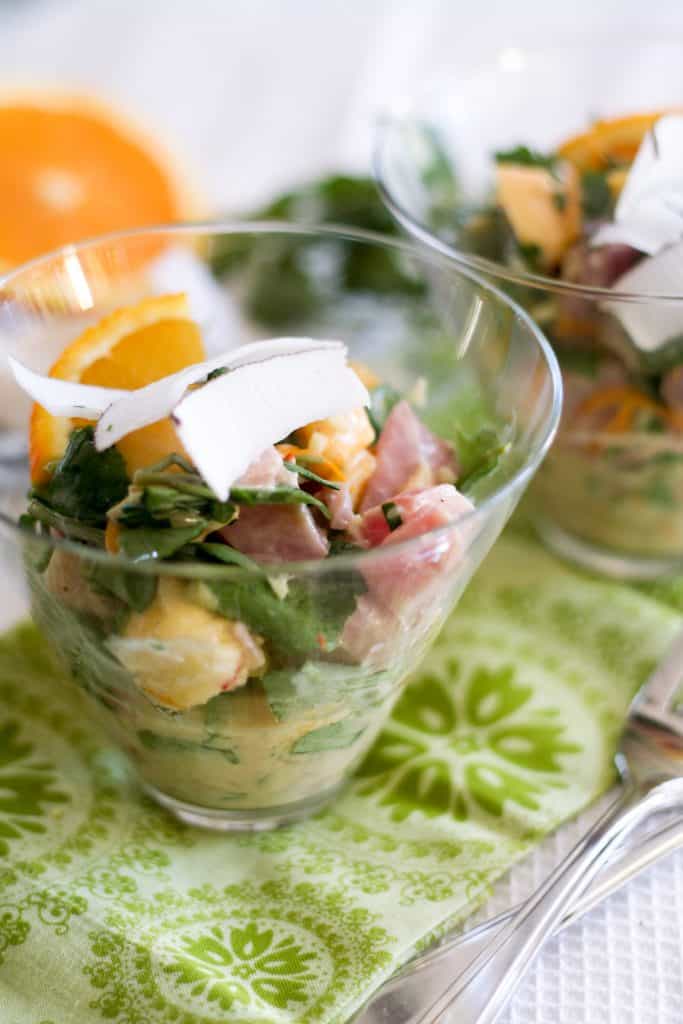 So, I'm leaving a full 3 days earlier than I had initially planned. Where's the problem with that?, you may ask…
Well, the thing is I was really counting on taking some time over the week-end to write a little bit of material for you guys, so that I wouldn't have to let you all hang dry while I was away. With that option no longer available, I'm sort of at a loss here.
I'll try and think of something, but please, don't resent me if I I'm not as present as I'd hoped to be during my absence! I'll make it up to you when I return, promise! 😉
But hey, you know what? I'm not gone yet! So let the good time foods roll!
As you can very well imagine, I've been in a bit of a "tropical" mood lately, so I've been making a few recipes that have a bit of a tropical tone to them.
Today, I give you a tuna ceviche, with a tropical twist…
You see, there are two ways that I like to eat tuna, and that is barely cooked or not cooked at all.
Sushi and sashimi would be two of my favourite options, but I have to say that this recipe here is one of the best "not cooked at all" tuna I've ever had! It calls for all sorts of ingredients that just scream of sunshine and of the beach, and it will make you wish that you were sitting right there by the seaside…
I especially liked the addition of fresh coconut! To me, nothing says "beach" like the taste and smell of fresh coconut.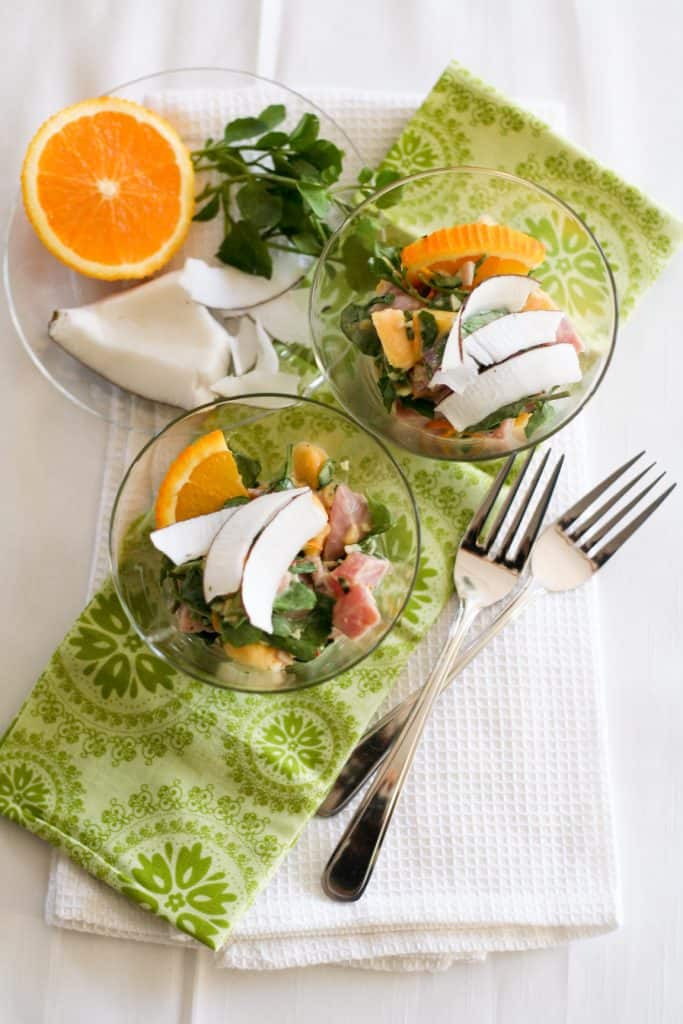 By the way, did you know that cracking open a coconut is actually super easy? I always loved fresh coconut, but would never buy them because I thought that it was way too complicated to get to the precious flesh.
The way I'd always seen it done, with the help of a hammer, a saw, a power drill or some other kind of super dooper power tool, the task in question always seemed to me like it belonged more in the garage than it did in the kitchen.
Of course, it invariably made an unbelievable mess, and once the nut was finally forced to reveal its beautiful silky white flesh, prying that meat loose from the shell proved to be just as nearly impossible… In the end, the poor innocent thing would often end up in the garbage, completely destroyed.
That was until I saw this how-to video. Since I've learned that technique, I've been enjoying fresh coconut on a regular basis. It's so much better than the dried stuff! Plus, I'm a huge fan of coconut shavings, and they are very hard to come across in the dry form.
Now I can make my own, quickly and efficiently!!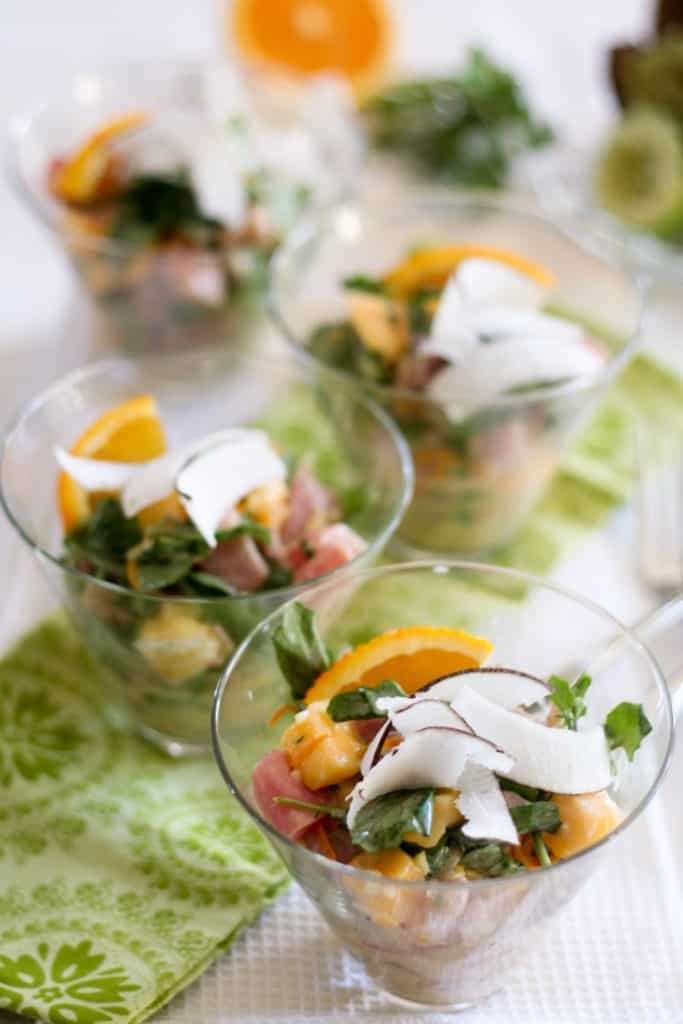 Tropical Tuna Ceviche
Servings: 2
Ingredients
1 lb sashimi quality tuna, diced
Juice of 2 limes
Zest and juice of 1 small orange
1 bird's eye chile, chopped
2 tsp ginger, peeled and minced
¼ cup coconut milk
¼ tsp salt
Generous pinch black pepper
2 cups watercress, stems removed
½ mango, peeled and diced
Fresh coconut, thinly shaved
Instructions
Marinate tuna in mixture of citrus juices and zest for approximately 1 hour or until tuna is rare and still pink on the inside.

Mix together bird's eye chile, ginger, coconut milk, salt and pepper. Toss in tuna.

Add diced mango and watercress and toss to combine.

Transfer to serving bowls and garnish with coconut shavings
Nutrition
Calories: 362kcal, Carbohydrates: 9g, Protein: 46g, Fat: 15g, Saturated Fat: 8g, Cholesterol: 71mg, Sodium: 382mg, Potassium: 734mg, Fiber: 1g, Sugar: 7g, Vitamin A: 5738IU, Vitamin C: 33mg, Calcium: 67mg, Iron: 3mg
If you've tried this recipe, please take a minute to rate the recipe and let me know how things went for you in the comments below. It's always such a pleasure to hear from you!
You can also FOLLOW ME on PINTEREST, FACEBOOK, INSTAGRAM and TWITTER for more delicious, healthy recipes!