Rare Tuna Steak and Spicy Mango Sauce
I'm sorry if my posts sound a bit boring lately: words just don't seem to come easily for me. All week, it's just taken me forever to write what I consider to be half decent posts. I second guess every sentence, every single word that I write. It's like I'm not even sure I know how to write anymore.
I struggle, and I hate that feeling. I'm a perfectionist, you know…
Hopefully, I will be back to my good old self soon!
It has been 3 weeks now since my dad's been gone, and strangely enough, this week has been the toughest one so far. I felt sad and depressed, and even physically ill. I'd be real dizzy sometimes, had no energy and pretty much felt like going to bed half the time.
I even stopped working-out three quarters of the way through my routine, one morning. I just had nothing to give. This is so not like me. I don't ever quit on a work-out.
There's good news, however! It looks like mom, daughter and I will be heading off to Cuba one week from Sunday, to clear our minds and spend a beautiful week in the sun, with nothing else to think about but enjoy life, swim in the ocean, have a few local drinks and go for looooong walks on the beach.
The initial plan was to go on a road trip to Nova Scotia but that proved to be too complicated, so we decided to go to Cuba instead. Quite frankly, I think it's a much better plan. The three of us could really use the rest, after what we've been through in the last months. Especially the two of them…
Rest our bodies, and rest our minds.
Of course, I will take tons of pictures and share them with you all upon my return. How many sand castles, palm trees and sea shells do you guys want to see? Seriously, I'm hoping that I'll have more interesting things to show you… 😉
Well, I'm not gone yet, so in the meantime, let me share with you my ultimate favorite way of enjoying tuna, and that is barely even cooked at all.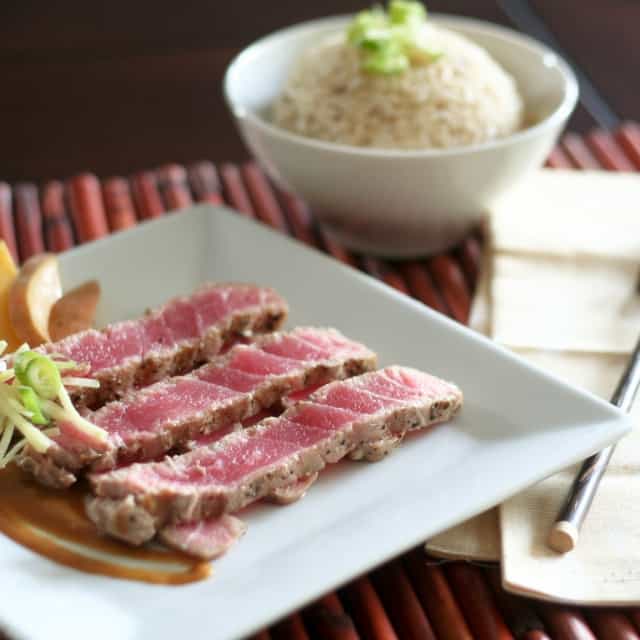 To achieve that level of undoneness, you basically need a source of very high heat, either in the form of a grill or a cast iron skillet. Just heat it up as hot as you possibly can, then throw on your piece of fish and let it cook for about one minute per side.
All you want to do is create a thin crust on the outside of your piece of fish. You don't want to actually cook the meat. Of course, the thicker your piece of fish, the better! Make sure it's AT LEAST an inch thick.
That is simply melt-in-your-mouth delicious! Oh, how I love tuna!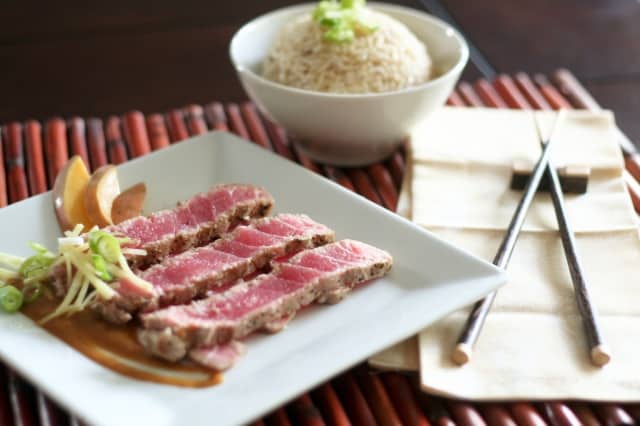 Unfortunately, I don't get to enjoy it quite as often as I'd like, for it usually is way out of my price range. But seeing how it was on sale at my local grocery store last week, I stocked up on it! I mean, it was going for the ridiculously low price of $7.99/pound!
Simply too good to pass up!
That night, I chose to have my tuna with a spicy mango sauce and a bowl of brown basmati rice.
It certainly hit the spot. 😀
Need I tell you I have more tuna recipe coming up? 😉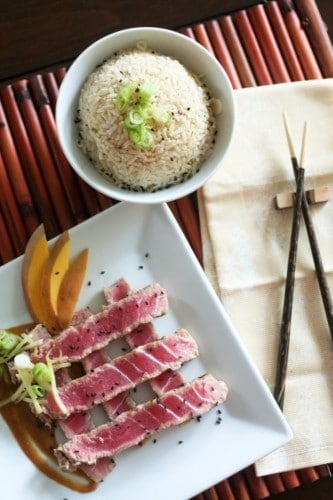 RARE GRILLED TUNA STEAKS
(per guest)
150g – 200g Fresh tuna steak, at least 1 inch thick
Salt and pepper to taste
About one teaspoon olive oil
  INSTRUCTIONS
Preheat grill or cast iron skillet to very, very high heat.
Rub tuna steaks with olive oil on both sides, sprinkle with salt and pepper
When grill or pan is really hot, throw in tuna steak and cook until a nice golden crust develops, about one or two minutes per side. Be careful not to over cook your fish as it's really easy to over cook tuna. The sides of the piece of fish should remain a little bit red.
You can serve as is, or slice thinly before serving.
Serve with brown basmati rice and spicy mango sauce, if desired.
SPICY MANGO SAUCE
The flesh of ½ mango, chopped
25g ginger, coarsely chopped
2 cloves garlic, coarsely chopped
½ tsp Sambal Oelek
1 tbs rice vinegar
1 tbsp tamari or japanese soy sauce
1 tsp sesame oil
1 tbsp liquid honey
1 tbsp mirin
INSTRUCTIONS
Add all the ingredients to your blender or food processor and blend until smooth.
How do you like your fish…
Stacked?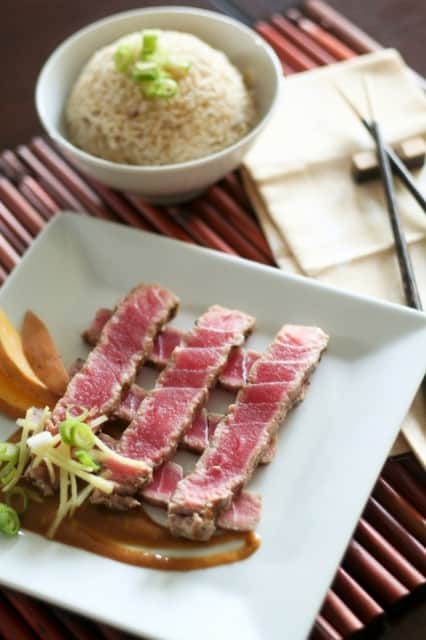 or fanned?