Post Workout Banana Bread Protein Shake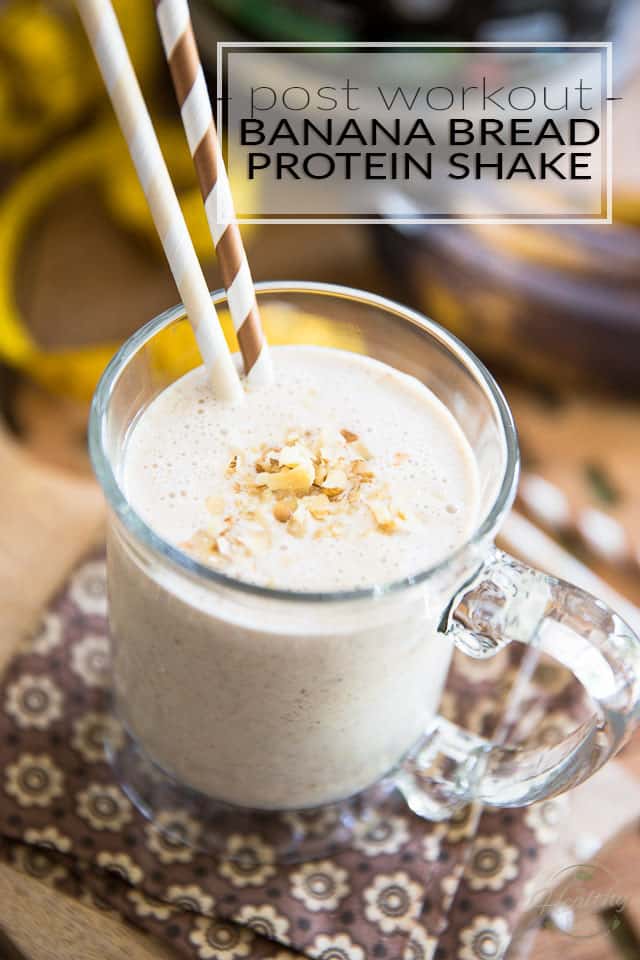 When I first realized that I had never shared this Post-Workout Banana Bread Protein Shake recipe with you, I scratched my head in total skepticism. I just couldn't believe it, for honestly this HAS to be the one food item that I've had the most often in my life, bar none!
It wasn't until I actually started working on the post, setting up for pictures and all, that I understood exactly why it is that I'd never shared it: I don't believe I could think of a more boring-drab-brown-beige subject to photograph!
And to make matters worse, if you're going to make this protein shake right, your bananas have to be super ripe, aka damn ugly, too ugly to even consider including in a photo. Then, the process of putting the shake together is so easy that step-by-step instructions become totally useless, not to mention also extremely boring…
However, since the final product is everything but boring, I decided that I was going to share the love with all of you anyway.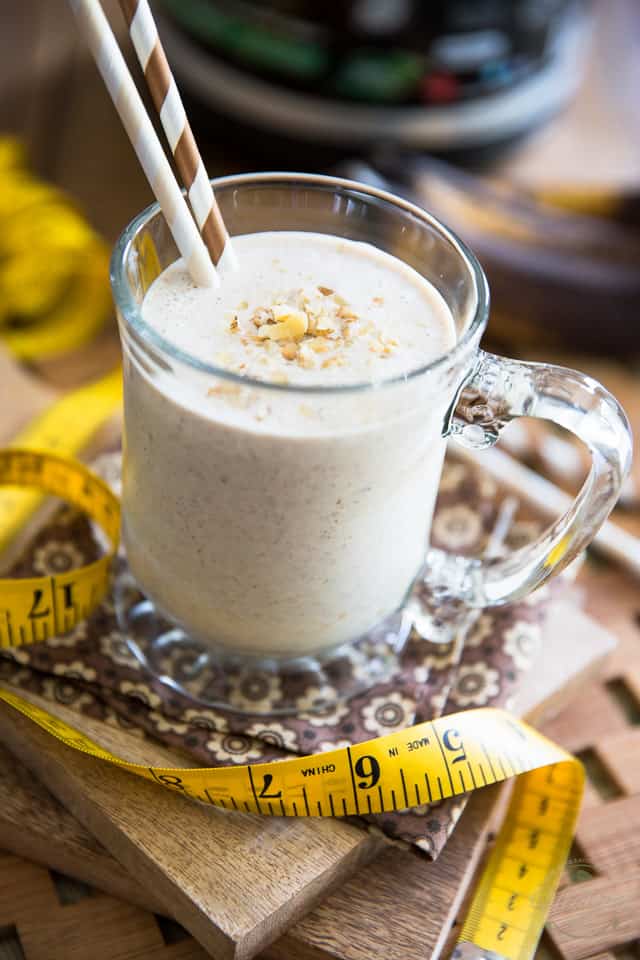 This shake is perfect post work-out of course, seeing as it contains a very good amount of carbs and protein, for very little fat, but it also happens to be so crazy tasty and easy to make that it makes for a tremendous quick snack or meal replacement, especially when my tummy locks up on me and isn't really in the mood for real food.
Making it couldn't be easier: just toss all the ingredients in the blender and let her rip! No need to be super exact with the measurements either… so really, 5 minutes is pretty much all it takes. And it stays good for a bit, too, so you can even make it ahead of time and have it all ready and waiting for you as soon as you're done working out!
Oh, and lastly, I'm not a fan of overly sweet shakes, so I tend to use unflavored whey protein in mine, but if you prefer yours a little bit more on the sweet side, feel free to use vanilla flavored instead.
Post Workout Banana Bread Protein Shake
This Banana Bread Protein Shake is perfect as a post work-out meal, seeing as it contains a very good amount of carbs and protein, for very little fat.
Servings: 1
Ingredients
1/2 over-ripe banana
1/2 cup plain Greek yogurt
1/4 cup buttermilk
1/4 cup rolled oats
1 scoop unflavored whey protein powder, (30g scoop)
1 tsp chia seeds
1 tsp flaxseed meal
1/2 tsp ground cinnamon
Few gratings nutmeg
pinch salt, I use Himalayan salt
2 walnut halves
1 pitted date
Instructions
Place all the ingredients except walnuts and date in the container of your

High-Speed Blender

and process until smooth and creamy, about 1 minute.

Add the walnuts and date and pulse a few times until they are reduced to tiny pieces.

Serve immediately, or save for after your workout!
Nutrition
Calories: 427kcal, Carbohydrates: 45g, Protein: 42g, Fat: 10g, Saturated Fat: 2g, Cholesterol: 11mg, Sodium: 106mg, Potassium: 552mg, Fiber: 7g, Sugar: 18g, Vitamin A: 100IU, Vitamin C: 5.1mg, Calcium: 228mg, Iron: 1.4mg
If you've tried this recipe, please take a minute to rate the recipe and let me know how things went for you in the comments below. It's always such a pleasure to hear from you!
You can also FOLLOW ME on PINTEREST, FACEBOOK, INSTAGRAM and TWITTER for more delicious, healthy recipes!