Quinoa and Shrimp Patties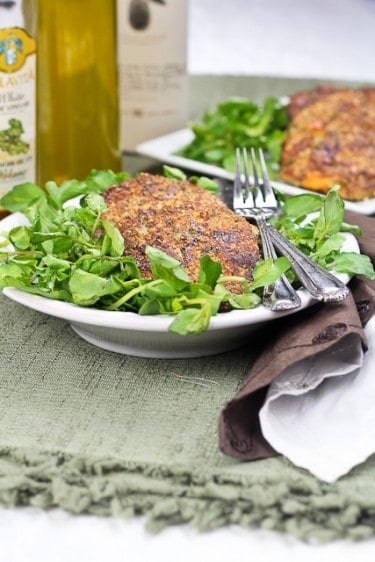 For some strange reason, it seems like I very rarely eat plain quinoa. I always "do" something with it.
It's not that I don't like the seed on its own, far from there!
In fact, I think that I prefer it, in its plain state, to rice, couscous or bulghur.
I find it has this lightness, this crunchiness and nutiness to it. It almost feels like it pops in your mouth when you eat it.
Oh, and it's sooooo flavorful, too! I could eat it like that forever and wouldn't get tired of it.
Maybe the fact that I like it so much in its "bare" state is precisely the reason why I feel the need to cook with it so much. It makes for a much interesting base ingredient.
Funny thing, though, is I really don't care for quinoa flour. I haven't been impressed with it so far. I prefer to use the whole seed, cooked and cooled.
When I recently went on a kale craze, I got a major craving for quinoa patties crumbled over shredded kale, with a little bit of balsamic vinegar and extra-virgin olive oil drizzled on top.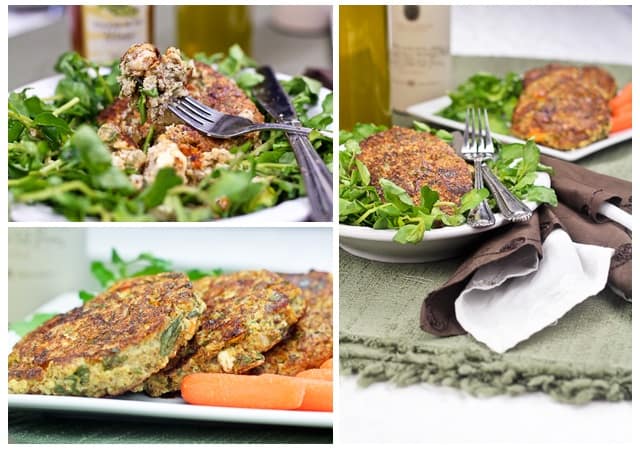 The thing is, though, I also wanted shrimp… big time.
So what was I to do, I ask you?
Of course, I decided to join the two together and make a quinoa pattie that had shrimp in it.
Whoa, what a great idea that was!
These patties just literally explode with flavor. They are soooo insanely good, I swear, you'll want to eat them for days on straight!
At least I did.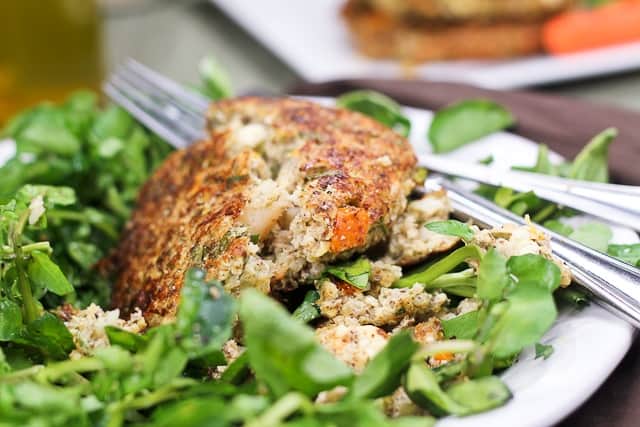 You see, this recipe makes 8 patties, and it was only me eating them. But then my daughter came home, tasted them and liked 'em so much, I had to make a second batch right then and there, because there was not enough for the 2 of us…
That time, I decided to try them over watercress, instead of kale. Well… decided… Let's say I was forced.
You see, I ran out of kale way before I ran out of patties!!!
For the record, I much preferred them over kale, but watercress also had its charm.
However, you don't have to serve them over greens, you know. You could very well turn these patties into burgers.
I just know that they would be absolutely glorious.
Shrimp and Quinoa Patties
Servings: 8 patties
Ingredients
½ Orange Bell Pepper, diced (or other color of your choice)
1 small onion, chopped
1 garlic clove, crushed
¼ cup fresh parsley, chopped
24 large cooked shrimp, chopped
2 cups cooked quinoa, cooled
85 g Feta cheese, crumbled
½ cup flaxseed meal
½ cup fat free plain Greek Yogurt
¼ cup 2 egg whites
2 whole eggs
½ tsp salt
1 tbsp Dijon mustard
½ tsp Sambal Oelek
1 tbsp white wine vinegar
Instructions
Combine all the ingredients in a large mixing bowl. Stir, and let sit for a 20-30 minutes and form into eight patties.

Heat a little bit of olive oil in a large, non-stick skillet over medium-high heat. Add the patties, while making sure there is some room between each of them and cook until the bottoms are deeply browned, about 7 to 10 minutes.

Carefully flip the patties with a spatula and cook the second sides for 7 minutes, or until golden.

Serve immediately with fresh greens, drizzled with extra virgin olive oil and white balsamic vinegar.

The quinoa mixture keeps nicely in the refrigerator (in fact, it benefits from that) for a few days; you can cook patties to order, if you prefer.

The patties are also excellent cold, or can be reheated in the microwave or in a partly covered pan over low heat.
If you've tried this recipe, please take a minute to rate the recipe and let me know how things went for you in the comments below. It's always such a pleasure to hear from you!
You can also FOLLOW ME on PINTEREST, FACEBOOK, INSTAGRAM and TWITTER for more delicious, healthy recipes!