Silky Roasted Squash and Bell Pepper Potage
Believe it or not, I got the inspiration for that beautiful soup when I was in Cuba, of all places.
We were served something very similar one night, as part of one of our "À la carte" dining experiences.
I wanted to take pictures to share with you guys, but sadly it was night and the lighting was very dim, as in close to non-existent, which left me with no other option than taking "flash" pictures.
No way I was going to serve you that, so I abstained!
Anyway, back to that soup… It was without a doubt one of the best things that I'd ever eaten at that hotel.
It was simply divine. So tasty and creamy and silky and smooth… it felt like a gentle caress inside my mouth with every spoonful. I just knew the instant I took the first bite that I would have to try and recreate it as soon as I got home.
And that's exactly what I did! I think I succeeded at creating something that's fairly close to the real deal.
To be honest, though, I have no idea what went in the making of the original. I had to go by flavor alone and trust my taste buds on that one.
My one and only absolute certainty was that it contained a hint of cumin. And I strongly suspected squash to be the one key player.
Calabaza, I believe is what they call it…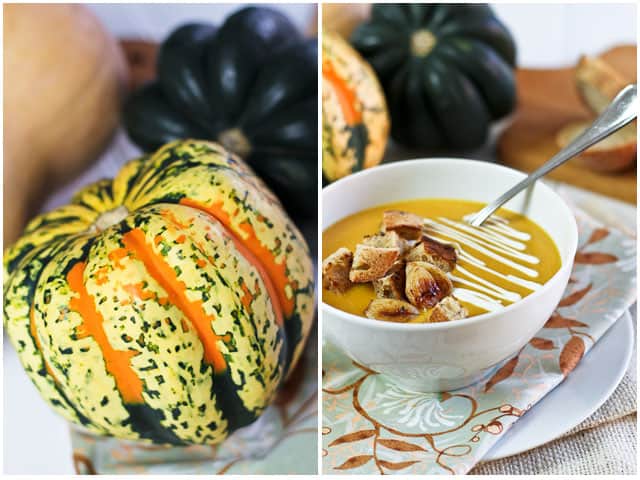 Unfortunately, mi español is nowhere good enough for me to have gone and asked the chef …
I did go and thank him personally though. He seemed to appreciate the initiative, for he took the time to make cute little flowers out of napkins for my daughter and I, which he then had the waiter bring to us.
How sweet is that? Of course, I had to hold on to it.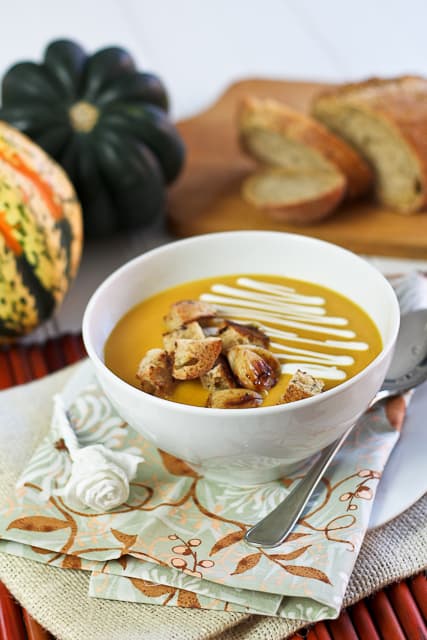 Can you spot it in the pictures?
I have to give it to you, this is not a soup that you can whip up quickly on a busy weeknight. It belongs to the "food of love" category. It's the kind that you make on a lazy and cold Saturday afternoon.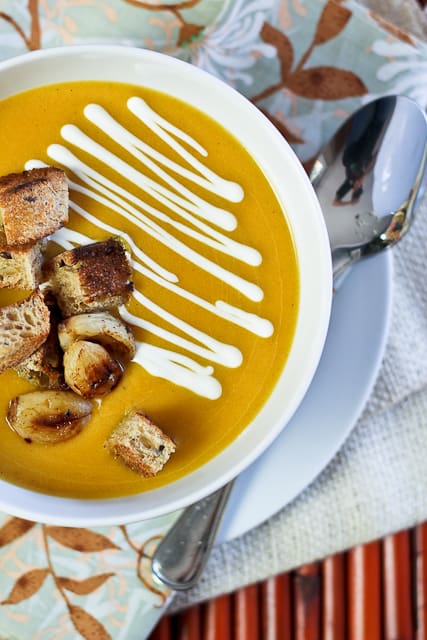 But trust me, it's very well worth every minute of effort that you will put into it.
It will not only warm your body, it will warm your soul.
It might even take you to some far, far away island, where the sun always shines and the ocean is bluer than the sky…
Silky Roasted Squash and Bell Pepper Potage
Servings: 4
Ingredients
2 acorn squash
1 of each bell pepper: yellow, orange and red
12 garlic cloves
About ¼ tsp salt and pepper
¼ cup water
1 large onion
½ tsp cumin
½ tsp cinnamon
¼ tsp nutmeg
1 tsp salt
½ tsp black pepper
4 cups water
½ cup coconut cream, the canned variety
½ cup fat free plain Greek Yogurt
Garnish Ideas*
Whole Grain Croutons
Coconut Cream
Greek Yogurt
Roasted Garlic
Instructions
Preheat the oven to 375F

Cut the squash in half and remove the seeds. Cut the bell peppers in half and remove the core, membranes and seeds. Peel the garlic cloves but keep them whole.

Sprinkle a tiny little bit of salt and pepper over the open side of the squash and bell peppers and place them all face down in a large baking dish.

Add garlic cloves and water and place in the oven. Cook uncovered for about 30 minutes, until the squash and peppers are fork tender and the garlic turns nice and golden brown.

Remove vegetables from the oven and let them cool for little while.

Meanwhile, chop the onion and add it to a large saucepan. Cook over medium heat until fragrant and slightly brown, about 5 minutes.

Add cumin, cinnamon, nutmeg, salt and pepper and continue cooking for about one minute.

Remove as much skin as you can from the bell peppers, chop them coarsely and add them to the pot. Scoop out the flesh of the roasted squash and add that to the pot as well.

Throw in the garlic and water, bring to a boil then lower the heat and simmer for about 5 minutes.

Remove from heat and reduce to a smooth puree with the help of a handheld blender.

Pass soup through a fine mesh strainer. You might want to help it through by swirling it around with a laddle (this step is optional but will make your soup extra creamy and velvety, so I think it's really worth it. It does change the texture dramatically.)

Return soup to saucepan and bring back to a simmer, then kill the heat.

In a small bowl, mix the coconut cream and Greek yogurt together and incorporate that to the soup using your handheld blender (using the blender as opposed to a simple whisk will prevent the yogurt from curdling and will make your soup really silky.)

Transfer to serving bowls and garnish as desired.
Notes
*I made my whole grain croutons simply by cutting thick slices of whole grain bread into cubes and toasting them slightly in a non stick pan. I also roasted a few extra cloves of garlic to use as garnish and mixed a couple of tablespoons of Greek yogurt and coconut cream together, which I then placed in a small squeeze bottle to make a pretty design.
If you've tried this recipe, please take a minute to rate the recipe and let me know how things went for you in the comments below. It's always such a pleasure to hear from you!
You can also FOLLOW ME on PINTEREST, FACEBOOK, INSTAGRAM and TWITTER for more delicious, healthy recipes!