Sugar Free Gooseberry Refrigerator Jam
Before I left for Cuba (I know, I know, I'll stop talking about it soon, I swear!) gooseberries were in FULL season and were going for a handful of pennies just about everywhere, so I couldn't resist buying a ton of them.
Well, OK, maybe not a ton, but at least a truckload!
Yeah, I love them that much. Unfortunately, their season is rather short and if you try to buy them off season, they will cost you an arm and a leg.
Well, OK, maybe not an arm and a leg, but at least one of the two.
Although gooseberries allegedly keep for a very long time in the refrigerator, up to 3 months according to what I read, I didn't want to risk losing my precious treasure so I decided to turn them into a refrigerator jam.
And to be honest, I'd been meaning to give that a try for some time anyway, so it was the perfect opportunity.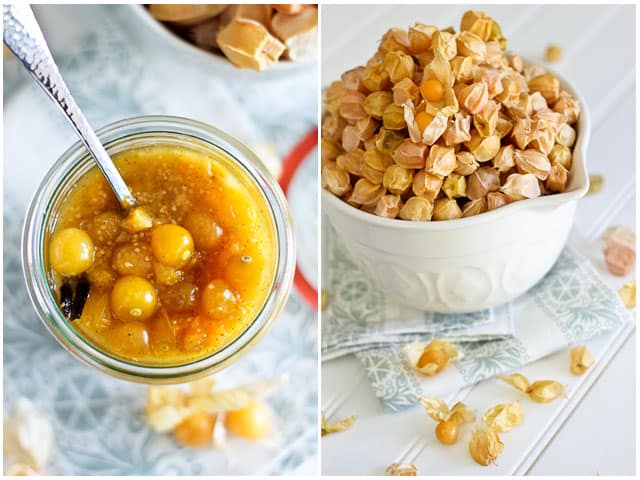 Funny though how this was the second year in a row that I had to deal with a large batch of freshly purchased fruit right before to leave. Last year, it was 36 pounds of cherries that I had to pit and freeze…
The jam was MUCH faster and easier to make, let me tell you that much.
Although peeling gooseberries is kind of a pain… ful experience. Your fingers WILL hurt after a while, I can guarantee it. But once you're done with that part, the rest is a piece of cake. This jam is good and ready to go in just about 5 minutes.
Then there's the matter of chilling, which takes waaaaaay too long.
But your patience will be rewarded with this amazing jam that is not only delicious, it's also super pretty and, you guessed it, very healthy!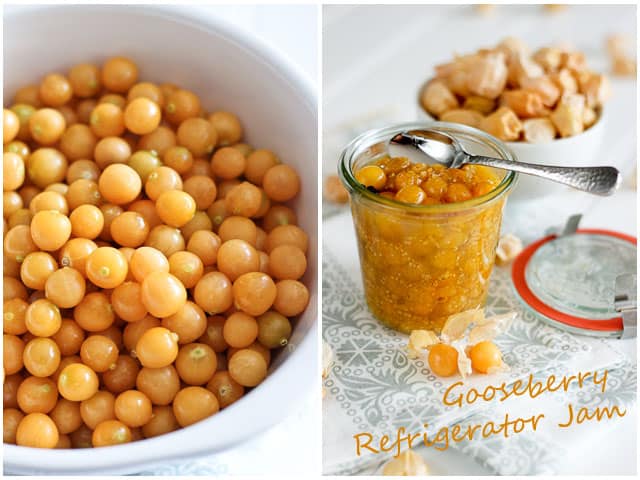 Notice that I haven't used any sugar whatsoever in this one, not even honey. I chose to use dried apricots to add a little bit of sweetness, as well as fresh ginger and vanilla beans to give some depth to the subtle flavor of the gooseberries.
The result was beyond my expectations! It's so pretty and delicate looking, I feel like a millionaire every time I eat this.
And you know what the best part is?
This jam is so low in calories and contains so little sugar (compared to the "regular" stuff anyway) that I can afford to eat it by the spoonful and not feel guilty in the least.
Of course, I've also tried it on a piece of toast. I've also mixed some in with plain Greek yogurt and added some to my cereal one morning.
My verdict? FABULOUS!
But my ultimate favorite way to enjoy it has been as the main part of a Chia Seed Pudding, quite similar to the blueberry mango version I did not too long ago.
This one was MUCH better, though.
So much so, I might have to give it its very own post…
Good thing I ended up making a double batch of that gorgeous jam!
Gooseberry Refrigerator Jam
Servings: 12 ±3 cups
Ingredients
750 g peeled gooseberries
125 g dried apricots, finely chopped
15 g fresh ginger, finely grated
The juice of 1 lime
2 fresh vanilla beans
Instructions
Add the gooseberries, chopped apricots, ginger and lime juice to a heavy bottomed saucepan.

Using a sharp paring knife, split the vanilla beans in half lengthwise and scrape the seeds with the tip of the knife.

Add the seeds as well as the now empty pods to the saucepan. They add a lot of flavor and you can even leave them in the jars until the jam is all gone.

Bring to a boil over medium-high heat. Reduce heat and continue cooking until the gooseberries start to pop and release their juice and seeds, about 5 minutes.

You want to keep about half the fruits whole, so make sure you don't overcook your jam.

If you are planning on eating the whole batch within a week, just allow the jam to cool and keep refrigerated in an airtight container, for 8-10 days.

However, if you want to keep it a little bit longer, transfer the jam while it's still hot into clean Mason jars and close the lids loosely. Allow to cool completely and transfer to the refrigerator.

If a proper seal forms, you will be able to keep your jam for a couple of weeks in the refrigerator.

Of course, if you know how ('cuz I don't), you could also can this the proper way and keep it on the shelf for several months... but if you're gonna do that, I think you should make a much bigger batch!
If you've tried this recipe, please take a minute to rate the recipe and let me know how things went for you in the comments below. It's always such a pleasure to hear from you!
You can also FOLLOW ME on PINTEREST, FACEBOOK, INSTAGRAM and TWITTER for more delicious, healthy recipes!