Smoked Herring and Yogurt Pizza… or it is a Flat Bread?
I've recently become intrigued with smoked herrings fillets after one of my followers mentioned that she was enjoying them on a regular basis. While she usually goes with the fresh stuff, I had to fall back on the canned variety.
After tasting them, I decided that they were pretty good indeed and would make a somewhat decent addition to my diet.
An occasional addition, that is.
I mean, I do try to avoid canned stuff as much as I can but still think that these little guys would do a great job at adding a bit of protein and healthy fat to a quick lunch salad on those days when I'm in a pinch. There was a time when I reverted to canned tuna for that, but frankly, I'm not a huge fan. I find it to be dry and pretty tasteless, so it eventually got left out.
Smoked herring, on the other hand, is packed full of flavor and is really moist, due to the fish being naturally high in fat. Good, healthy fish fat, that is.
Funny thing is upon first tasting it, this pizza is what the fish inspired.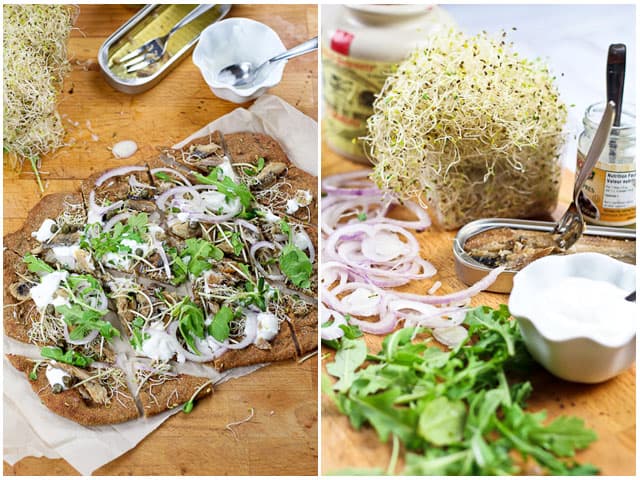 I just HAD to throw it on a thin, whole wheat pizza dough and garnish it with a whole bunch of fresh, crisp sprouts, a few dollops of tangy yogurt and tie everything together with a bit of mustard, onions and capers.
I didn't take long for that pizza to become a reality.
Although I'm not even certain that this even qualifies as pizza, for it doesn't have any cheese on it…
Maybe I should just call it flat bread with benefits!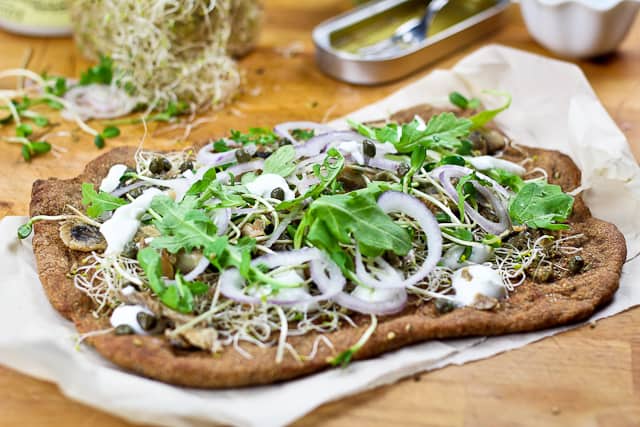 Thank goodness I chose not to add the cheese 'cuz this really would've sent the sodium content through the roof.
I had no idea the dough was so high in sodium to start with! I'll have to try and reduce that next time I make a batch. Analyzing the nutritional contents of your food sometimes leads to surprising results, or so it seems.
I was shocked with how bad a grade this one got. A "C", really? Can't be this bad, can it?
It's the high sodium content that killed it, I guess.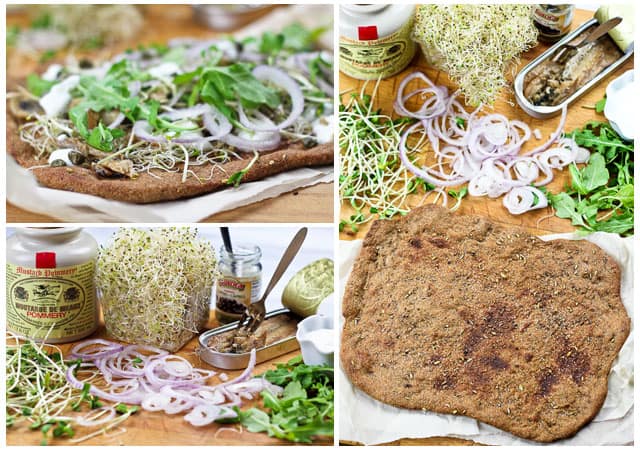 Still, despite not being as healthy as I imagined it would be, it was still worth every single bite! I guess it still beats any good 'ole all dressed or even plain pepperoni and cheese pizza.
If this one is high in sodium, I can't even begin to imagine what dough + pepperoni + cheese would look like. To think I used to add bacon and olives on top of that… and loads of 'em too.
I think I'll stick to this version, thank you very much!
Smoked Herring and Yogurt Pizza
Servings: 1
Ingredients
¼ Whole Wheat Pizza Dough Recipe
¼ tsp whole fennel seeds
¼ tsp freshly cracked black pepper
2 tbsp Meaux Mustard, or Grain Mustard
1 cup alfalfa sprouts
¼ cup sunflower sprouts
1 can Golden Smoked Herring Fillets, drained
½ cup fat free plain Greek Yogurt
½ cup baby arugula leaves
A few thin slices red onion
1 tsp capers
Instructions
Preheat oven to 500F.

Roll or stretch dough into a very thin disc (or somewhat more rectangular shape if you want) and lay on a baking sheet.

Sprinkle with whole fennel seeds and freshly cracked black pepper, press slightly into the dough and bake in the oven for about 6-8 minutes until it starts to colour and becomes nice and cripsy.

Take the crust out of the oven and spread mustard thinly all over the crust. Cover with alfalfa and sunflower seed sprouts.

Add dollops of yogurt here and there, then break the herring into smallish pieces and scatter them across the pizza.

Finish with the baby arugula, onion slices and capers.
If you've tried this recipe, please take a minute to rate the recipe and let me know how things went for you in the comments below. It's always such a pleasure to hear from you!
You can also FOLLOW ME on PINTEREST, FACEBOOK, INSTAGRAM and TWITTER for more delicious, healthy recipes!