Deconstructed Superfruit High Protein Froyo
People, I would like you to meet my fling of the moment…
The name is, I believe, Something Froyo.
I made their acquaintance quite by accident one morning, when I was running really late for work and hadn't planned for my morning snack.
I needed to find something in a pinch.
I started opening all the cupboards frantically, trying to find just the thing. I hate being caught unprepared like that!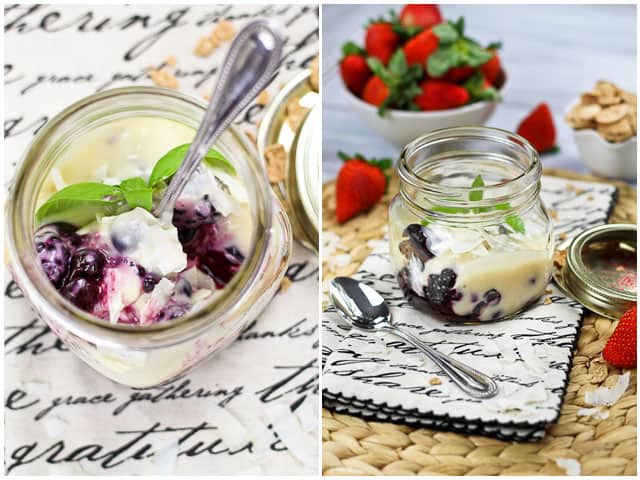 Logic dictated I should make a smoothie.
I always fall back on them when I don't know what to have. Smoothies are so versatile and easy to throw together.
But no matter how quick and easy they are to make, there was still no time that morning.
No time to process everything and especially no time to clean the instrumentation and all…
BUT! What if I made a "deconstructed" smoothie? That would surely work.
I figured I would just throw all the ingredients in a jar and eat it with a spoon, why not?
Quickly, I mixed some plain Greek yogurt and vanilla flavored whey protein powder together. I then grabbed a Mason jar and threw in a cup of this gorgeous superfruit blend that I have in the freezer. It contains whole pitted cherries, blackberries and pomegranate seeds. – YUM!
I then poured the yogurt over the fruit, closed the lid, threw that in my purse and off to work I ran.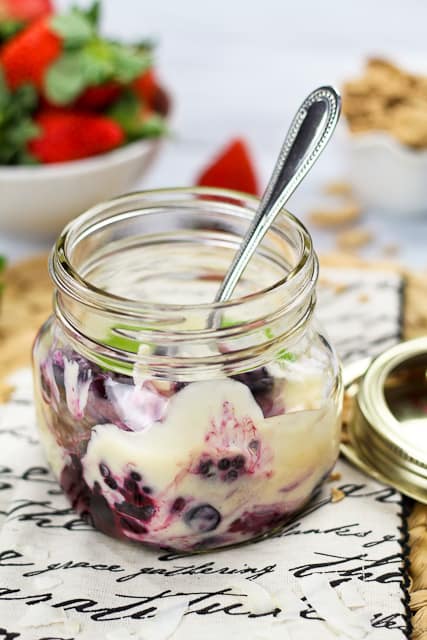 Ooops, almost forgot… I did rinse my mixing bowl first. Of course I did! However, I'm afraid it stayed on the counter all day. How messy of me, I know!
When I got to the office, I took my yummy snack out of my purse and put it on my desk. Only a half hour to go before I get to eat it. Should be ample time for the fruits to thaw.
Well, let me tell you something. That half hour turned out to be excruciatingly long! I couldn't stop staring at Mr. Froyo there, sitting beside me, all smiley and looking good and stuff.
I wanted him. I wanted him BAAAAAD!
And at the time, I didn't even know that he had a nice surprise in store for me. When I FINALLY got to slide my spoon in that jar, it was met with a tiny little bit of resistance: the fruits had transferred some of their "freezyness" to the yogurt, giving it sort of a chewy, soft serve consistency.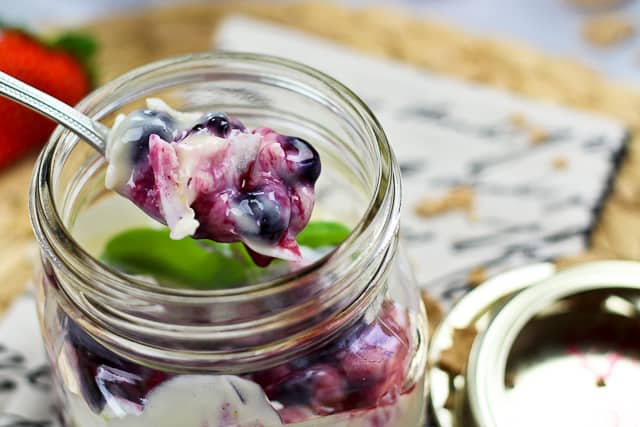 Evidently, the fruits had released tons of sweet, delicious juice while thawing, adding to the deliciousness!
The combination of all the textures and flavors was just absolutely decadent. It almost threw me off my chair. I wanted this snack to never end.
Of course, I immediately KNEW what tomorrow's snack was gonna be… and the one after that… and the one after…
I've also experimented with a few different fruits, namely mango, bananas, peaches and raspberries, but this Superfruit blend right here was by far my favorite.
It's just so sweet and tasty and crunchy, what with all the little seeds in the blackberries and pomegranate. The smoothness of the cherries and half frozen yogurt, along with the incredible amount of syrup that ends up at the bottom of the jar just makes it absolutely heavenly.
Oh, and the basil leaves that you see in the pictures?
I had thrown them in there just 'cuz they looked pretty, but they ended up fitting beautifully!
So don't hesitate to throw a few in if you happen to have some on hand.
Deconstructed Superfruit High Protein Froyo
Servings: 1
Ingredients
1 cup frozen Superfruit Mix
¼ cup fat free plain Greek yogurt
1 scoop, 35g vanilla flavored whey protein powder
Instructions
In a small bowl, delicately mix plain yogurt together with whey protein powder. It might look like there is too much powder at first, but it will come together eventually. Same goes for the "lumpy" feeling. Just let the "custard" rest for about a minute and it will become nice and smooth.

While yogurt is resting, add a cup of frozen superfruit blend to container of your choice. Mason type jars are perfect for portability!

When yogurt is nice and smooth, pour over frozen fruit and leave to rest for an hour or two at room temperature or longer in the refrigerator, or until fruits are nice and thawed and yogurt has started to freeze.

Garnish as desired (or not at all) and dig in.

Oh, and prepare to be amazed...
Notes
*I used a blend of cherries, blackberries and pomegranate seeds but feel free to use whatever fruit you like. Just make sure it's cut into bite size chunks...
If you've tried this recipe, please take a minute to rate the recipe and let me know how things went for you in the comments below. It's always such a pleasure to hear from you!
You can also FOLLOW ME on PINTEREST, FACEBOOK, INSTAGRAM and TWITTER for more delicious, healthy recipes!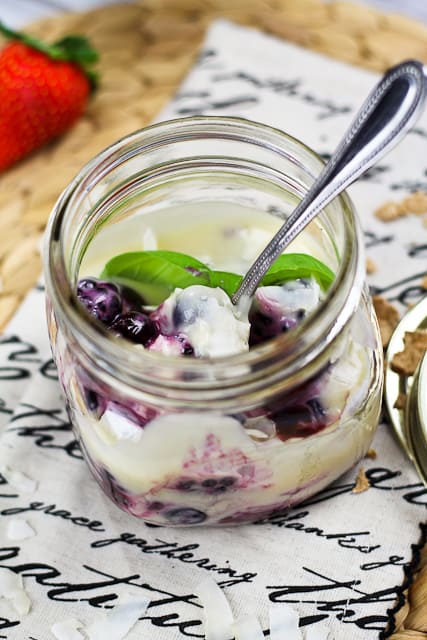 Can you see the texture? It's somewhere between creamy and chewy…
Sweet heaven in a jar!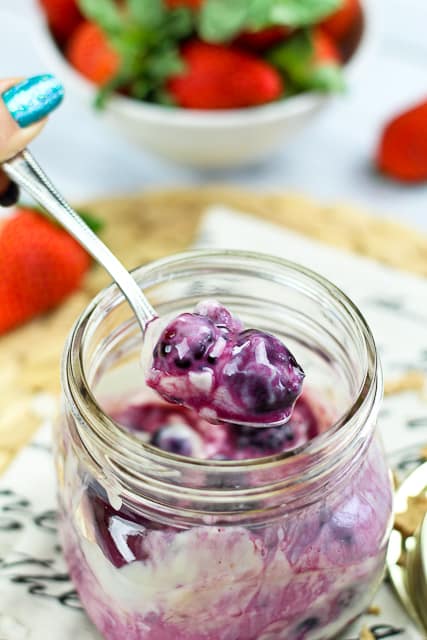 The texture changes as you go… the yogurt mixes in with the fruit and becomes creamier.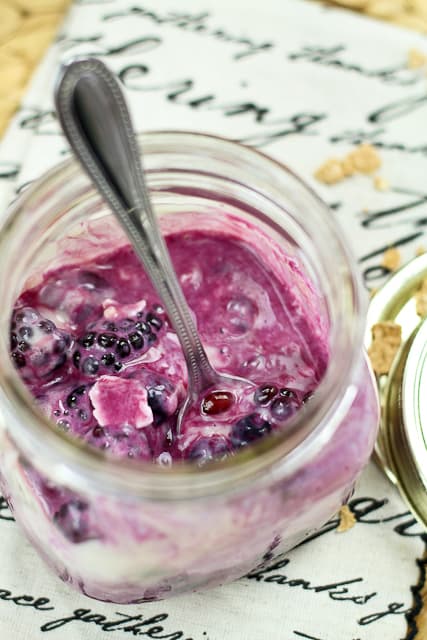 As the fruits thaw, you're left with this crazy rich, sweet and creamy yogurt "syrup"
Oh, it's a beautiful thing!